10 best reasons to start selling on OnBuy now

By
ShippyPro Team
·
4 minute read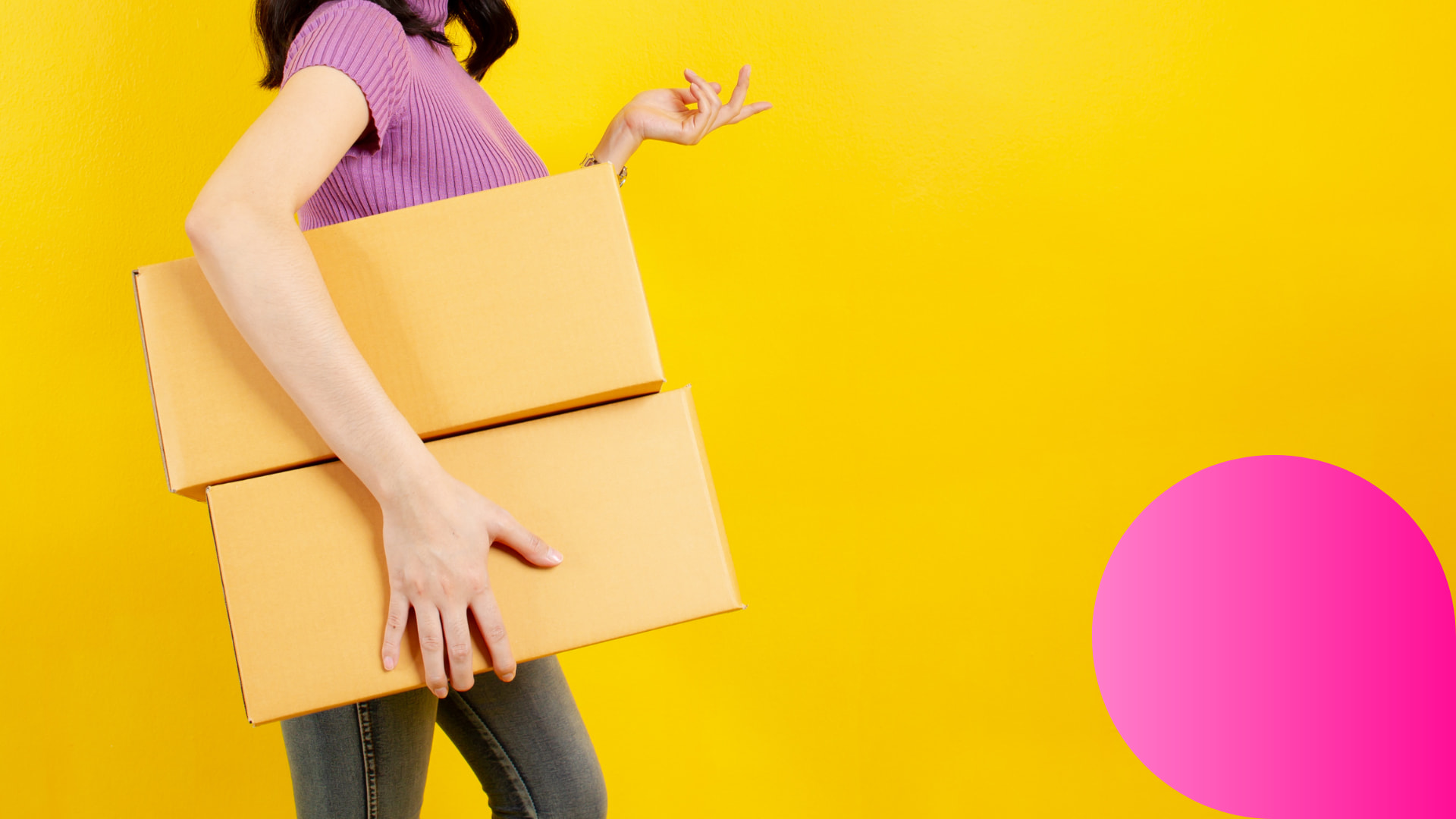 Do you already know OnBuy? It is a marketplace that can help you reach many new customers with your products.
OnBuy was launched in the United Kingdom almost 5 years ago, in November 2016, and it is now the 4th largest marketplace in the UK.
In fact, since its launch, OnBuy has seen over 600% year-on-year growth for the past three years in a row, so much so that over 8 million buyers have already bought from merchants who use this platform.
At this point you may think: "Okay, the numbers and the growth sound amazing, but why should I sell on OnBuy?"
We decided to answer this question with the 10 best reasons to show you that there is a very convenient alternative to the same old Amazon and eBay.
Are you ready? Let's get started!
1.Start selling easily
To start selling your products on OnBuy you just need to follow these 4 simple steps:
Registration: fill in the form on their website and you will be contacted within 1 working day.
Upload your products manually, with the template provided by OnBuy or with the integration you use every day.
Sell with the help of the platform, that will show your products to millions of potential buyers.
Get your money right away with payment by PayPal on item dispatch.
Easy, right? Let's move on to the second reason!
2.Very competitive fees
Are you tired of having to leave 15% of your earnings to Amazon or 10% to Ebay?
OnBuy is a platform with competitive and transparent fees: between 5% and 9% depending on the category of the product sold.
Moreover, unlike Amazon, OnBuy doesn't compete with your products by selling its own items: on this marketplace the only competition you'll have to win is that of other merchants like you, who are starting on par, with the same tools.
3.Thousand of product categories
On OnBuy you can sell everything: books, clothing, toys, auto parts, cosmetics or musical instruments.
There are already more than 35 million items for sale on OnBuy and thousands of sellers who are taking advantage of the great potential of this platform: what are you waiting for?
4.Appealing website design
A marketplace must be graphically attractive and welcoming to all visitors who come to the website looking for products.
It must also be easy to navigate (even from your mobile) with a home page that does not confuse potential buyers but, instead, takes them by the hand and accompanies them within the site to discover product.
As you can see from this image, OnBuy presents itself to its visitors with an attractive design and a clear layout!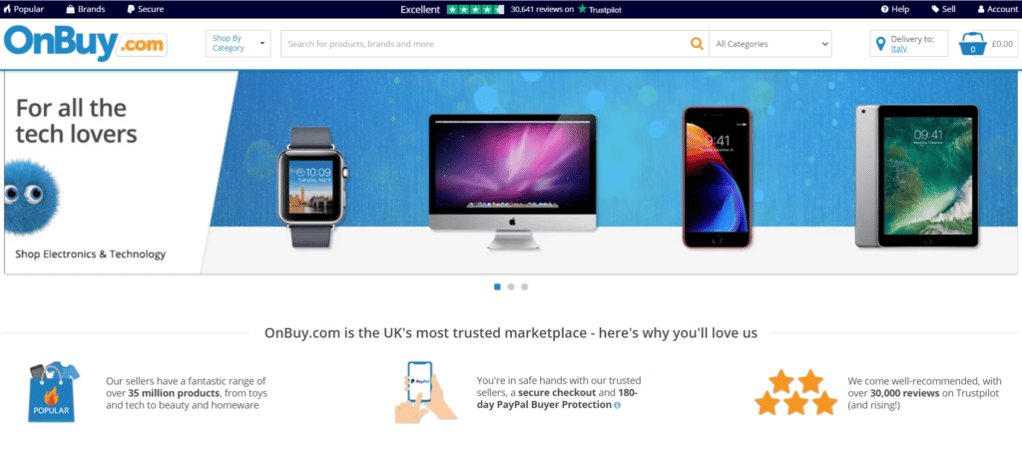 5.Positive reviews
The fifth reason why you should sell on OnBuy is one of the most important: consumeropinion.
Before investing time and money in a new marketplace, it's fundamental to know the experiences of people who have used the platform where you would like to start selling your products.
Just think that OnBuy has already more than 30,000 reviews on Trustpilot, with an average of 4.7 out of 5 stars.
Almost 9 out of 10 customers rate the platform and the service offered is excellent: what better reason than this to start selling on OnBuy?
6.PayPal partnership and secure payments
Receiving money online can be simple and immediate, but sometimes it can also be risky. Scams are always around the corner!
To make sure you have the best possible sales experience, OnBuy has partnered with PayPal. What does this actually mean?
Not only will you get paid immediately, as we touched on above, but every transaction will take place in a secure way, while being monitored for fraud, phishing and identity theft. In addition, you can take advantage of PayPal Seller Protection, which will help you not to lose the amount received if, for example, products do not arrive at their destination.
7.Subscription Waiver Guarantee
OnBuy gives you all the time you need to upload your products to the platform and does not charge you for subscriptions until your sales pick up.
This way you can get to know the platform, list your products and only start selling when you're completely ready!
8.Quick and complete support
Do you have any doubts or questions before you start selling on OnBuy? Would you like clarifications and more detailed information on sales rates and payments?
The platform will help you every step of the way, thanks to a dedicated Account Manager, an always available Support Team and a Knowledgebase with all the answers you need.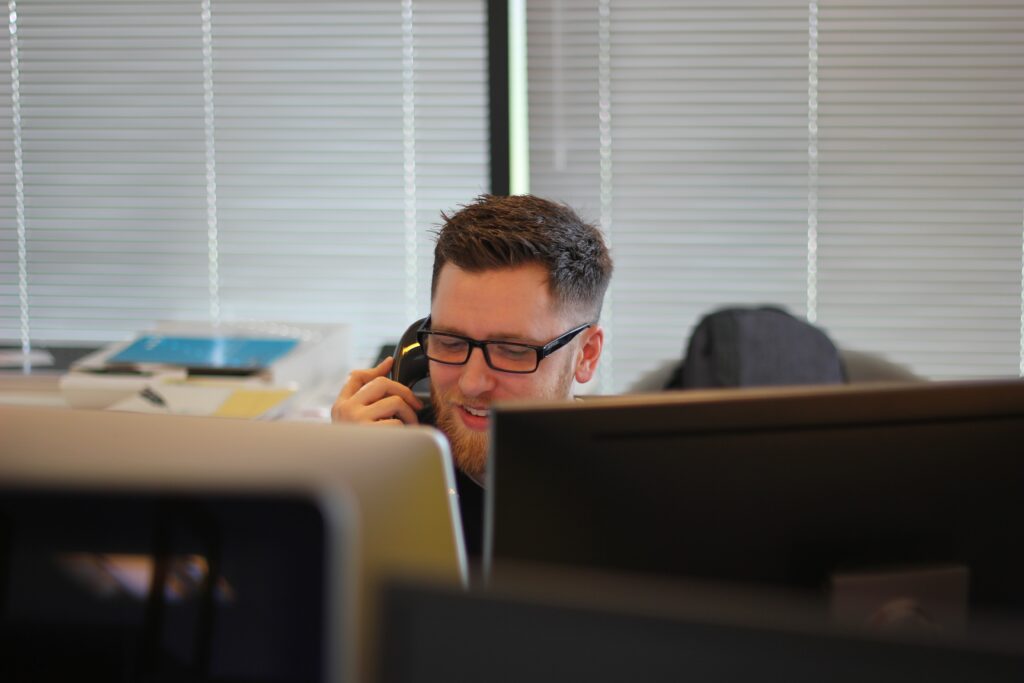 9.Global expansion and new markets
Starting to sell on OnBuy actually means starting to sell all over the world.
You may not know that this marketplace, despite its British roots, is set to expand internationally and aims to launch into a wide range of countries.
If you want to expand with a growing platform, this is the right time to choose OnBuy.
10.Simplified delivery management
Does shipping scare you? Are you worried that you'll have to manage a large amount of orders through OnBuy and not know how to handle it?
Luckily, you can easily integrate your OnBuy account with the ShippyPro shipping software and automate every step of the fulfillment process.
This way, you won't go crazy, your business will be scalable, and your customers will be completely satisfied.


Want to learn more about shipping management? Read on!
How to save time and money when shipping with OnBuy and ShippyPro
Every ecommerce business must be able to support an increase in orders, even a sudden one, like the boost you could get by selling on OnBuy. For this, you can take advantage of ShippyPro's advanced features and:
How to integrate OnBuy to ShippyPro
If the 10 best reasons to start selling on OnBuy sound good to you, all you have to do is:
Register on OnBuy and log in as an OnBuy seller.
Create a ShippyPro account for free.
Connect your Carriers and delivery methods.
Set up your shipping and return rules.
Sell and fulfill your orders with customized labels and constantly updated tracking.
What are you waiting for? Don't waste any more time, connect your OnBuy account to ShippyPro now!