2020 Black Friday forecast based on data collection from November 2019 & November 2020

By
ShippyPro Team
·
1 minute read
In this research conducted by UPIDO and ShippyPro you find out forecasts for Black Friday, Cyber Monday and December 2020, useful to achieve a successful peak season!
Peak season forecast in Covid–19 times
What can e–merchants expect for Black Friday and Cyber Monday during this second or third wave of the pandemic?
As it was described in our first report, the new normal has shifted consumption from offline to online channels as never before in the short history of e–commerce. Consumers have been advancing their holiday season purchases taking advantage of early online shopping festivals, such as Amazon Prime Day on 13th and 14th October.
What happened in early November and what is the Black Friday expected growth versus 2019 in the 17 most e–commerce dynamic Markets?
Based on our unique data collection and modelization system, we are providing you with results and forecasts related to the e–commerce Peak season Events in November 2020: Single day (Nov 11th), Black Friday and Cyber Monday.
In this report we will have first a closer look at the 6 most mature e–commerce countries, before moving to an overview of the whole 17 countries usually considered as the most dynamic markets for online shopping.
US & top European e–commerce Markets Focus
For each of this Top 6 Markets (US, UK, Italy, Germany, France, Spain), we will focus on two key indicators:
Early November 2020 Growth – impact of Single day Event (11/11)
2020 Black Friday period Growth – Forecast versus 2019 Comparison of the 17 most dynamic e–commerce Markets
Comparison of the 17 most dynamic e–commerce Markets
We will report 3 KPI to help you understand each market potential compare to the others:
Early November 2020 Growth Ranking
Black Friday and Cyber Monday 2020 Forecast Ranking
Shift from offline to online shopping due to Covid–19 crisis
Black Friday and Cyber Monday 2020 forecast – Top 17 Countries ranking
Predictions for the forthcoming Black Friday and Cyber Monday week were produced in order to assess the year–on–year growth that can be expected for the week starting with Black Friday and the seven following days, including Cyber Monday, this year.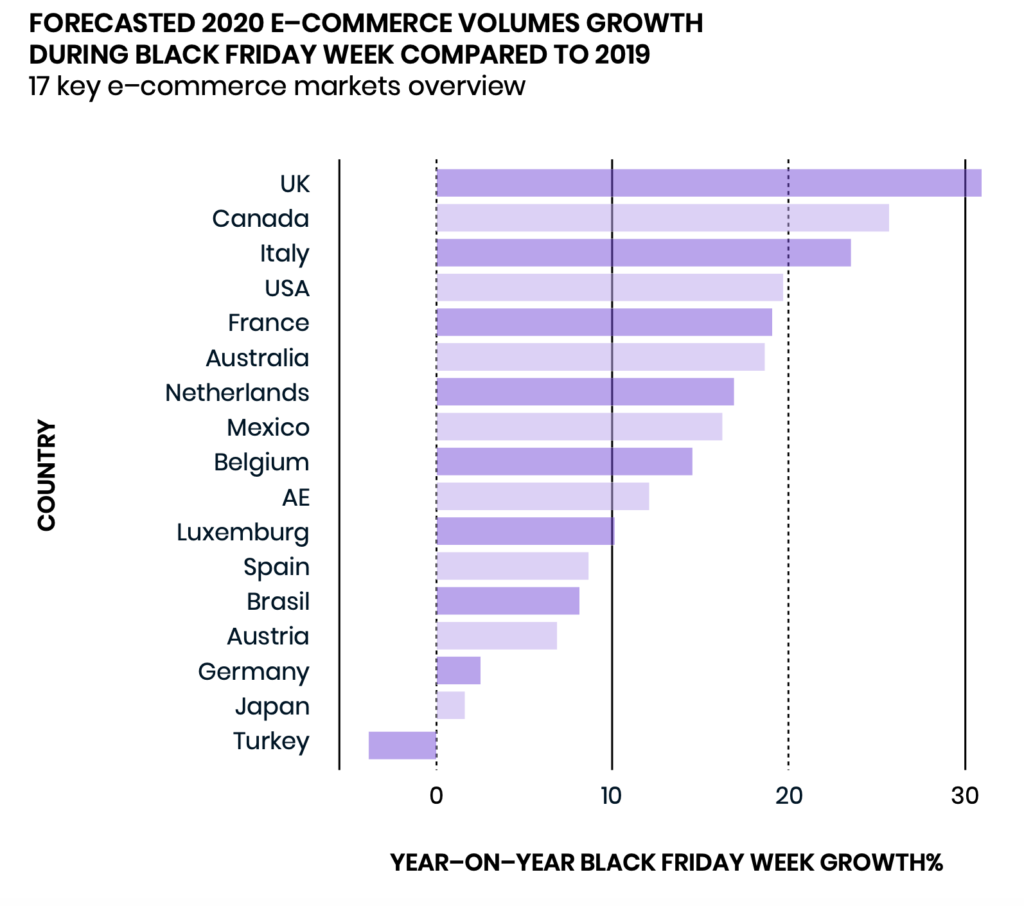 Continue to read this 2nd Report with forecast and actionable insights for free.
This is the 2nd of a series of detailed reports, stay tuned for more to come!