6 amazing sustainability initiatives by e–commerce-centric enterprises

By
ShippyPro Team
·
3 minute read
In the 2020s, brands and enterprises will place more of a focus on sustainability initiatives than ever before. Consumer demand for sustainable products and services is predicted to grow sharply in the coming years, in part because of the increased pressure from Gen Zers as they own more spending power. A 2019 survey from Amnesty International of over 10,000 Gen Zers from across the globe discovered that climate change is their top concern and the most vital issue of our time.
Combating climate change will require concerted efforts from governments, enterprises, and consumers. Here's how some of the most well known brands in North America and Europe are doing their part.
Zalando's requirement for supply chain information
Zalando, which is the biggest online-only retailer in Europe, is requiring all fashion brands under its remit (of which there are 2000) to offer up supply chain details in order to rank the brands' products' environmental and social impacts.
If the brands that sell on its platform don't provide this information by 2023, they will no longer be featured on Zalando's website. Zalando's director of sustainability told reporters that the company sees a strong link between sustainability initiatives and future e–commerce success, nodding to the pressure from consumers.
The company is thus the first to make the Higg Brand and Retail Module mandatory. This tool uses the following factors to calculate an environment and social impact score:
Management System
Product
Supply Chain
Packaging
Use & End of Use
Retail Stores
Offices
Transportation
Distribution Centers
Consumers will be able to review the score for products and brands they are interested in before making a purchasing decision. This move is predicted to have a big impact on the e–commerce fashion industry, as many other brands will likely follow suit.

eBay's resale items and greenhouse gas emissions reductions
By its very nature, eBay promotes sustainability, and it's smart to highlight this in its communications on impact. Because eBay products offered by third party sellers are often pre-used items, the platform facilitates recycling and reuse of goods.
But eBay's commitment to sustainability goes beyond its business model. Via more environmentally friendly warehousing and fulfillment practices, eBay aims to decrease their greenhouse gas emissions by 50% by the year 2025 (using 2016's levels as the starting point). The company had already achieved a 31% reduction by the end of 2019.
This goal is being achieved through optimizing energy use, investing in renewable electricity, reducing water consumption, and contributing less to landfills.
Amazon's Climate Pledge Friendly label
Amazon's Climate Pledge Friendly label now appears on over 25,000 products in the US marketplace and was recently launched in the UK marketplace. The label aims to make it easier for shoppers to find sustainable products more easily.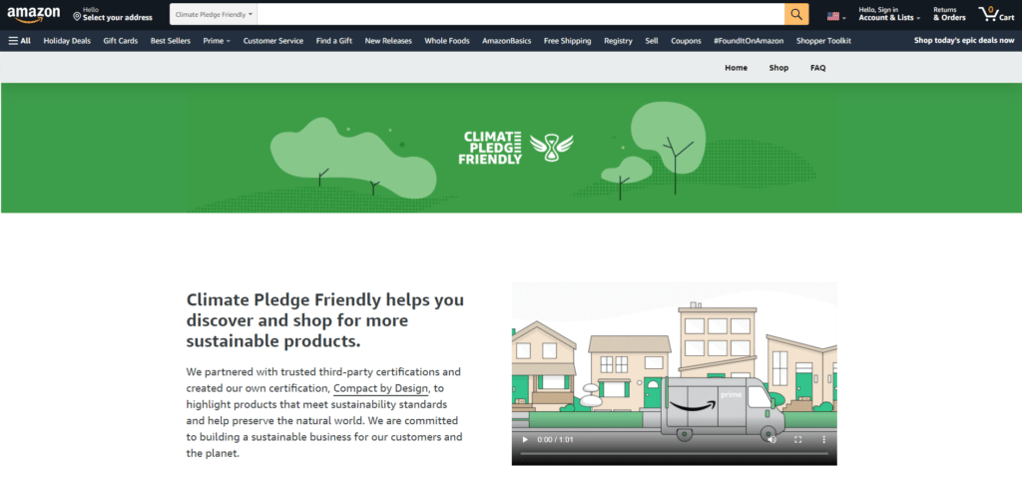 Products with the label are clearly marked in search results pages, and also offer sustainability details on their product landing pages. In addition, consumers can go directly to the Climate Pledge Friendly section of the site to discover participating products.
"Climate Pledge Friendly is a simple way for customers to discover more sustainable products that help preserve the natural world. With 18 external certification programs and our own Compact by Design certification, we're incentivizing selling partners to create sustainable products that help protect the planet for future generations." – Jeff Bezos, Amazon founder and CEO
William Sonoma's responsibly sourced materials
As a popular American brand for home goods, William Sonoma produces its own lines of products. The company is dedicated to responsibly sourcing materials as part of its sustainability initiatives.
Some of their commitments include:
100% FSC-certified catalog paper since 2006
100% GreenGuard company-produced PB Kids bedroom & nursery furniture by 2020
100% responsibly sourced cotton by 2021
50% responsibly sourced wood by 2021
The enterprise has already made significant progress towards these goals, and has earned recognition as the 24th most sustainable company worldwide.
Zara's goals for 2025
Zara, a global fast-fashion brand, has made large sustainability goals for the year of 2025. It pledges that 90% of the raw materials it uses to manufacture its products will consist of cotton, linen, and polyester, and that these materials will be organic, sustainable, or recycled. By getting rid of hazardous raw materials, Zara will release fewer toxins into the environment and support responsibly sourced materials.
In addition, all single-use plastics associated with customer sales will be completely eliminated by 2023. This year, plastic bags have already been cut and donation bins have already been installed at most retail stores in order to reduce the amount of Zara products that end up in landfills.
H&M's in-store recycling system and technology partnerships
H&M is partnering with Looop in order to roll out recycling systems in its stores. Shoppers can bring in old garments, even those with holes and in otherwise poor conditions.
The Looop system produces new knitted products by breaking down the materials of old items. It shreds the old materials down into fiber and then spins the fiber into yarn, which it uses to knit new clothes.
Customers can get involved in an exciting way. They can book a time to bring in their pre-used goods and watch the machine go to work making them something new. Within a few hours, they'll be able take home a new product designed exclusively by H&M.
Currently, H&M offers 8 different products that can be created by the Looop technology:
long-sleeved top
short-sleeved top
poncho
balloon-sleeve jumper
men's sweater
kid's sweater
baby blanket
scarf
The brand offers a hint of a future in which companies around the world offer the ability for consumers to convert their old belongings into new products. Just imagine the social media impact too.
It's exciting to see the sustainability initiatives of some of the world's top enterprises that have a big e–commerce presence. Their goals and actions for the early 2020s are sure to inspire other brands and SMEs to innovate how source materials, produce products, handle fulfillment, and empower consumer involvement.
Looking for an easier way to ship and track e–commerce orders? Learn more about ShippyPro.