7 Ecommerce companies with smart product bundles

By
ShippyPro Team
·
4 minute read
Are you looking for a way to sell slow-moving products and offer your customers more value? Many online businesses are using ecommerce product bundles to accomplish the same goals.
If it's your first time hearing about product bundles, here's a simple definition of the concept and examples of businesses using the tactic to their advantage.
What are Ecommerce Product Bundles?
Ecommerce product bundling involves offering different but related products to consumers in one package and at a bargain price. An example is offering an iPhone, an iPhone case, and AirPods in one package. Also called package deals, a product bundle may come as an upsell or cross-sell.
An upsell persuades a customer to purchase a pricier and possibly better quality version of a product. For instance, offering cooking pans alongside a crockpot (the upsell). A cross-sell encourages a consumer to buy a product that complements their purchase. An example is offering a box of screws alongside a set of screwdrivers.
Online and offline businesses offer product bundles for several reasons, such as boosting sales by making customers feel they are getting a better deal. It's also a useful tactic for clearing out overstock or slow-moving inventory.
Do you think product bundling is ineffective? A Harvard Business School study says otherwise. The study discovered that Nintendo sells more gaming consoles and video games by bundling them together.
Upselling increases revenue by 10-30%, and product bundles are a smart way to upsell your customers.
Examples of ecommerce product bundles to inspire you
If you still have doubts about ecommerce product bundles, below are examples of companies using the tactic to their advantage. Use these examples to inspire your own product bundles.
1. Realm's 3-day Real Food Reset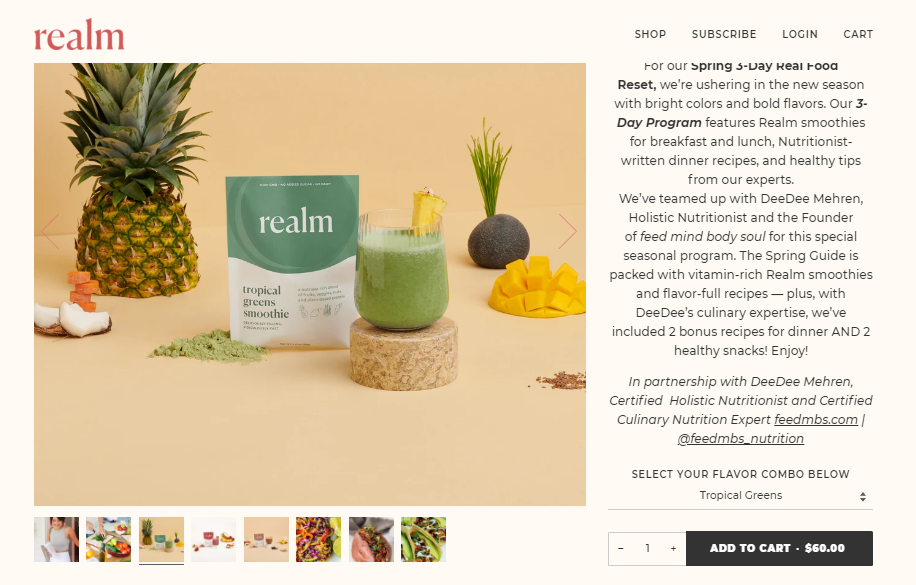 Realm offers the Spring 3-Day Real Food Reset bundle, which contains not just ten Realm smoothie packs, but also:
A free shaker bottle
Five dinner recipes and snack suggestions
Daily reminders and a customized grocery list
The bundle is a great bargain for consumers looking for tasty and nutrition-rich alternatives for breakfast and lunch. The digital recipes and reminders provide all the information and updates you need via your mobile device. Plus, you can get the package in various flavors to suit your palate, including Berry Fresh, Tropical Greens, and Bold Cacao for chocolate lovers.
Key takeaway: If you have only one main physical product, add a digital product to create a bundle.
2. MiniLuxe's Deluxe Get Ready Manicure Kit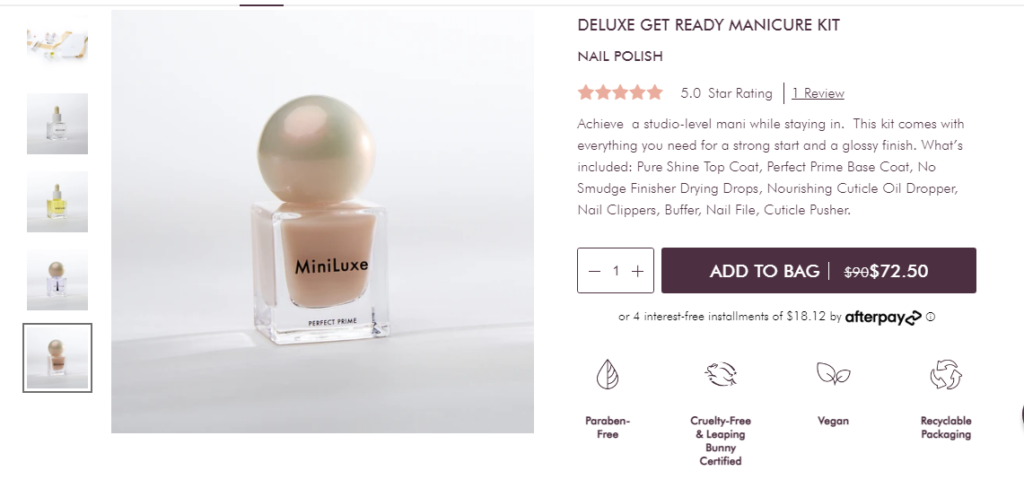 Premium manicure kits are typically pricey. MiniLuxe allows you to snag a bargain by offering everything you need for beautiful nails in one pack. The MiniLuxe's Deluxe Get Ready Manicure Kit contains:
Nail clippers and file
Buffer and cuticle pusher
Perfect prime base coat
Pure shine top coat
No-smudge finisher drying drops
Nourishing cuticle oil dropper
Separately buying each product costs more than purchasing the bundle, making this a great-value-for-money offer. Plus, you get to enjoy studio-level manicures at-home salon.
Key takeaway: Craft a bundle that helps offers a full experience.
3. Men's Warehouse's Featured Bundles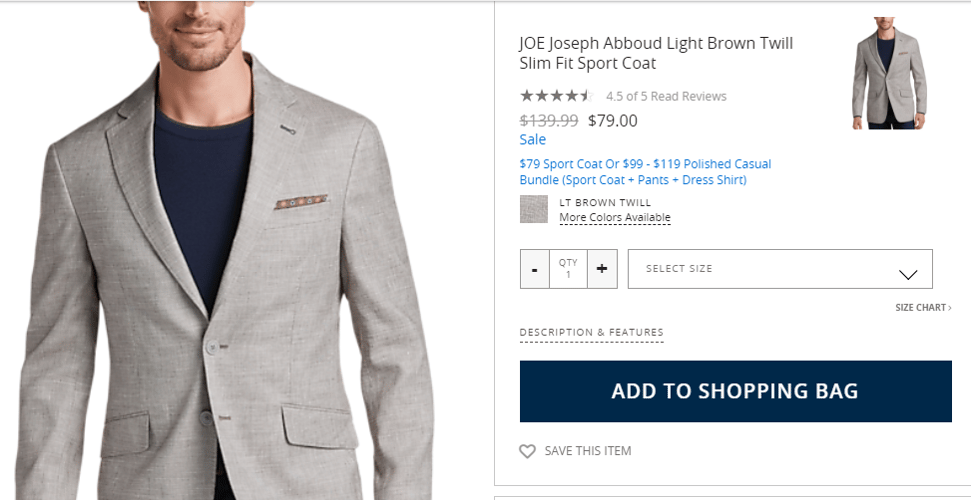 Men's Warehouse's Featured Bundles are ideal for men who love looking stylish without exceeding their budget. In this bundle, you'll find a:
JOE Joseph Abboud Light Brown Twill Slim Fit Sport Coat
Awearness Kenneth Cole Navy Print Slim Fit Dress Shirt
Cole Haan Grand ØS Blue Modern Fit Chino
Various sizes and colors are available for each item, allowing you to mix and match to achieve your preferred style. Besides the cost benefits and the variety of options, Men's Warehouse offers an easy shopping experience and outfits that make you look good with minimal effort.
Key takeaway: Make shopping easy for customers by showing them what goes well together.
4. Freedom Grooming's Pro Shake Kit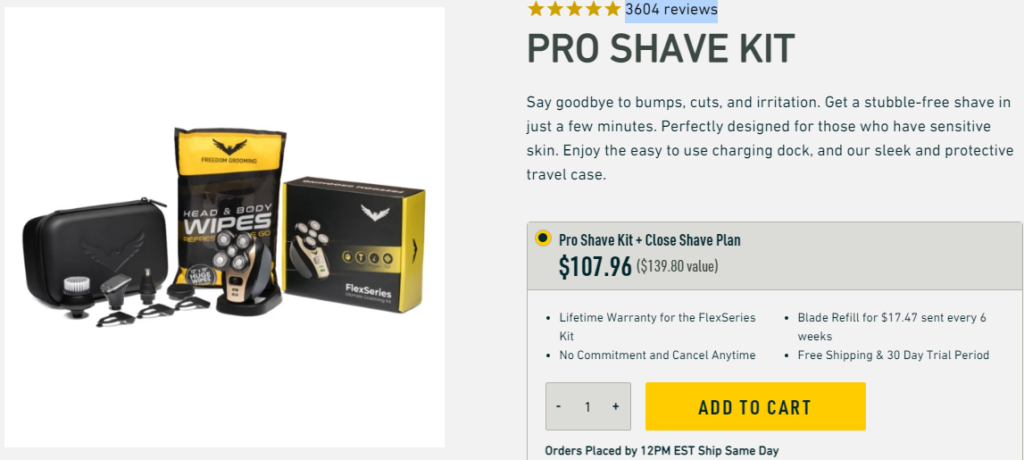 Enjoy a baby-smooth shave and stay bump-free with Freedom Grooming's Pro Shake Kit and Shave Plan. The bundle contains an electronic shaving kit specially designed for individuals with sensitive skin.
Charging is a breeze with the device's handy charging dock. Plus, you can take the whole thing with you everywhere you go with its sleek, protective travel case.
The Shave Plan is where the real value lies, offering a FlexSeries Kit lifetime warranty and a blade refill every six weeks for just $17.47. Without the plan, the refills cost $24.95.
Key takeaway: Add a subscription element to your product bundle.
5. The Beauty Chef's Gut Repair Kit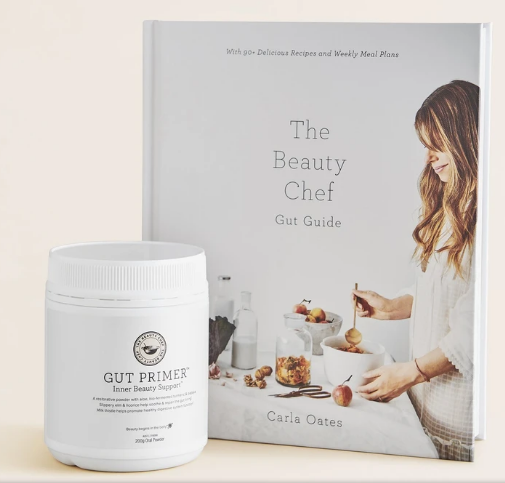 The Beauty Chef's Gut Repair kit offers a user-friendly powder supplement for boosting your digestive system's health. The bundle also features a guidebook that explains how to use the powder supplement and over 90 recipes and meal plans for optimal stomach health.
Key takeaway: Create a physical product bundle that helps customers get the most out of your main product (so they'll buy it again).
6. Monica + Andy Baby Starter Box

High-quality baby clothes are expensive. The Monica + Andy Baby Starter Box makes shopping for your newborn less of a hassle by offering home and outwear essentials in one bundle. In the bundle, you'll find a top, onesie, pair of pants, bodysuit, and top knot cap.
Each item is available in various colors and made with 100% organic cotton that's lead, phthalate, and flame-retardant free.
Key takeaway: Pull your best products together into an easy starter kit or gift box.
7. Cleancult's Complete Home Bundle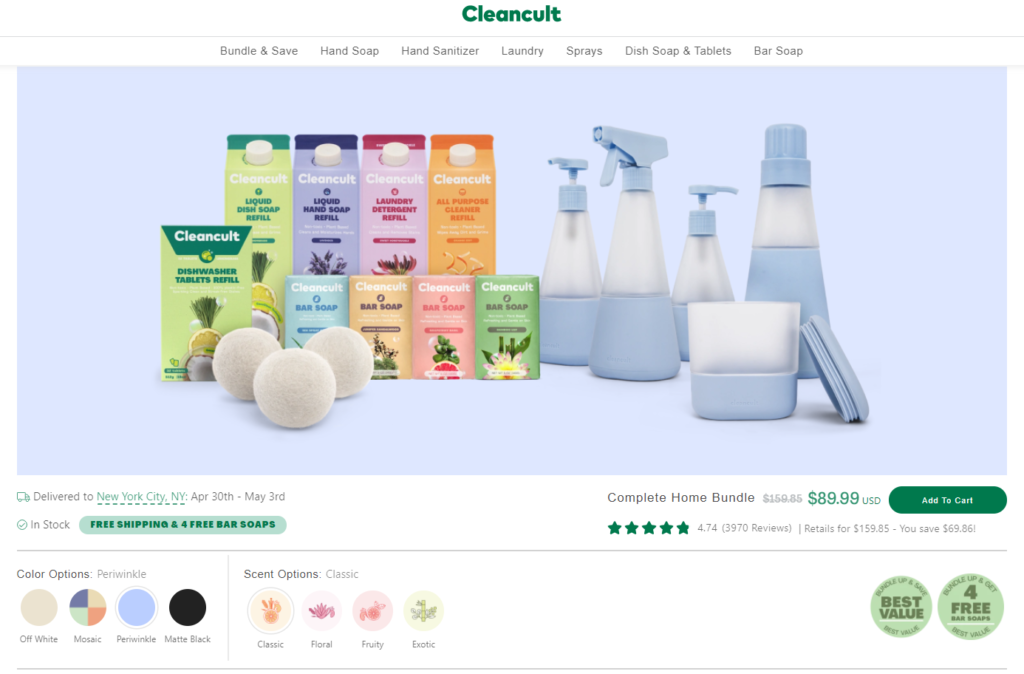 For consumers looking to clean their home using eco-friendly products, it can be confusing knowing what to buy and getting all of the right tools and soaps. Cleancult makes the transition to green cleaning super easy with their Complete Home Bundle.
It includes:
Refillable glass bottles
One refill each for all purpose cleaner, hand soap, dish soap, laundry detergent, and dishwasher tablets
4 types of natural bar soap
Key takeaway: Use your product bundle as a way to help customers make a big transition in their lives.
Using ecommerce product bundling tactics
Ecommerce product bundles are a smart choice for making customers more enthusiastic about spending money on your online store. Increase the effectiveness of your product bundling strategy by ensuring that every product in a bundle offers value. Customers are more likely to buy a bundle if the complementary or added items add value to the purchase.
Also, the bundle must offer actual savings. If it doesn't, customers will eventually discover your deception, which will affect your credibility. Lastly, use intelligent software to understand each customer's shopping behavior and use the data to personalize the bundles you offer.
How to upsell and cross-sell with ShippyPro
ShippyPro is a shipping platform that makes it easy to manage your shipments and returns. Plus, we have features that allow you to easily upsell and cross-sell your audience.
You can include recommended products in your shipping email notifications and in your shipment tracking page.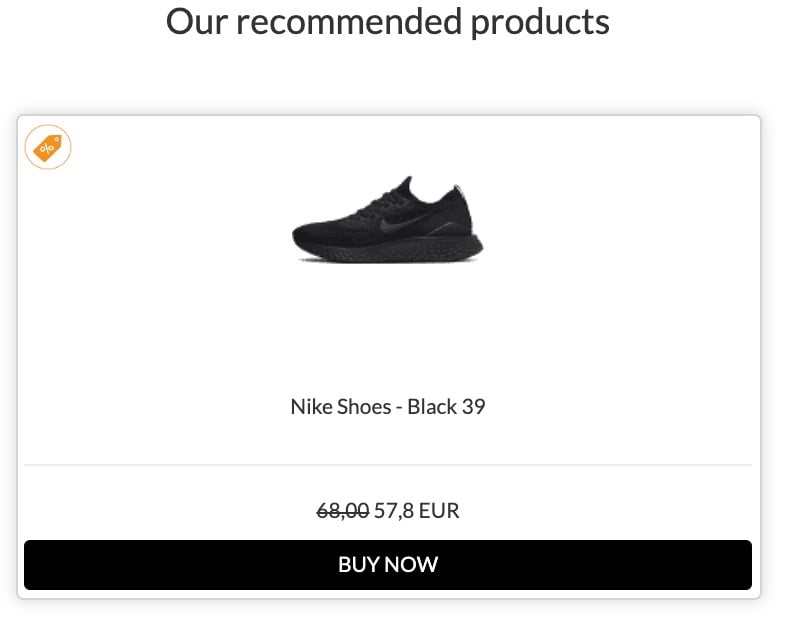 On the customizable tracking page, you can add your best-selling products as recommendations, and include a special price that is only available on this page.
Through product bundles, upsells, and cross-sells you can dramatically increase your revenue and customer loyalty for your brand.
ShippyPro offers easy shipping and returns management for ecommerce companies, with a large library of Carrier and Sales Channels integrations – Learn more