Amazon FBA vs FBM: How Amazon's logistics work

By
ShippyPro Team
·
5 minute read
What are the pros and cons of Amazon's FBA vs FBM sales? Which mode is more convenient? Amazon's logistics will be analyzed, and we will be directly comparing Amazon FBA to FBM.
In this article we will explain all the differences and give an easy explanation of Amazon logistics.
Amazon Sellers: FBA vs FBM
Amazon has proven to be one of the largest and most complex online marketplaces in the world. Whoever sells on Amazon must be able to compete with millions of other retailers, and at the same time must manage all the sales and shipping processes.
Amazon offers two solutions: that is, the possibility to choose between FBA vs FBM processes. This decision will have a different impact on your online business.
What do we mean by FBA vs FBM?
We started talking about two solutions, but what do we mean by FBA vs FBM? The FBA abbreviation stands for "Fulfillment by Amazon", that is Amazon. FBA is a service that Amazon offers sellers to help them manage their inventory, inventory, shipping and customer service.
Sellers who use the FBA service send their products to the Amazon distribution center, which stores them until an order needs to be shipped. Once the order is received, the product will be packaged and sent directly by the Amazon staff.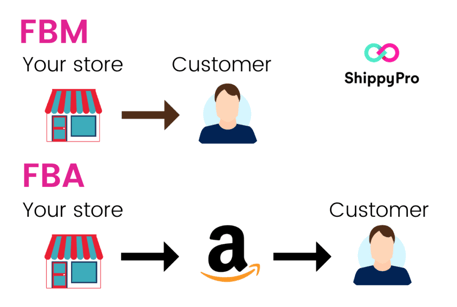 FBM instead indicates "Fulfillment by Merchant", which means that it is managed by the sellers themselves. Here we are in a completely different situation.
In the FBM the inventory, warehousing and shipping processes are in the hands of the seller. The seller then uses his own resources to manage the process, and will be fully responsible for every aspect of the operation.
After a brief introduction on what we mean by FBA vs FBM, let's analyze them in a more specific way.
Amazon FBA
In four words, FBA works this way: You sell, Amazon ships.

FBA doesn't work only for orders made on Amazon.com, but also for orders coming from other marketplaces or from the seller's website. Many ShippyPro customers use FBA to manage the logistics and the shipping of all their products. They use ShippyPro's dashboard to keep track of all their orders, received from different channels, so that they can easily communicate to Amazon which product has to be shipped where.

Amazon keeps the inventory for all selling channels, and it manages the orders in an unique center.

One of the main advantages of being an FBA seller is that products become Prime products, shown before the others. If you part of this category, you can get a lot of customers and orders, also because Prime members usually make more orders.

FBA sellers have a higher probability of winning the BUY BOX. Buy Box accounts for 82% of Amazon sales: everybody wants to know how to win the buy box.

Another advantage is that FBA seller's customers will have free shipping in 48 hours provided by Amazon, and overnight delivery for 3,99$. Thanks to this opportunity many sellers increased their sales by 25%.

Added to these advantages, sellers have nothing to manage in the after sales phase. The only thing to do is to ship their products to the Amazon fulfillment center, and to pay a monthly/annual fee to Amazon.

FBA sellers usually obtain a higher conversion rate: that's because their product is considered as if it was sold directly from Amazon. This impression gives a sense of trust for the customer, as Amazon is one of the most reliable marketplaces in the world.

Moreover, in case your products are delivered late or some other delivery problems happen, Amazon is fully responsible. Negative feedbacks will not affect the seller's reputation.

FBA makes the process easier, especially for sellers managing high volumes of sales.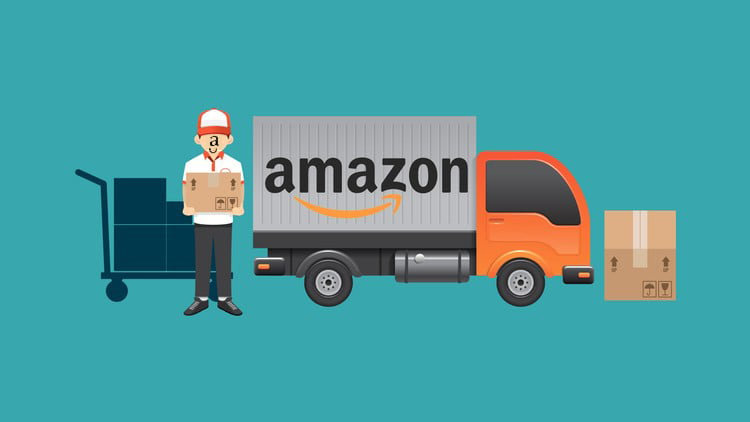 Of course, FBA has not only positive aspects, but even some flaws.
1- In case the sellers choose FBA, they will face additional costs that will affect their final profit. In fact, FBA sellers will pay not only the FBA fee but even the shipping costs to the fulfillment center.
2 – Another flaw is that Amazon asks to be paid for every cubic feet of space occupied in the storehouse. This is a problem, especially for the "long-tailed products" which have a long storing time.
3 – Multichannel can be costful and inventory can be difficult to be traced.
4 – Many sellers don't want to put all their inventory into Amazon's hands.
5 – Last but not least, the seller's performances could be affected by problems and mistakes due to external logistics management: late deliveries, damaging, lost items.
Costs for using FBA
After exploring Pros and Cons of being a FBA seller, let's have a look at the costs. Comprehension of FBA fees can help us to understand if FBA could be the right decision for you or not.
Amazon offers two types of selling plans:
1. Individual: best for sellers who plan on selling less than 40 items a month. They will only pay $ 0.99 per item without a monthly subscription fee.
2. Professional: best for sellers who plan on selling more than 40 items a month. The monthly subscription fee is $39.99.
For your articles, Amazon FBA has these costs:
Orders management
Pick & Pack for every unit ordered
Managing (based on lbs) per unit
Storing per cubic feet per month (fees change in different periods of the year)
Moreover, there are some cases in which Amazon will apply additional fees.
There might be a change in the standard pricing for Oversized products since they have special shipping costs.
Items stored in the warehouse for more than six months have additional storing feesStoring fees are different in different periods of the year: cost per cubic feet will be higher in the period from October to December.
After analyzing FBA, and all the costs connected to FBA, let's see FBM. If you want to get deeper into FBA, you can find a good guide here!
Amazon FBM
If you don't want to use FBA, we will choose the Merchant process, Amazon FBM. Some sellers prefer to maintain control over all the selling process.
Without paying FBA fees they can increase their profit margins. Usually, FBM sellers obtain higher profit margins than FBA sellers.
Moreover, being a FBM doesn't exclude you from making your products Prime. It will just be more difficult: the sellers will have to avoid late deliveries, provide excellent customer care, immediate confirmation and shipping of the order and have very good feedback.
For FBM sellers it is very important to reduce shipping costs: while Amazon manages very high volumes and obtains low prices for the fast delivery, FBM will have to compare prices and services of the different couriers, in order to get the best service at the lowest price.
Of course, FBM too has some flaws. If you have to manage high volumes it could be difficult to have an adequate process. You will have to guarantee that you offer a smooth process every day, without interruptions.
FBM sellers don't have a "free pass" to Prime: they will have to work a lot to get it, and it is not simple at all.
Let's not even start on Buy Box: the path to access it is even more difficult. You have to succeed in managing customer complaints and delivering without any delay to have the possibility of winning the most desired buy box on the internet.
Integrate your Amazon account with ShippyPro
By integrating your Amazon account to ShippyPro, you'll save time and you'll be able to send your orders faster.
These are just some of ShippyPro's features:
Label Creator: With just one click, you can import all your orders and print labels for each delivery, saving you time and effort.
Track & Trace: ShippyPro will automatically send shipping notifications to keep customers updated at every stage of the shipping journey.
Easy Return: Take the hassle out of returns with this easy-to-use returns portal which is fully embeddable in your site.

ShippyPro Team
ShippyPro is the complete shipping software for online and offline retail. With Label Creator, Track & Trace, Easy Return and Analytics features, our software simplifies your shipping operations. ShippyPro integrates with over 160 couriers and 80 sales channels, making it compatible with a wide range of products and use cases.