10 Online Marketplaces to sell in the UK: the ultimate list

By
ShippyPro Team
·
8 minute read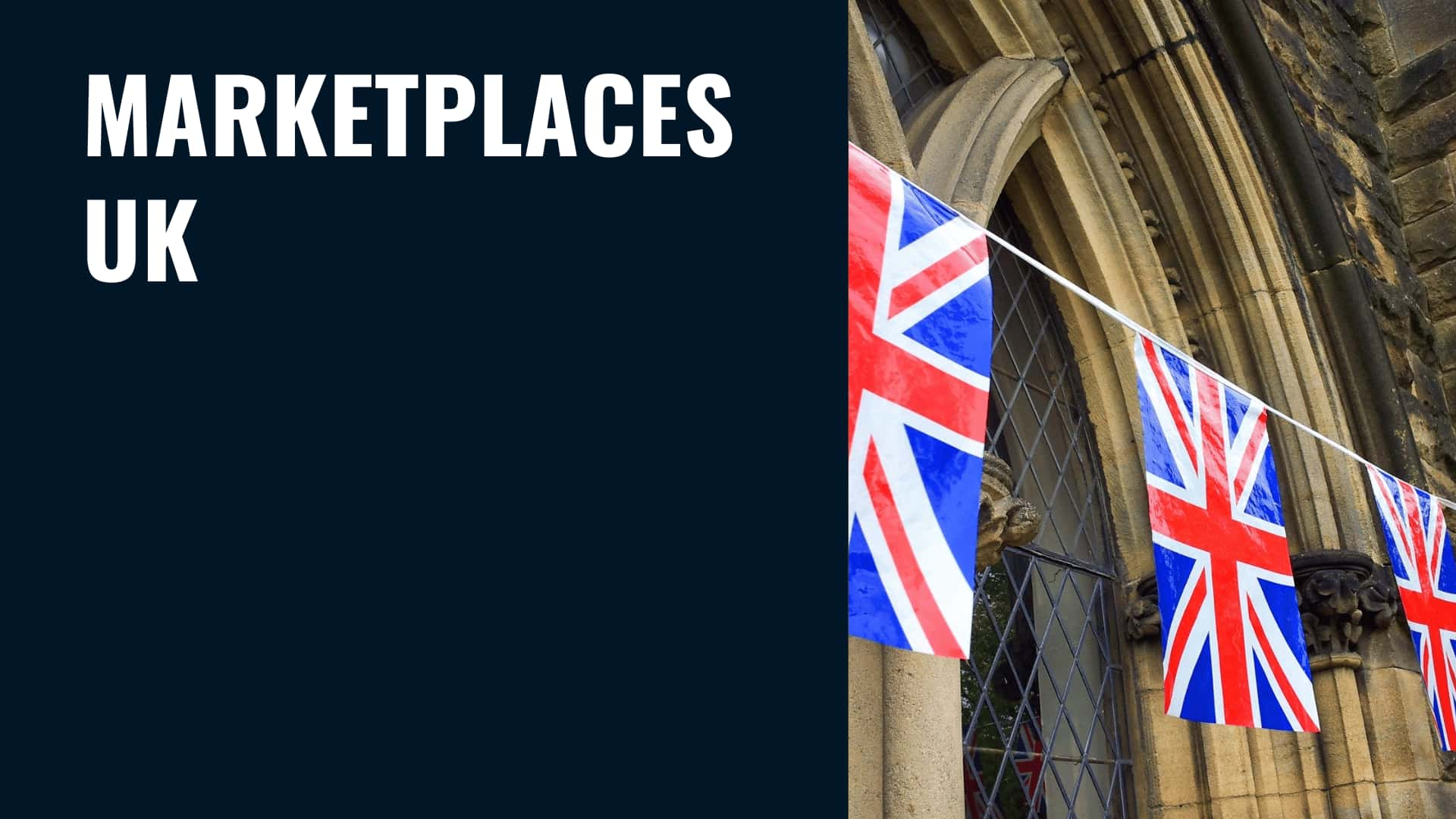 Knowing what are the online Marketplaces in the UK will help you choose the best one for your business. Your choice will depend on the items you want to sell and the resources you have to make the shipments.
So, why should you choose a marketplace to sell on in the UK? The answer is very simple. It is estimated that the British will spend about 200 billion euros this year on online purchases.
So the United Kingdom becomes an excellent choice to promote your e-commerce. If you want to be part of the British e-commerce boom, do not miss this article.
We created a list with the 10 best platforms to sell your products and reduce the financial risk of opening a store in another country.
The complete list of online Marketplaces in the UK
Choosing one of the best online marketplaces in the United Kingdom to sell your products does not have to be a pain. With this complete list of online marketplaces you can make your choice in an instant.
Take note and discover which one is best for you.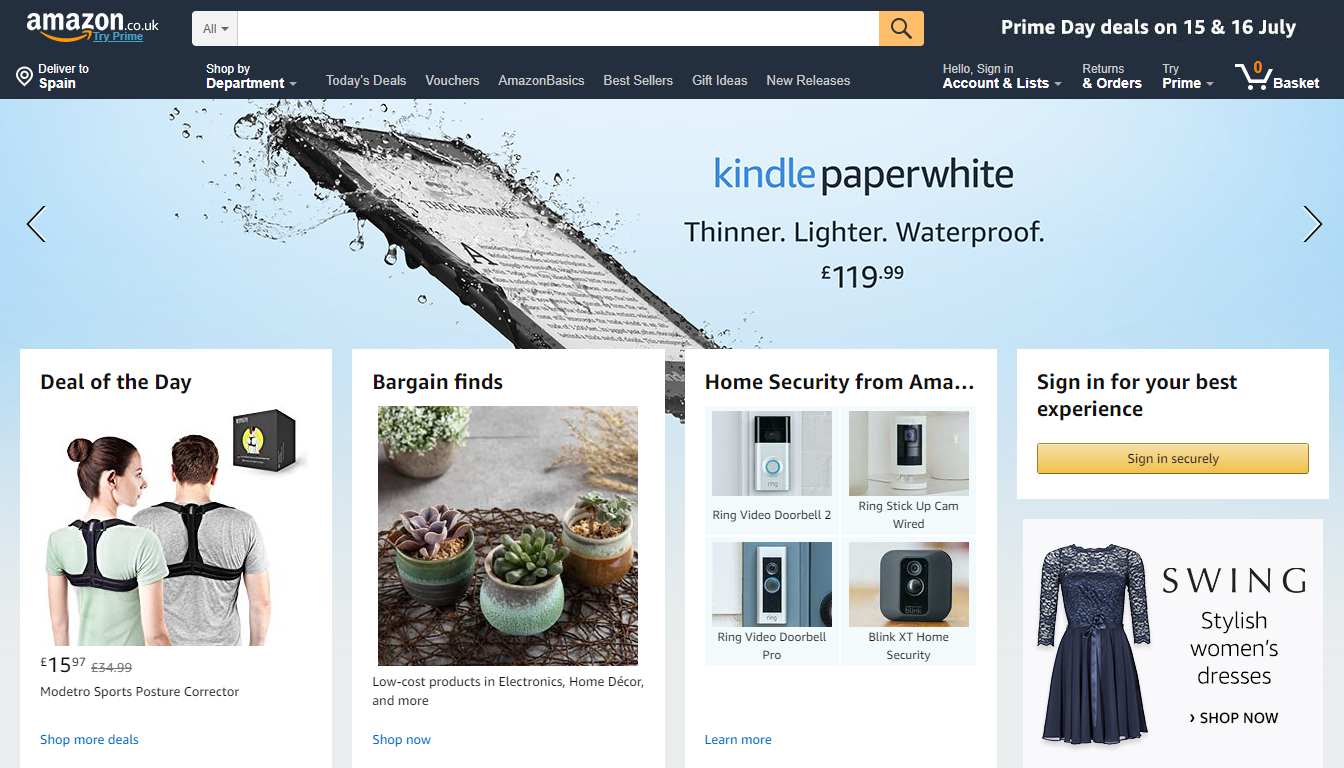 Amazon is an online marketplace in the USA, Canada, several countries in Latin America, Asia and in many countries in Europe. It is the marketplace preferred by millions of people to make online purchases.
Amazon is considered one of the giants of electronic commerce for the benefits it brings to both buyers and sellers. Its competitive prices and its wide range of products make it the ideal place to make any purchase.
If you own an e-commerce, you should consider the possibility of selling on this platform. Amazon's marketplace can help you achieve your sales goals and expand your business to other countries.
How to sell on Amazon.co.uk
The first thing you have to do to sell on Amazon is create a seller account. Once you have registered, you can sell in all marketplaces in Europe where Amazon has coverage.
In other words, if you create an account to sell in the marketplace of Amazon in Spain, you can automatically sell your products in the United Kingdom. You can reach a wider audience with a single account.
And this is just one of the biggest advantages that Amazon gives to the sellers that decide to use its marketplace. You will have the opportunity to store your products in the Amazon logistic centers.
Because of this, Amazon will be responsible for placing orders and shipping them, allowing you to save time and focus on improving your e-commerce.
The numbers of Amazon.co.uk
Amazon is the preferred platform by British customers. 90% of them have chosen Amazon as the first option to make their purchases online and 25% of buyers are part of Amazon Prime.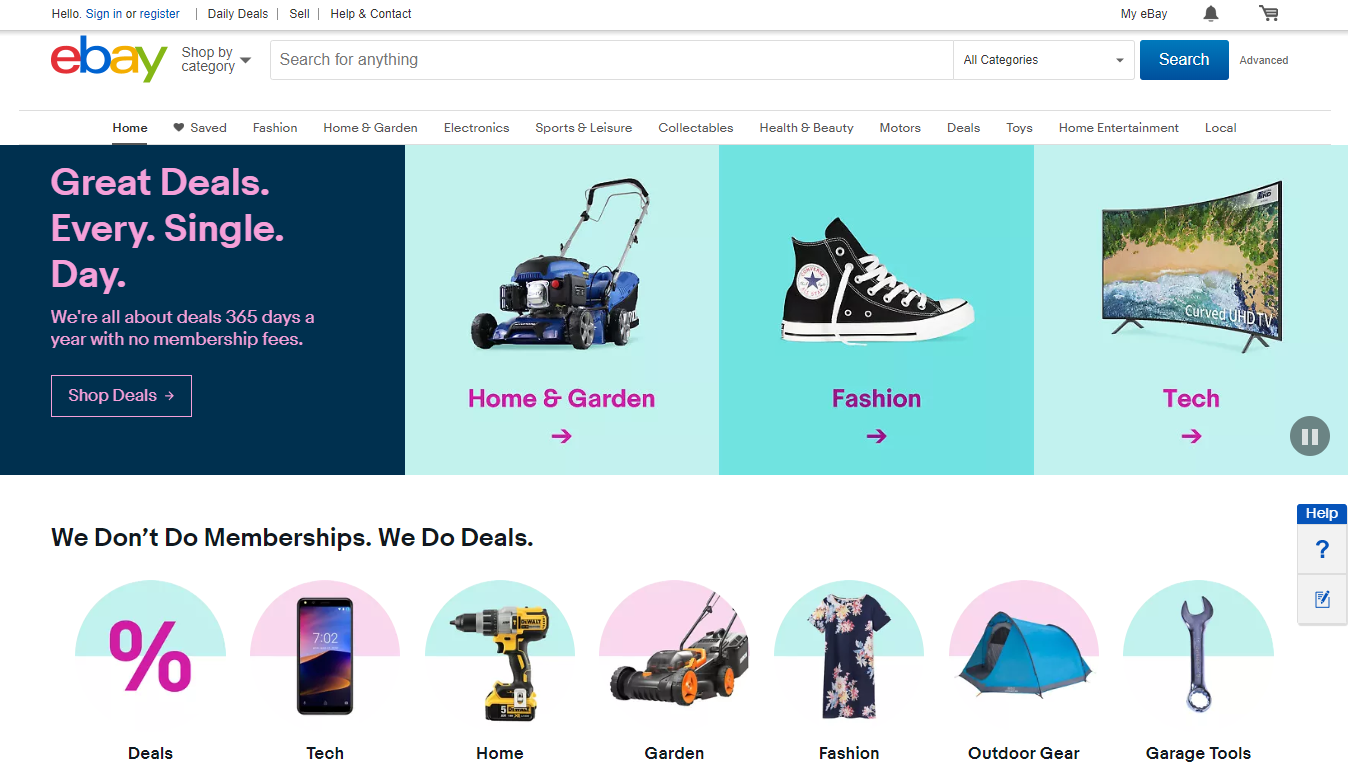 Another one of the big online marketplaces in the United Kingdom is eBay. Buyers can find many products on this platform. Products range from household appliances and home accessories to clothing, footwear and accessories.
But eBay is also an excellent choice for sellers. By selling your products on this marketplace, you can use its tools to analyze your sales.
In addition to the instant tracking of the products you sell, eBay's marketplace also allows you to develop your own brand and expand your business.
How to sell on eBay.co.uk
Selling on this marketplace is a piece of cake. The first thing that eBay recommends is to make quality photos of the products you want to sell. They recommend to make the photos with natural light and to use a monochromatic background.
Once you have the photos, you will have to write a detailed description of the article. Remember that you will be competing with several sellers so your text will have to attract the reader.
When you make a sale, eBay takes care of the payment transaction so you can focus on the shipment and create the invoice. Here are some tips to make invoices on eBay.
The numbers of eBay.co.uk
The eBay platform in the United Kingdom has nothing more 24 million buyers registered. Each month the platform registers millions of visits.
During the month of June 2019, eBay received some 330 million visits to its website.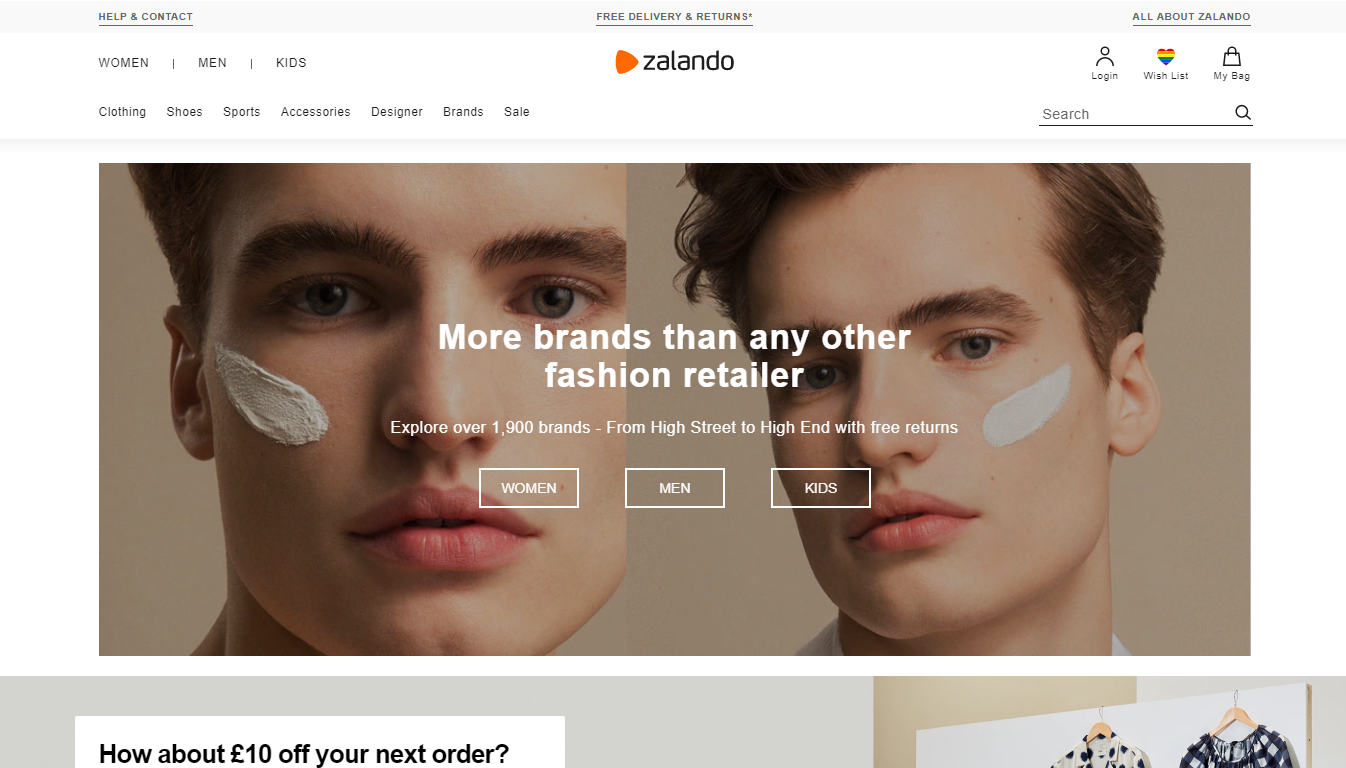 Zalando, based in Berlin, is one of the largest marketplaces in Europe. The items sold on this platform fall into the categories of clothing, footwear and accessories.
This marketplace has a selection of about 1,900 brands, so users know that on this site they can find what they are looking for. In addition, for purchases over £ 19.90, users will not have to pay shipping costs in the United Kingdom.
You can take advantage of this clause and create offers to generate more sales.
How to sell on Zalando.co.uk
To sell on Zalando, you will have to be part of the Partner Programme. But first you must make sure you meet the requirements. Before you can sell your products on this platform you must:
Offer products in the following categories: clothing, shoes, sportswear and equipment, accessories
Be able to offer free returns
Comply with the return policy
If you meet the requirements, get in touch with them to begin the procedures.
The numbers of Zalando.co.uk
Last month, in June, Zalando registered about three million visits. And each user spent, on average, about five minutes browsing the page.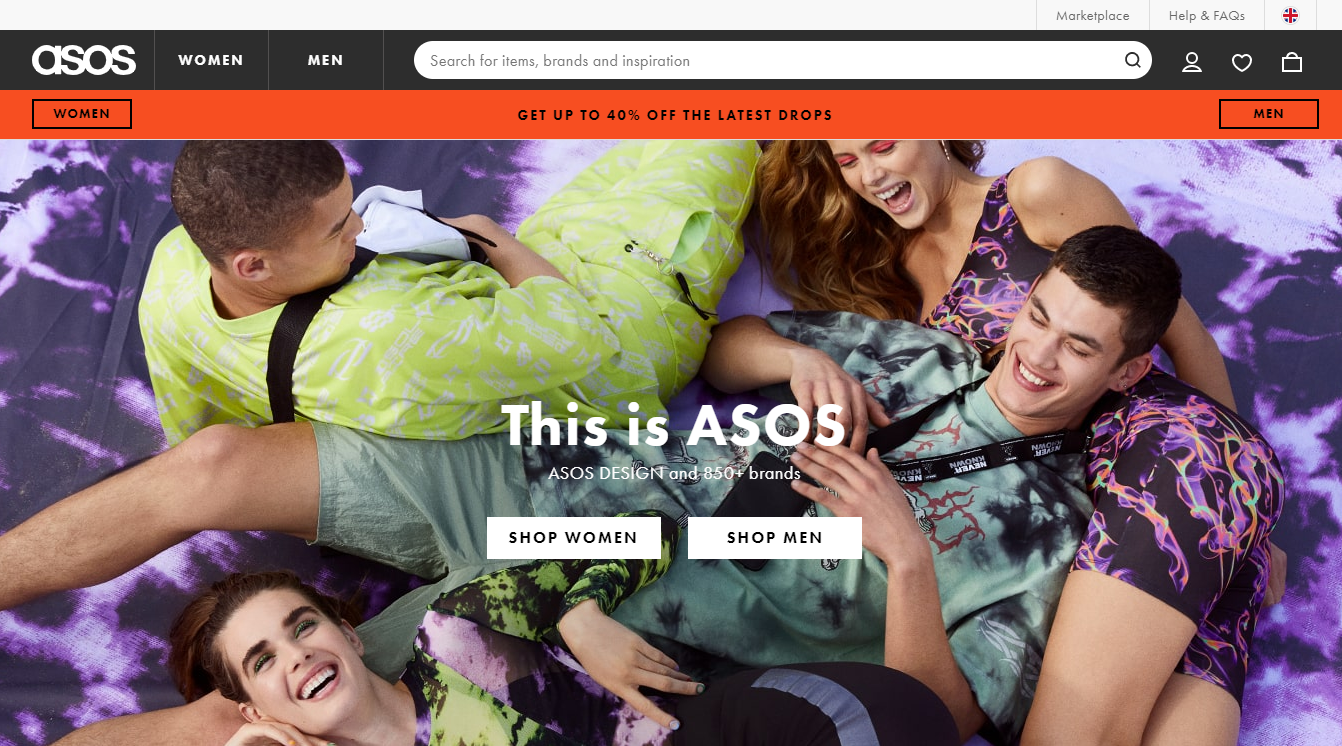 Asos is one of the leading online marketplaces in the UK. It started in 2010 with 20 sellers and currently has more than 800 stores in its catalog. Sellers come from all over the world, so buyers know that they can find unique pieces here.
Asos's marketplace sells fashion, clothing, footwear and jewelry accessories. But before putting any item on sale, the platform makes a careful selection to guarantee the uniformity of the marketplace.
How to sell on Asos.com
To open a store on Asos you will have to pay a fee of £ 20 per month and a 20% commission on each sale.
In addition, you will have to guarantee to have a minimum of items in your stock and that the photos you make comply with the requirements of the platform.
Once you have your store ready, Asos will assign you an agent to help you with your business. Another advantage of using this marketplace is that your items will be exposed to all Asos customers.
Do not forget that the average age of Asos customers is 25 years.
The numbers of Asos.com
Asos is the third largest fashion marketplace in the United Kingdom. In June, it obtained about 52 thousand visits and each person visited the page for about 7 minutes.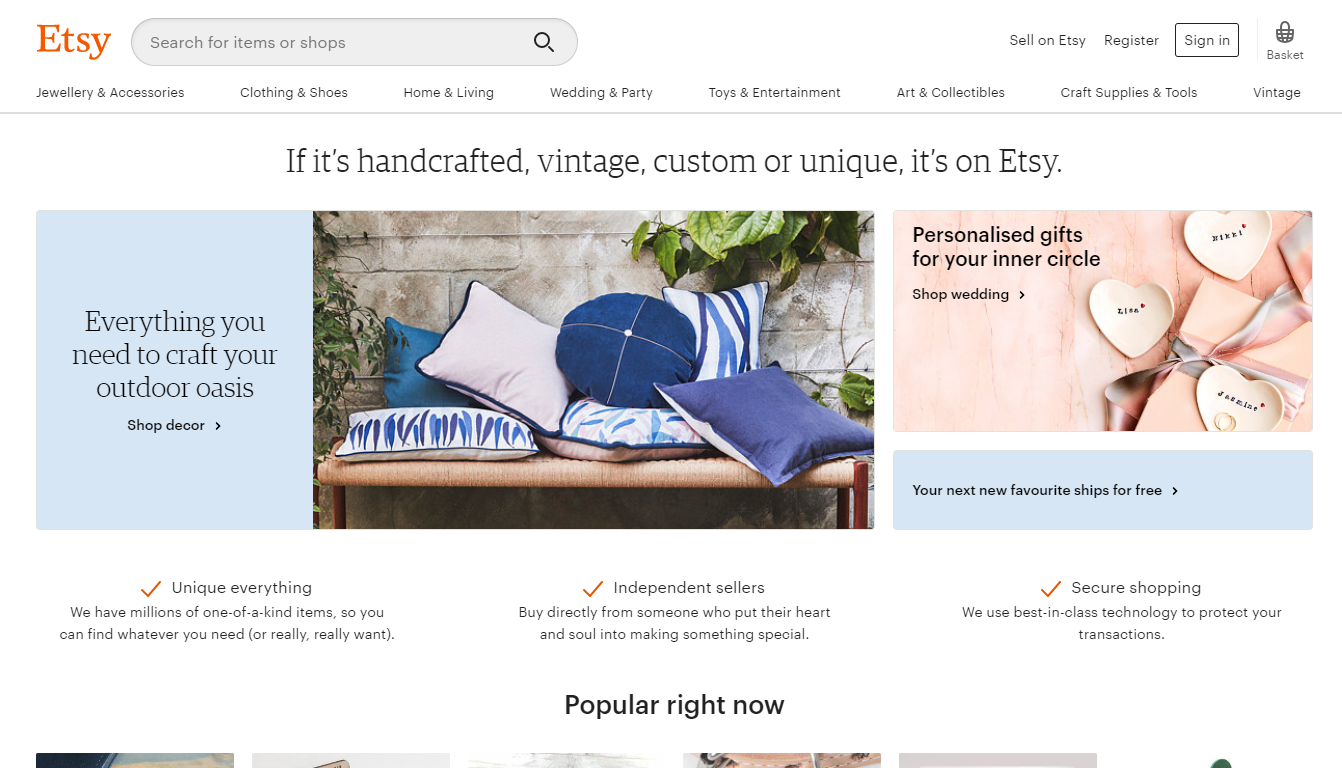 Etsy is the largest online marketplace in Europe of handcrafted and vintage products. In addition to offering handmade and vintage items, Etsy also helps artisans through its many benefits.
Sellers can use various tools to grow their business. For example, they can notify customers when they have a product in stock again.
How to sell on Etsy.com/uk
Selling on Etsy is easier than doing it on other marketplaces. Once you have your account, you can upload photos of the items you sell along with a description.
Etsy will not charge you a monthly fee for using the platform, but you will have to pay a commission for each sale.
The numbers of Etsy.com/uk
Etsy has a network of two million sellers and about 31 million active buyers looking to buy something unique.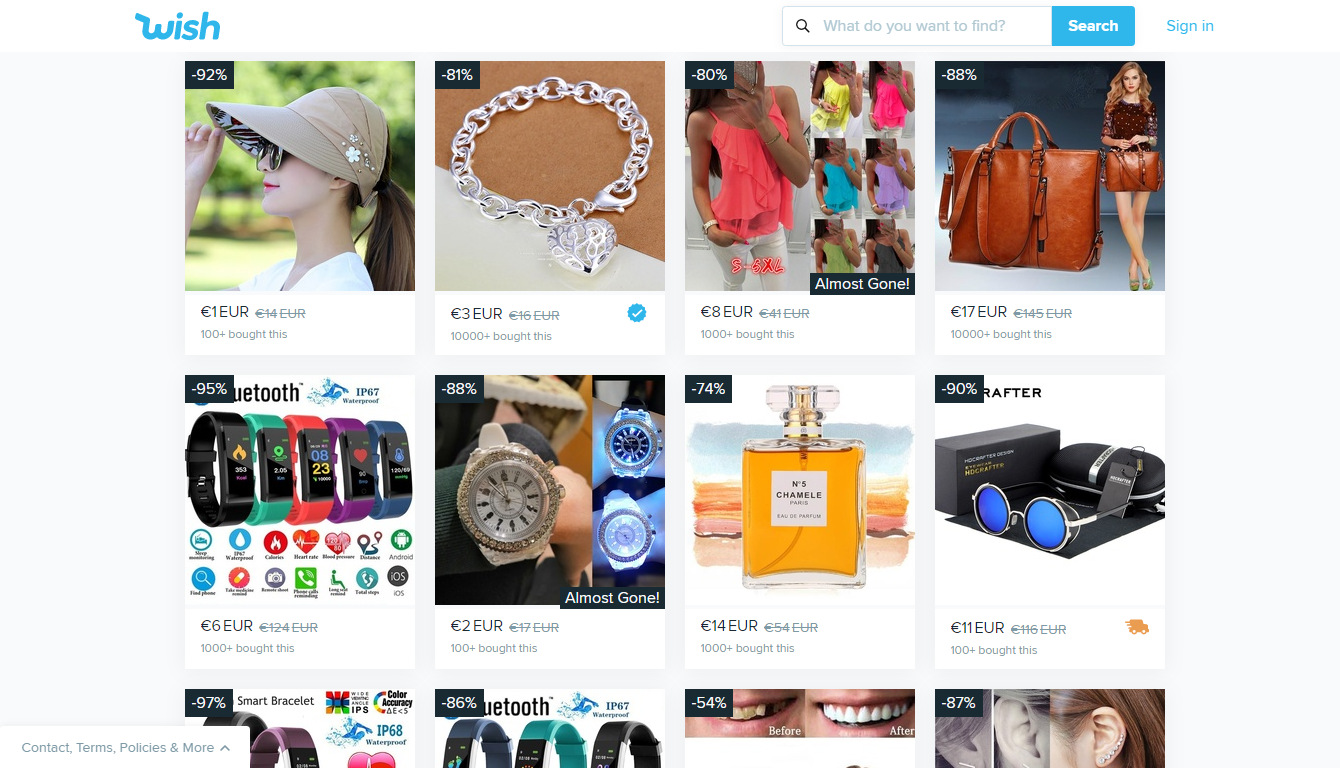 Wish is an online marketplaces in the United Kingdom where very low-cost items are sold. Despite having delivery times exceeding three weeks, the platform continues to grow in popularity.
Millions of users visit its website and app to make purchases. So if you sell your products on this marketplace, your articles will be visible to all its users.
How to sell on Wish.com
To sell on Wish, you will have to create a seller account and upload your products. From that moment, your store will be visible to all users. You will not have to pay any fee to create listings nor spend hours opening your account.
If you want to improve your sales and reach more people, you can use the promotional tools they have available. You can create advertising campaigns and select the target audience you want to reach.
The numbers of Wish.com
This marketplace has about 300 million buyers spread across Europe and the United States. Each of them spends, on average, about 30 minutes a day browsing the site in search of articles.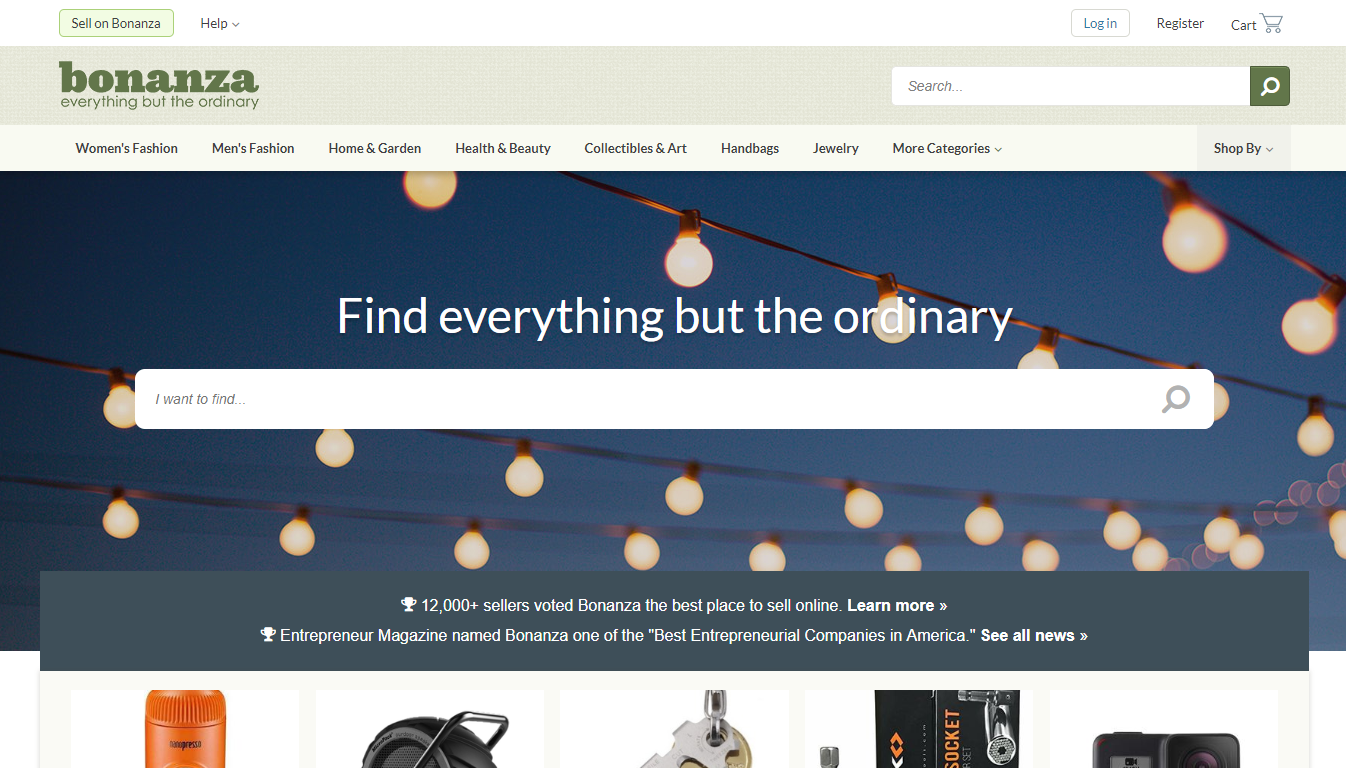 Bonanza is one of the best online marketplaces to sell your products. Your goal is to create a pleasant buying and selling experience. An experience that does not require much time or effort.
Since it was established as a marketplace in 2008, Bonanza has not stopped receiving good reviews from buyers and sellers. In 2016, it was voted as the best marketplace.
How to sell on Bonanzamarket.co.uk
Bonanza gives you the option to choose between selling for free or paying for a service with more benefits. With either option, you can use its promotion and statistics tools to analyze the activity of your business.
The numbers of Bonanzamarket.co.uk
Each month Bonanza gets about two million visitors. Of these, each vendor receives 54 visits from users who spend about four minutes on the page.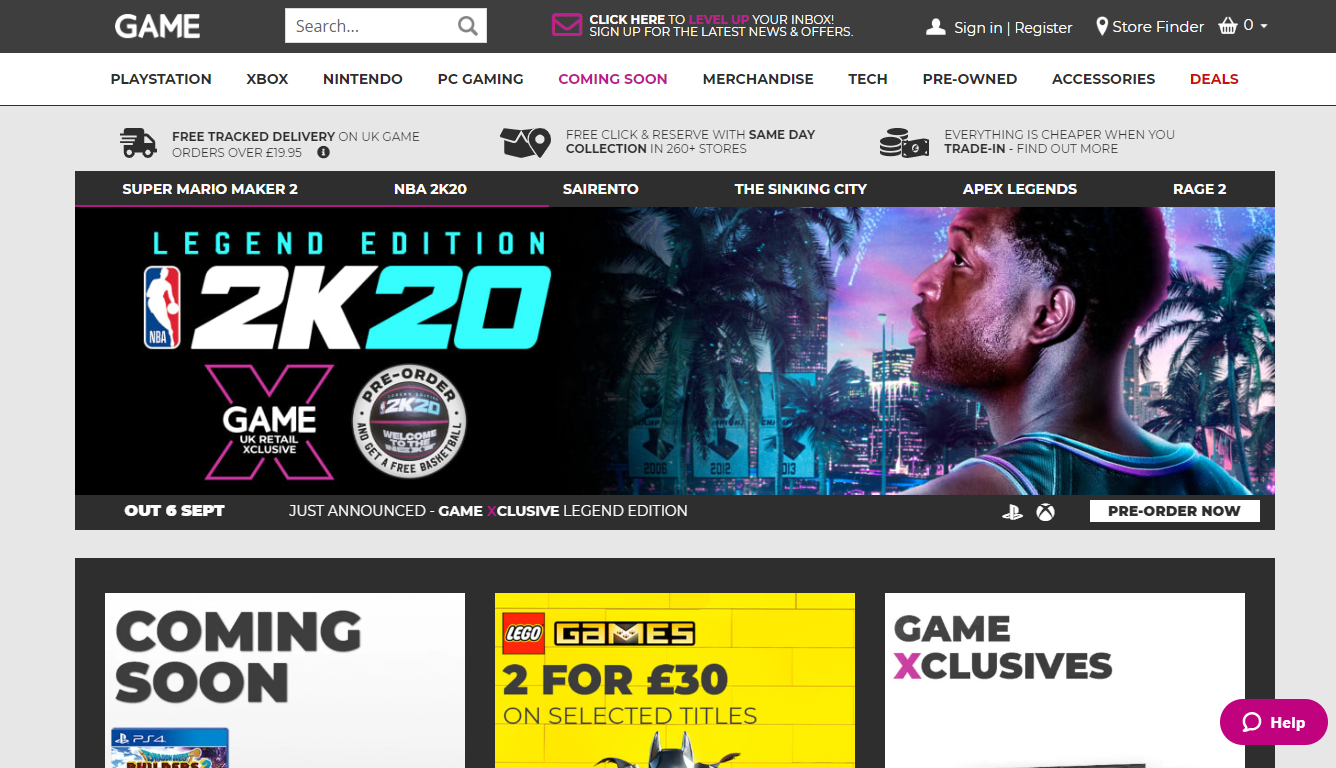 Game is a marketplace specialized in the sale of technology, videogames, merchandising, books, comics and toys. To date, it has 270 vendors selling their products on this portal.
How to sell on Game.co.uk
Before you can start selling on this marketplace, you will have to send a request. If your products fall within the categories they handle and meet their requirements, you can activate your account.
In your application you will have to include the identification number of your company, your return policy, your shipping methods, how much you plan to enter each month and other relevant information to your company.
The good thing about selling on Game is that you will not have to pay a fee to use this platform, they will only charge you a commission for your sales.
The numbers of Game.co.uk
Each week, Game receives 1.7 million visits to its marketplace. Some of the companies that sell their products on this marketplace have managed to increase their sales by 40% in a short time.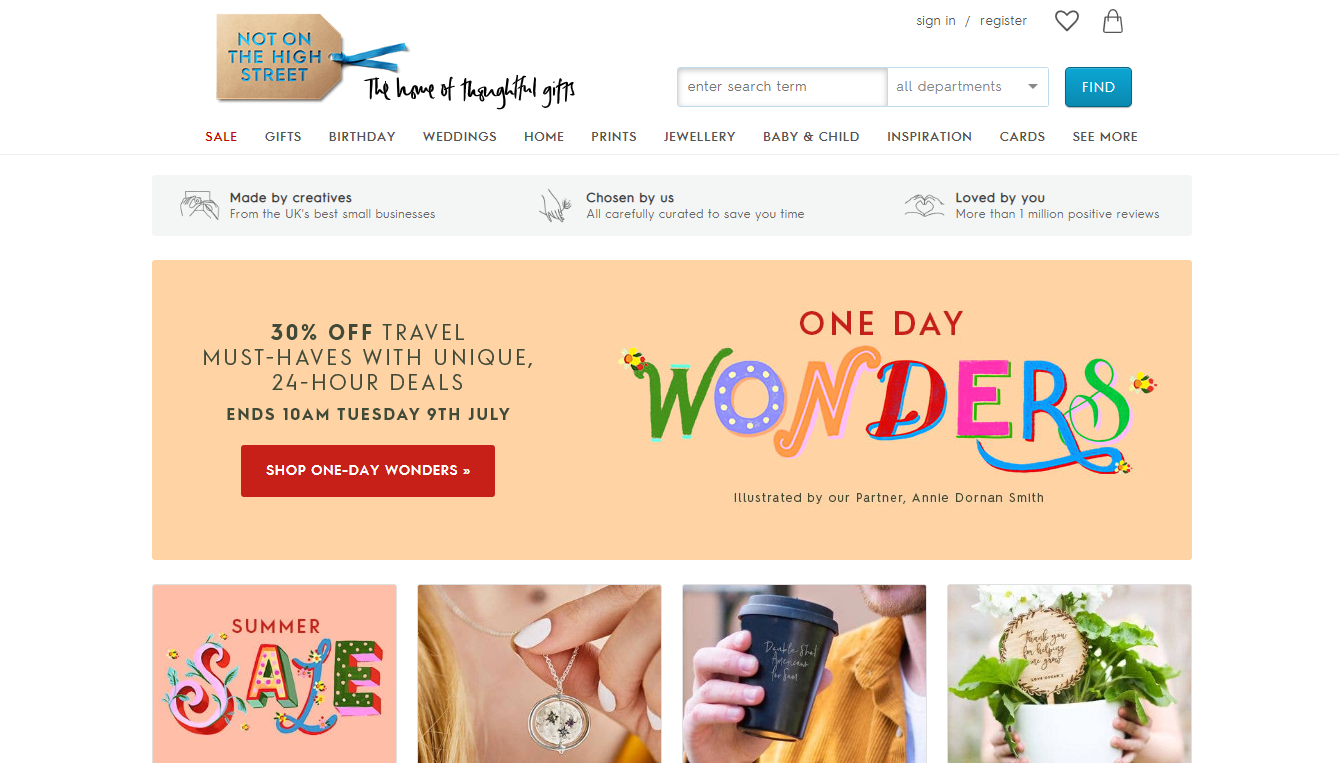 This is one of the online marketplaces in the United Kingdom specialized in selling original articles. It has more than 5,000 vendors that sell creative products ranging from accessories to handmade chocolates.
How to sell on Notonthehighstreet.com
The first thing you have to do to sell on this marketplace is to send a request to join the platform.
Not on the high street will study your answers to see if your products fit with what they are looking for: something original and different. If your application is approved, they will process the payments but you will take care of shipping.
Please note that at the moment they are not accepting sellers from outside the United Kingdom, but you can send the request and they will notify you when they have this option available.
The numbers of Notonthehighstreet.com
When selling on Not on the high street, your products will be visible to the 39 million users who visit the page.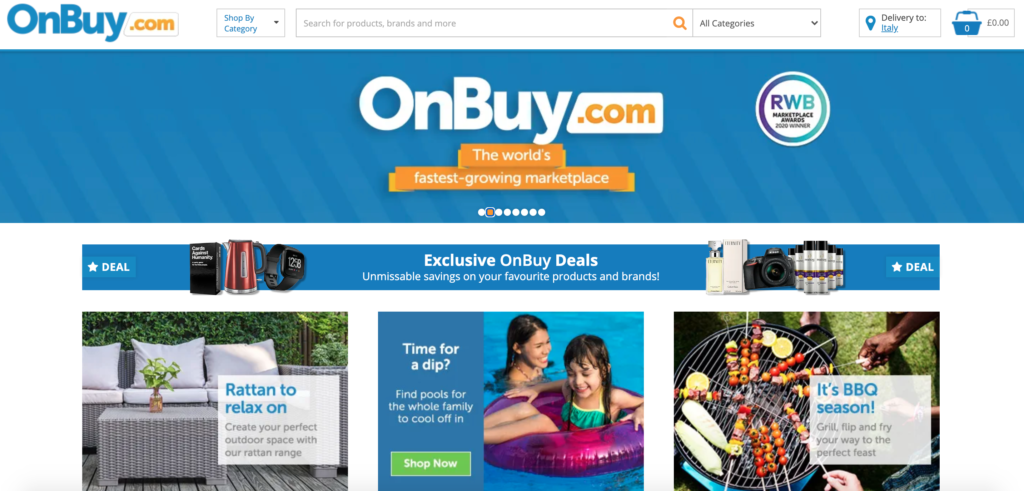 OnBuy offers sellers a fair, transparent platform to sell through. Covering everything from pet supplies to beauty and tech, it works as a one-stop shop for buyers to find everything they need in one place.
With competitive seller fees between 5% and 9%, OnBuy has a dedicated seller support team in the UK to make the process of selling on OnBuy easy. OnBuy also doesn't compete with its sellers, making it the ideal marketplace for online retailers of all sizes.
How to sell on OnBuy.com
Signing up with OnBuy is quick and simple: you'll be able to use just one account to reach all the global markets soon to be available.
Start by filling out the application form to register your interest and wait for the Onboarding team to get in touch by the next working day. Once you're set up, you can start listing your products. There are three ways to do this: opt for a channel integration, use OnBuy's handy product import templates, or create products manually.
The numbers of OnBuy.com
In July 2020, OnBuy had 8 million customers, 5,000 sellers and over 25 million products. The website saw more than 3.2 million visits, including over 2.28 million unique visits. The highest percentage of shoppers is based in the 35-44 age group (23.3%) and a large proportion of browsing is carried out on mobile devices.
Choose the best online Marketplace for your products
If you already know that you want to sell your products in the United Kingdom, you will have to choose a marketplace. Deciding which is the best online platform for your business can take time. To speed up this process, keep in mind the following aspects:
What kind of products do you want to sell
What is your target audience
What is your budget
What tools do you have at your disposal to take care of the shipments
Compare your answers with what each marketplace offers to find the one that best suits your needs. Follow the steps to sell your products on that platform and increase your sales!
Integrate your Marketplace to ShippyPro and save time on shipping
Once you have chosen your marketplace, the next important step is to think about your e–commerce shipping strategy.
ShippyPro offers a great service for online merchants looking to simplify their shipping management with an easy-to-use dashboard to ship, track and return the orders with ease.
ShippyPro has one of the largest library of integrations ready to be connected in one click. A complete shipping platform for e–commerce, which offers features like:
If you don't have a ShippyPro account, register now!