Best ship solutions for ecommerce companies

By
ShippyPro Team
·
3 minute read
As an ecommerce business, it's important to find the best shipping solutions to suit your business, and best serve your customers. Let's take a look at the best ship solutions for ecommerce companies.
What ship solutions do ecommerce companies need?
Every company has slightly different needs. Whether you're shipping domestically or sending goods to customers in other markets, and whether you're a small start-up or a growing online retailer, your needs will vary slightly when it comes to shipping solutions. However, there are a few things that all merchants will want to look out for when choosing the products to help you create your perfect shipping strategy.
Order processing
Designed to make it quicker and easier for businesses to get their orders out to customers. Order processing refers to the picking and packing of your orders, making the process more efficient and keeping your customers happy.
Monday is one solution for this. It makes order management easy with inventory management and mobile communications to keep the whole team updated.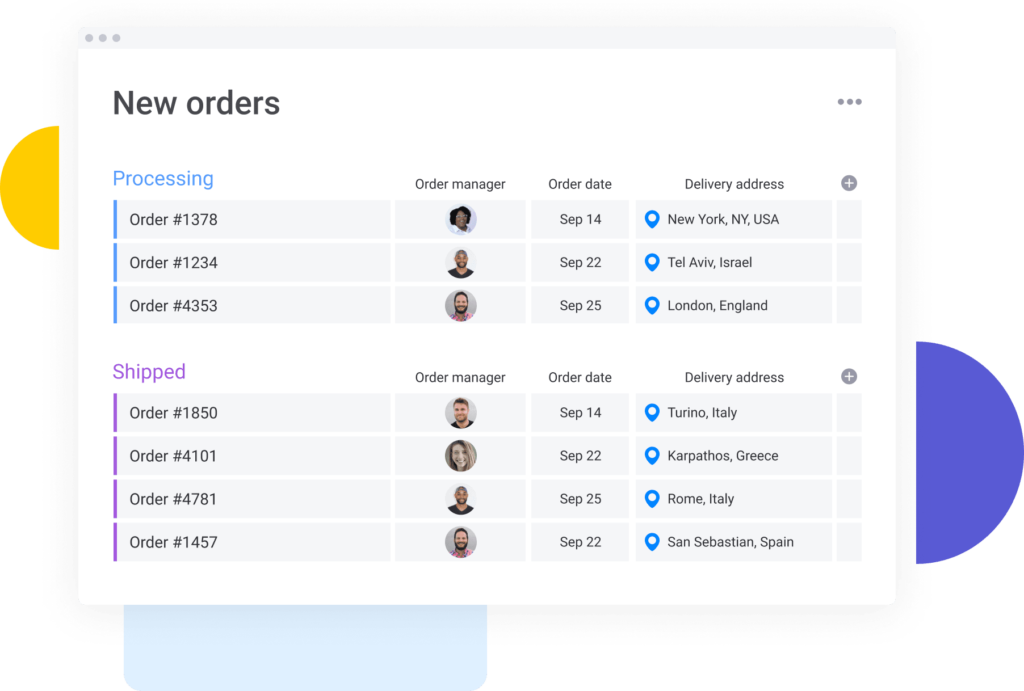 Another solution is offered by Khaos Control, a company offering fast sales processing, easy back-ordering and real-time order management.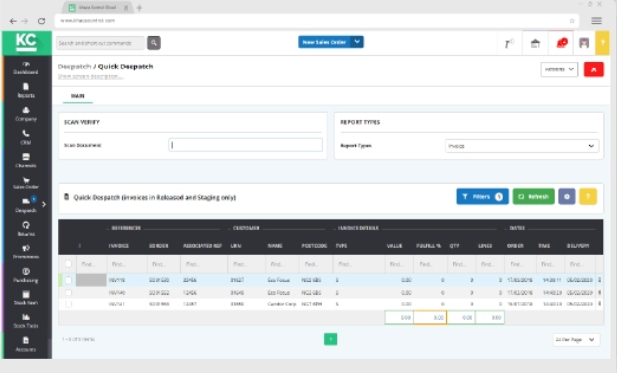 Scalable order fulfilment
Order fulfilment software is essential for any ecommerce business. It allows businesses to automate their inventory and make order fulfilment more efficient. This software can help whether you pick and pack orders yourself or use a third-party provider to fulfill your orders.
One company offering software to support a small business with order fulfilment is Brightpearl. Offering automated order fulfilment workflows and multi-warehouse order fulfilment, it's easy to keep on top of everything.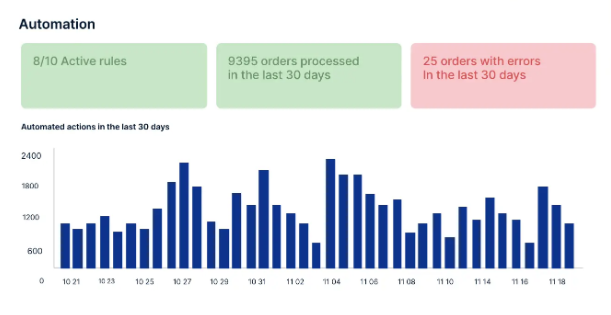 Another option is inFlow Inventory software, which makes it easy to manage orders, keep track of stock and more.
Shipping software
To keep on top of the orders going in and out of your business, you need shipping software. ShippyPro offers everything you need, empowering small-medium sized businesses to take control of shipping their products.
With an easy-to-use, all-in-one dashboard you can manage and keep track of your customers' orders. There are several features designed to make your life easier including:
Label Creator: With just one click, you can import all your orders and print labels for each delivery. This will save you time and effort.
Easy Return: Take the hassle out of returns with this easy-to-use returns portal which is fully embeddable in your site.
Live Checkout: This feature allows users to choose the best shipping option for them. Choose from a list of real-time shipping rates and their nearest pickup points.

Shipping analytics
Shipping statistics are precious for ecommerce merchants. A real-time overview and the ability to filter your shipments – even if they do not show a particular problem but are simply in transit – can be really useful.
ShippyPro Track & Trace can help you to understand your shipping performances. This feature will also automatically send shipping notifications to keep customers updated at every stage of the shipping journey.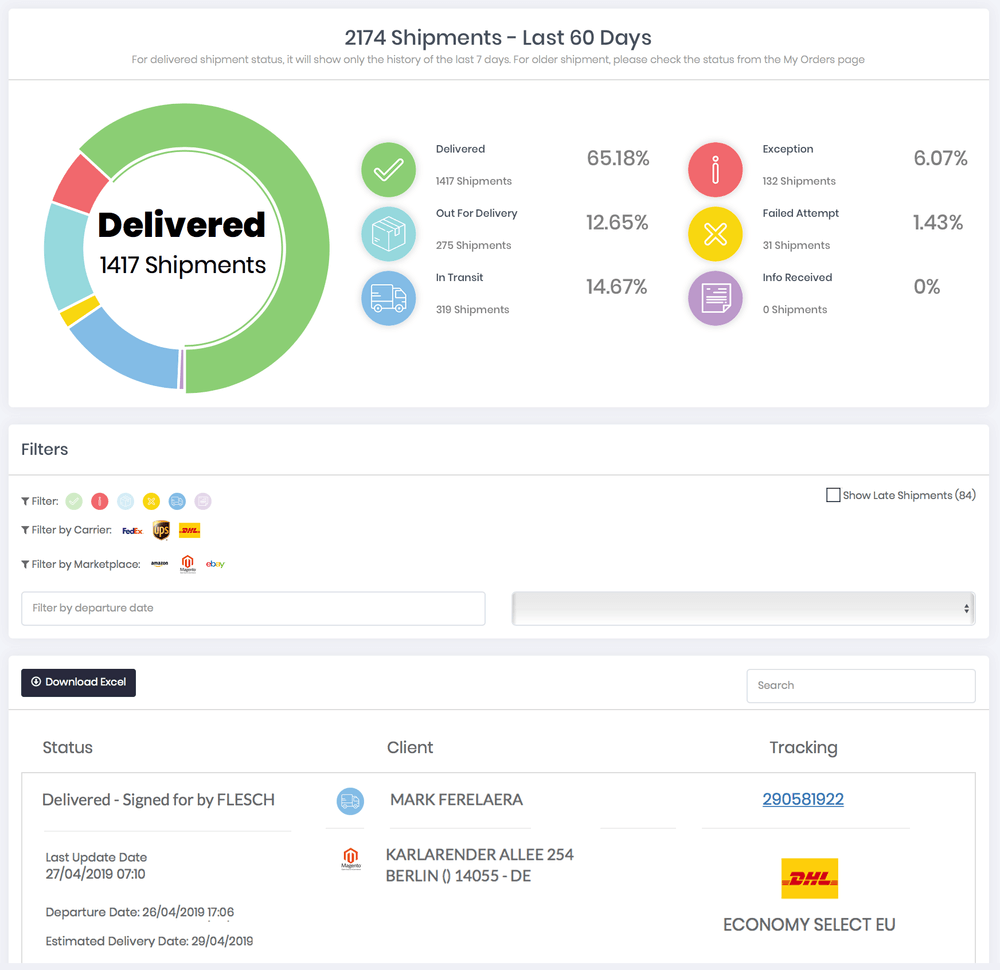 Product packaging and shipping boxes
To give a really good customer experience, you might like to use custom packaging. One company that offers this service is Packwire, with whom you can choose a custom box shape and add your business' branding to personalize it.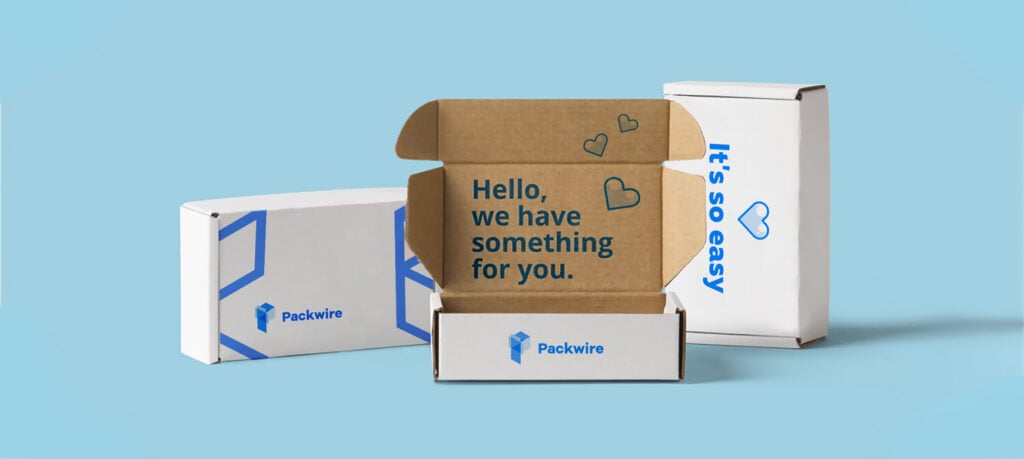 Small business resources offered by major shipping Carriers
Many major Carriers also offer ship solutions for small businesses and ecommerce companies, for an easy all-in-one solution.
UPS
UPS offers small business shipping solutions. As well as simplifying your shipping process, it also offers support with streamlining your ecommerce processes, consolidating all of your billing in one place, and ensuring you have full visibility of what shipments are going in and out of your business.
DHL
DHL also provides shipment management solutions, under the name MyDHL+. This service allows you to create shipments, get quotes, create custom invoices, schedule pickups and more.
FedEx
FedEx offers software to support the shipping process, making it easier for your small business to operate efficiently. You can buy packing supplies from FedEx, and you can also use their packing and shipping services if you're short on time or need to send something fragile.
How to choose the best ship solution for your business
The ship solutions you choose ultimately depends on what the needs of your business are. If you're a small business just starting out, then you may not want to invest in custom packaging.
What is important, however, is software that allows you to track the status of your orders. Remember, it's happy customers that will allow your business to grow, so software that allows you to spot any problems before they arise is invaluable.
ShippyPro offers shipping software to help businesses organise and manage the shipping of products to customers.
It integrates with your sales platform to make shipping quicker and easier, and it includes features to support with shipping management. Print labels in bulk, create custom emails and offer tracking to ensure customers are kept up-to-date with the status of their orders.
Sign up today to try it out for yourself, with a 30-day trial of premium features!