Bracketing in ecommerce: What is it and how can you avoid it?

By
Emily Browne
·
4 minute read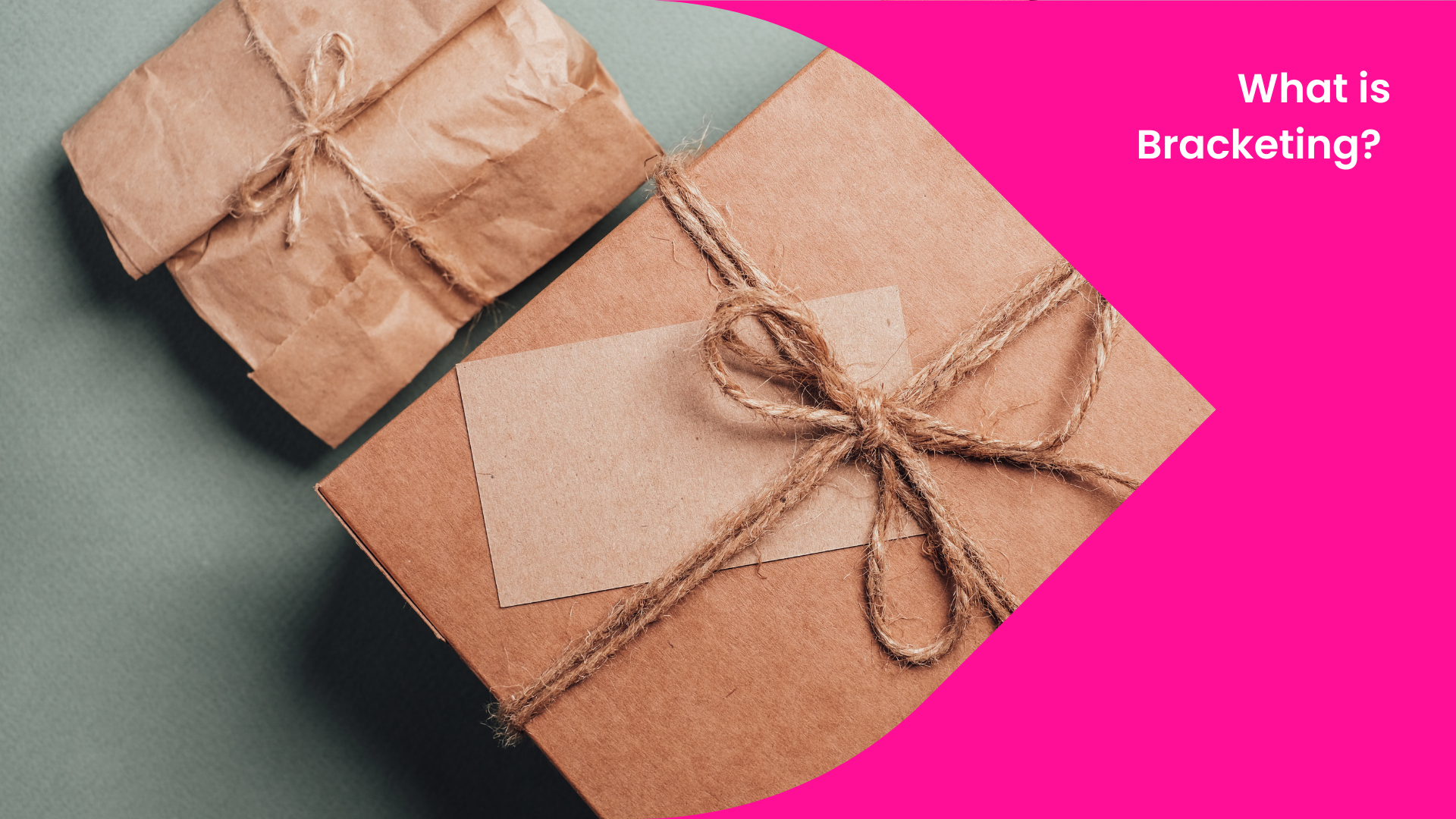 As a consumer, buying multiple versions of the same product online to try at home only to return the ones you don't need might seem both harmless and convenient, but in ecommerce this can cause logistical mayhem — but let's be honest, we have probably all done it at one time or another without considering the logistical consequences.
In the retail world this is known as "bracketing," and can quickly become a problem for online businesses who aren't prepared for it.
What is bracketing in ecommerce?
Bracketing – also sometimes referred to as "try-and-buy" – is when customer's purchase different or similar items in various sizes, colours or styles to try at home only to then return the ones they don't like. It's most commonly seen in the fashion and lifestyle industries where consumers feel the need to try something on or see how it looks before committing to the purchase. According to Vogue Business, 17% of returned online purchases are attributed to bracketing.
Ecommerce bracketing practices are very common, especially if a business offers free returns, but can become a logistical nightmare. In some cases, retailers argue that it's cheaper for customer's to keep the items they buy and for them to simply refund the purchase price.
Why is bracketing a problem?
There are few reasons why bracketing is a nightmare for ecommerce businesses:
Increased costs for businesses
Bracketing can become expensive for ecommerce businesses in the long run. It's estimated that retailers spend between $10 and $20 per returned item which doesn't even include the cost of shipping. Ecommerce stores will have to bear the expenses associated with shipping the items out and dealing with them when they return. There is also a risk that the products are returned in used or damaged condition, which can result in additional costs for refurbishment or restocking.
Furthermore, the delay between sending out products and receiving payment for the real purchases can tie up capital. This can affect the business's ability to invest in other areas or manage their inventory efficiently.
Higher return rates
Increased returns can put strain on the day-to-day operations, as they need to handle the logistics, restock items and process refunds or exchanges.
Potential abuse of the system
Customer's may start bracketing more frequently to take advantage of a free and flexible returns policy, which can result in increased losses for e-commerce businesses as they then have to bear the costs of shipping, returns or possible damage to products.
Why do consumers buy items only to return them later?
According to a 2021 Narvar survey of over 1000 online shoppers, 58% said they resorted to bracketing when buying online. But why? Here are the leading reasons according to Statistica:
Unclear sizing: Many shoppers don't have the best overview of sizing options, especially when they can change from store to store. Unclear or inconsistent product descriptions and size options also contribute.
Can't try on in store: Fit-to-size is still a big reason for bracketing among consumers, as they will purchase the same items in various sizes to try on at home and send the rest back. In-store this can be done easily at no cost to the retailer, but is impossible with ecommerce.
Trying new retailers: If this is the first purchase a consumer has made from your brand, then they may want to check out a few items to see if they look good, feel good and are worth the money. This may result in multiple similar purchases.
How to avoid bracketing
Especially in the apparel industry, bracketing looks to be a prevailing issue — but there are some ways to ease the burden on logistics and cash flow.
Provide better product descriptions
One of the biggest reasons for bracketing is a lack of consistent, clear product information. This includes everything from colour and size to fabric information, care instructions, weight and dimensions. The more information the better! This way your customers know exactly what they are purchasing, which might encourage them to only buy to keep.
Provide size guides
For clothing companies, providing customers with size guides can help them make more informed decisions about their order. Clearly outlining the dimensions of the items consumers wish to order will help eliminate the need for bracketing.
Take clear, high-quality photos
High-quality images can also provide customers with key product information. Take pictures from all angles and make sure the colours are not distorted in the editing process. Use various models to showcase how the item looks on multiple body types, and allow zoom options for customers to see the detail.
Allow for easy exchanges
A good way to combat bracketing is to offer an easy exchange policy so customers can swap for a new size or colour on request. Consumers may be less likely to bracket if the exchange policy is free and painless. Offering in-store exchanges is also an option if available.
Optimise return flow
If your ecommerce store already anticipates bracketing, then you can lessen the damage by optimising the flow of returned items. There are a number of ways to do this, including providing clear instructions for returns, pre-printed return labels and multiple return options (e.g., drop-off points, mail). You should also establish a clear and transparent return policy that outlines the conditions for returns; such as timeframes, acceptable reasons and refund procedures. Ultimately you can analyse returns data to find out why bracketing continues so you can try and optimise sales and marketing to improve upon the issue.
Request product reviews
Your customers are one of the best sources of information on your products. By specifically asking them to rate their purchases and experience through online surveys or mail, you are helping to guide brand new shoppers towards the right products. Product reviews help build trust between you and the consumer.
Bracketing ecommerce FAQ
What is bracketing?
Bracketing is the process of buying multiple versions of the same or similar items only to send back the ones you don't need resulting in a refund.
Why is bracketing bad for ecommerce businesses?
Bracketing is bad for online businesses in a number of ways. The practice can result in increased costs and logistical problems if returns begin to pile up. A free and flexible returns policy can also result in customers taking advantage of the system, putting repeat return shipping costs onto the business.
How can you avoid bracketing?
You can avoid bracketing by writing clear and concise product descriptions, offering an easy exchange policy, providing high-quality images, encouraging product reviews, optimising the returns policy and providing real-time support for any questions and concerns customers may have.
Why do consumers bracket?
The most common reason for customers to bracket items — especially apparel — is to check the size for fit and to find out whether they suit the item. Sometimes it is hard to assess from an image whether this is the case, which is why it's important to prove lots of high-quality images and product information.
Are there any benefits to bracketing?
Yes! Bracketing can actually be beneficial for businesses if handled effectively. Providing consumers with the option to try-and-buy items can increase customer satisfaction and foster brand loyalty.

Emily Browne
Emily Browne is a writer for ShippyPro who blends her passion for writing with an interest in all things e-commerce. Emily strives to make complex topics more digestible, proving that the world of logistics isn't as confusing as it sometimes feels! Her expertise in supply chain management, coupled with a knack for storytelling, helps readers navigate the complex world of e-commerce and shipping.