What is cash on delivery and how does it work?

By
Martina Elizabeth Di Carlo
·
4 minute read
As online shopping is becoming more popular, retailers are starting to offer their customers a variety of choices in every phase of their shopping journey. In this way, they create a more comforting and pleasant experience for their clients, while multiplying the chances of selling their products.
One of the most important options to give online shoppers is allowing them to pay using different payment methods. Among these, cash-on-delivery is a method more and more people expect to find online. In this article we will examine in detail what COD is and how it can benefit your store. Let's dive in.
What is cash on delivery?
Cash on delivery (COD) is a payment method that allows buyers to pay once the carrier delivers their order, rather than paying in advance before the parcel is shipped. It is also referred to as "collect on delivery", since - depending on each ecommerce's terms and agreements - customers can of course pay cash but also pay by check or electronic payment.
With COD there is less financial risk involved for buyers because they can decide not to accept a delivery if anything is wrong, without there being any previous payment involved and consequent refund needed.
Pros of COD payment
Online security
Cash on Delivery is a great way to encourage clients to complete an order, because apart from being faster and more convenient, as it doesn't require too much information, it makes them feel more protected against online frauds. In fact, allowing people to manage their payment only once they receive an order will push them to buy a product even when they don't know a store that well.
Build trust
The greatest advantage of offering COD is that you will motivate all those people who don't feel comfortable entering their personal and bank details online to buy from your ecommerce, as well as those who don't own a credit or debit card. This means that you can stand out from competition, as not all businesses have this option among their payment methods and expand your customer base at the same time. COD has the advantage of creating more trust in people even when an ecommerce is new or has no reviews yet, because they know that in this way there is no risk involved.
Motivate procrastinators
Sometimes shoppers don't have enough money on their cards to cover the shipping costs of an item and decide to abandon their cart, convincing themselves they will complete the purchase some other day in the future - we all know they will not. With COD, they have all the time they need to gather the right amount of money and pay for everything when their item is delivered. Imagine how many procrastinators won't have any more excuses to abandon at checkout!
Improve cash flow
Cash flow is another important aspect to consider, as COD improves it for both customers and retailers. The former can order multiple items and try them out without uselessly spending money beforehand, whereas the latter increase chances of clients keeping more articles than expected once they see and try them on.
Cons of COD payment
Although COD has plenty of advantages for both buyers and retailers, you should be aware of the cons involved when letting your customers pay using Cash on Delivery.
Higher risk of losing resources
Disadvantages are mainly linked to the retailer, as the chances of customers returning packages are slightly higher with this payment method. This can lead to a great loss of resources, especially in case of perishable goods, as owners will have to pay for the return fees but would probably not be able to resell those items again.
Operational delays
What is more, this type of payment can cause delays during operations if, for instance, the driver must wait for customers to gather all necessary cash for the payment. It can even create a slower workflow considering all the manual processes involved when dealing with cash and checks.
Additional fees
Some online sellers charge extra fees when using COD. It is understandable, as the risk of customers not paying for their orders is quite high. However, this may discourage some potential clients from buying, especially if prices are not competitive. The best solution is to work with delivery services that offer competitive COD rates.
---
Types of COD Payments
As mentioned before, cash is not the only payment method available when using COD. The following COD payments are the most common in ecommerce:
Cash
Carriers and delivery services accept cash payments. Although cash may slower operations, it is often a good option for shoppers, especially younger ones, who do not own a credit or debit card yet.
Cheque
Cheques are often used as an alternative to cash and mobile payments. It may not be the most secure choice because you are never sure if a cheque will be rejected, but it is still good to offer multiple COD options on your online store.
Mobile payment
Mobile payments are available when drivers carry a mobile card reader on them. It is a handy solution because many people forget to keep the right amount of cash aside. Indeed, this type of payment is fast, secure, and therefore an option you should make available.
Online card payments
Many online stores give customers a certain number of days to decide whether to keep the items they ordered or not. In this case, people can also pay via credit or debit card online. It is a safe option for both parties.
COD examples
Many retailers are implementing COD in a way that weighs less in terms of loss for owners and makes life easier for shoppers. Let's see how!
Amazon Prime Try Before You Buy
Amazon introduced a very interesting option. Try Before You Buy is a program where customers can try clothing, shoes, and accessories at home before they buy them. They have 7 days, after which they will only be charged for what they decide to keep.
Food delivery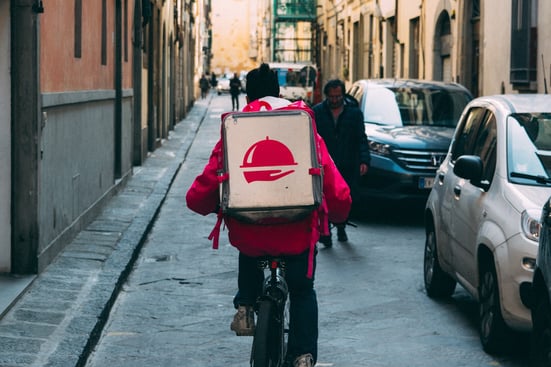 One of the most popular and commonly used COD examples is food delivery. People order take aways on their mobile apps and when they don't pay online, they pay the driver, usually cash or through a mobile card reader. COD is quite risky when perishable goods are involved. In fact, if people decide they won't take the food anymore they will obviously not pay. These items cannot be put back in stock or sold again and the company loses precious time and resources that were invested.
Should I activate COD on my store?
By now, you may be asking yourself if it's worth activating COD on your store. The answer is YES! In fact, Cash on Delivery is an opportunity to increase the chances of people buying from your ecommerce. Not having to pay in advance is in fact a huge advantage for consumers. In the end, you may benefit from it more than you think. Just imagine how many items people can order without the burden of paying excessive amounts in advance. Rest assured that they will always keep more than what they had planned!
COD made easier with ShippyPro
ShippyPro helps you manage all complicated operations involved when offering COD shipping! In fact, all your payments and processes will be organised on one simple Dashboard. Here you can easily track and manage operations: view how much you already collected and how much you still have to receive from each carrier. What is more, you can even offer your customers the possibility to pay via POS!
You can finally have an optimised workflow and never miss payments again. What are you waiting for?