The importance of delivery notification for ecommerce

By
Martina Elizabeth Di Carlo
·
5 minute read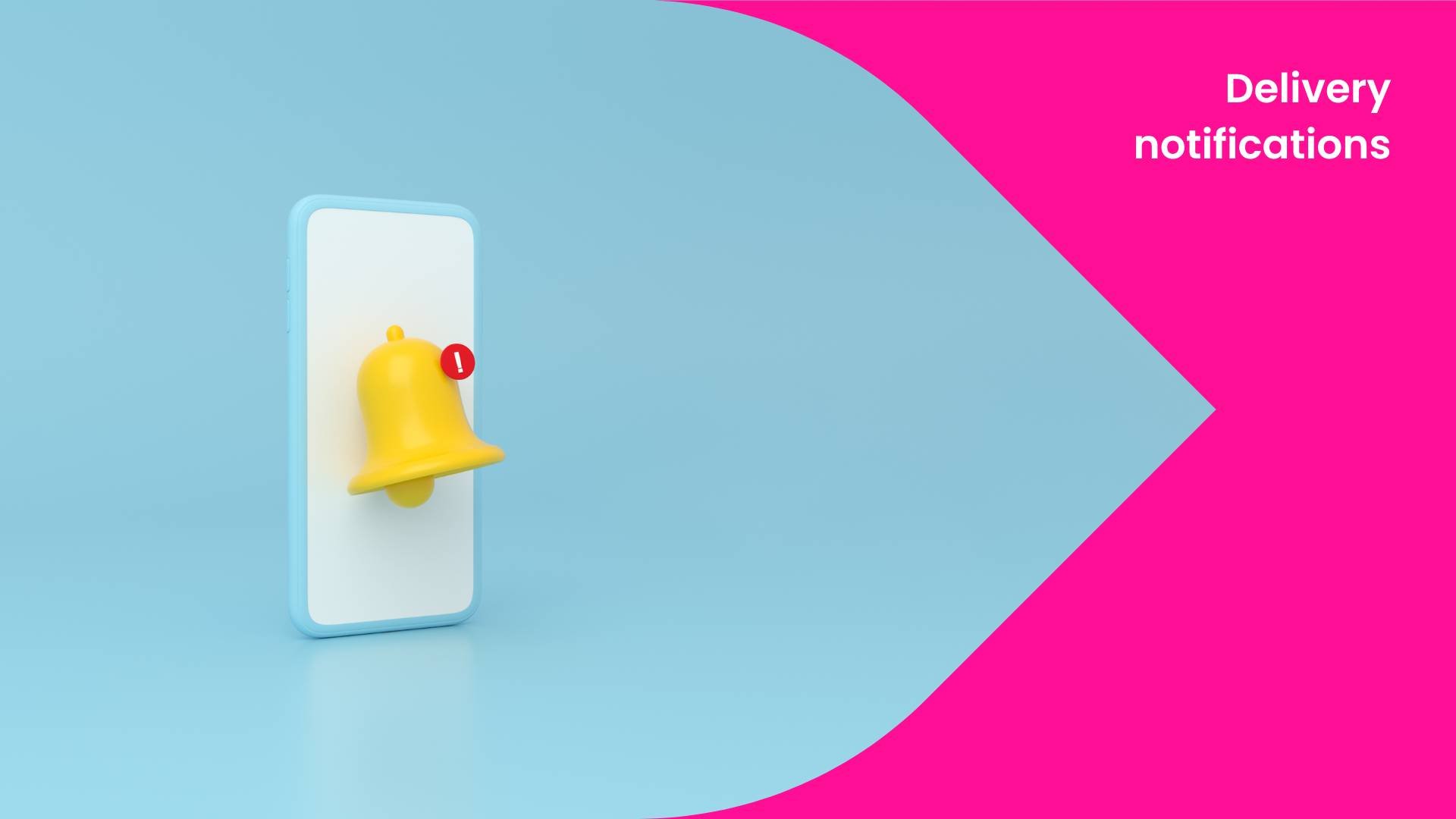 Ping on your phone, "Dear customer, your parcel is on its way and will arrive today". Suddenly your day is a bit brighter.
Undoubtedly, as an online buyer, you have certainly experienced that feeling of anticipation for the notification signalling that the special thing you ordered online will reach your doorstep soon.
It's a short message, yet it carries with it the weight of anticipation, joy, and trust. We click, we order, we wait with enthusiasm. But amidst this waiting, delivery notifications act like a bridge that connects the digital click to the physical product. They reassure that our wait is soon to end and that our purchase is no longer abstract but something tangible. Gone are the days when we had to wonder when our order would arrive. With precise delivery notifications, we can plan better, be home at the right time or perhaps ask the neighbour or doorman if they can pick up the package for us. These notifications remove the guesswork, making our lives a little bit easier.
Furthermore, for businesses, order status notifications have important implications. A timely delivery notification not only enhances customer experience but is also a powerful branding tool. It's a way for companies to show accountability, transparency, and reinforce their brand's presence in people's minds.
Well, let's delve deeper into the importance of delivery notifications in ecommerce.
Enhancing customer experience through delivery notifications
Delivery notifications play a fundamental role in providing a positive and high-quality ecommerce delivery experience for customers. Firstly, they enhance the brand's image as reliable and trustworthy. Customers entrust retailers with their money, meaning that when they receive a delivery confirmation, they are instantly reassured that their transaction was successful and the website they bought from was reliable. In other words, the delivery notification is a way for your online store to say "We received your order and we're working on it. Don't worry".
Moreover, buying online is a choice for people who look for convenience. Providing clear information on the progress of an order through timely updates is only a natural evolution of catering for this necessity, allowing people to plan their day better and not have to worry about being absent if their order arrives. These touchpoints can make a real difference in enhancing customer experience and making people return to buy.
What shipping notifications do customers want to receive?
If you are wondering which information to include in your delivery notifications, here is a short summary.
Real-Time Updates on Delivery Progress
Sending real-time updates is excellent to keep customers informed at every step of the delivery process, adding an element of transparency, as well as engagement to their shopping experience.
Estimated Time of Arrival (ETA) Notifications
How often have we rearranged our schedules to make sure we're not away when we are expecting a delivery? Including Estimated Time of Arrival in delivery notifications is important to allow customers to plan their day accordingly and make sure they don't miss their delivery.
Confirmation of Successful Delivery
Informing customers that the delivery process was successful reassures them but can also be an opportunity for brands to engage further with their clients, asking for feedback or offering tailored shopping suggestions.
Improving operational efficiency with delivery notification
Delivery notifications are more than a tool to make customers happy after buying online. In fact, they provide benefits for businesses too. Most importantly, they improve overall operational efficiency. In fact, they alleviate customer service with all the enquiries concerning order arrival times and dates, which make up most of the daily enquiries these teams receive. Moreover, they contribute to streamlining the logistics and inventory management processes. How? Let's read about it more in detail below.
Inventory optimization
Real-time delivery notifications provide accurate data on delivery timelines, insights on the movement of goods, as well as completion rates, allowing businesses to manage their stock more efficiently and predict when they need to replenish inventory. This approach leads to significant cost savings and reduced waste of resources.
Enhanced communication for seamless operations
Additionally, having these precise insights paves the way for seamless operations across logistics, warehouse, and customer service departments. It allows teams to function better and predict potential problems, addressing them before they escalate into larger matters. For instance, if a shipment is delayed, the warehouse department can be alerted in advance, in order to make necessary adjustments, and customer service can inform the customer, minimising dissatisfaction.
Minimising customer service queries and complaints
Delivery notifications give a good overview of the movement of goods, allowing customer service teams to have full visibility of ongoing deliveries and being able to filter orders easily, by status or location for example. This means that when a customer contacts them for issues related to their delivery, the team will be able to find all information needed much faster. As mentioned before, giving real-time updates on order status and tracking links with ETA minimises reasons for customer queries and complaints, since most of these are connected to updates on order arrival times and dates.
Brand reputation
On a wider scope, this sectorial efficiency contributes to building a positive and strong brand reputation. Positive interactions, like sending customer alerts and real-time tracking for orders, solidify a brand's position in the market and reflect the brand's commitment to transparency and reliability. Customers who are cared for will come back to shop from the store that gave them a positive shopping experience. Conversely, the absence of such interactions could lead to negative feedback, thus affecting potential sales and brand perception.
Implementation of effective delivery notification systems
Proactive messaging has become a strategic asset for whoever owns an online business.
It isn't solely about technology; it's also about integrating delivery notification systems with the brand's identity. From the choice of notification channel—whether email, SMS, or app-based—to the tone of voice and design of the notification, it should all reflect the brand's identity. Moreover, as businesses grow and logistics become more challenging, these systems should be flexible and scalable. They should be able to handle increased loads without compromising efficiency or user experience.
Every business has its own unique needs so, deciding which channel to use must be done in accordance with the goals they want to achieve.
For example, if you want to ensure immediate visibility of your message, SMS or WhatsApp delivery notifications may be the right choice.
Here are the most popular notification channels that companies use to send their delivery communication.
Email Notifications:

emails are the perfect channel for detailed communication where, besides sending a tracking link, you can include order summaries, return instructions and suggested products.
SMS/Text Notifications:

SMS are the best way to send quick updates on order status and ETA. No login or searching through other messages are required. Text notifications are instant and have extremely high open rates. For example, the

ShippyPro Track & Trace

feature is a revolution in ecommerce communication, allowing businesses to automatically update customers on the progress of their order. Thanks to customizable templates and multiple channel integration, sending personalised delivery notifications, promos and feedback becomes easy; the perfect solution to provide superior delivery experience and engage with customers effectively, especially with the newest integration of

delivery WhatsApp notifications. Open rates will skyrocket!
Mobile App Notifications:

businesses that own dedicated apps should leverage in-app notifications, especially since these can become a real game-changer, increasing engagement and repeat purchases opportunities.
Tips for successful delivery notifications
Automate your delivery notifications
Sending delivery notifications manually is time consuming and increases the risk of errors, like giving the wrong update to a customer or even forgetting to do so. Undoubtedly, this can lead to customer dissatisfaction and reputational damage. In essence, automation is an ally! Sending delivery notifications automatically aids businesses and improves their operational efficiency, making sure that the right messages are sent at the right time.
Branding, branding, branding!
Branding is what will set you apart in a saturated market. Sending branded delivery notifications increases brand awareness and will distinguish your company from thousands of others.
Creating a lasting impression through tone of voice and design reinforces your brand's presence in customers' minds. Branded delivery notifications are also an opportunity to create further engagement by using personalised recommendations for future purchases or simply by creating an original delivery message. All these elements are essential to increase chances of repeat purchases.
Give customers the information they need
Getting the delivery experience right is the key to unlock growth. Making sure that customers receive content that is relevant to them is essential. People are bombarded with messages every day so, including necessary information only is what will make the difference in their shopping experience. Customers love receiving timely updates on orders without having to log-in into different web pages or scroll through carrier websites. Make it simple, relevant and convenient for your audience; this will guarantee a successful communication plan and pave the way for repeat business.
Step up your service game today! Introduce delivery notifications easily and revolutionise your customer shopping journey.

Martina Elizabeth Di Carlo
Passionate freelance copywriter, with a niche in ecommerce and logistics. When collaborating with ShippyPro, she loves writing about trends, marketing and communication strategies to help brands gain an edge in an ever-evolving digital landscape.