8 Royal Mail alternatives to use in 2024

By
Emily Browne
·
5 minute read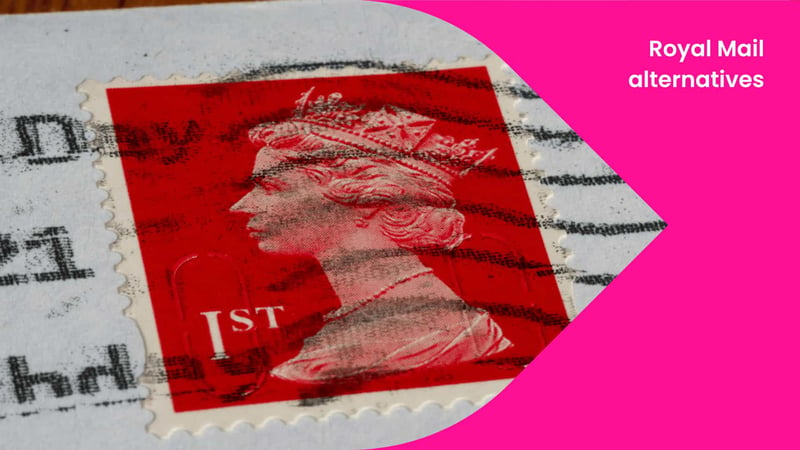 Royal Mail is the UK's most iconic and widely used postal service. It has been part of the fabric of British life for almost 500 years in various forms, helping millions of people send and receive parcels and packages every day. However the postage and courier service has undergone many changes in the past few years, and rising prices are driving many consumers — especially e-commerce business owners — to consider alternatives.
Table of Contents
What services does the Royal Mail offer?
The Royal Mail offers several services depending on the type of letter or package you need to post. The company ships both within the UK and internationally. They also have a specialised service for businesses who are sending out more than 20 packages a week.
Royal Mail UK services
The Royal Mail offers several services within the UK depending on the speed at which your parcel or letter must be delivered:
Royal Mail Tracked 24: Tracked mail with next day delivery. Best for urgent items.
Royal Mail Tracked 48: Tracked mail with delivery within 48 hours. Best for non-urgent items.
Royal Mail Special Delivery Guaranteed by 9am: Delivery guaranteed for valuable items by 9am the following day.
Royal Mail Special Delivery Guaranteed by 1pm. Delivery guaranteed for valuable items by 1pm the following day.
Royal Mail Signed For® 1st Class.
Royal Mail Signed For® 2nd Class.
Royal Mail 1st Class.
Royal Mail 2nd Class.
Royal Mail Sameday: Good for urgent items.
Parcelforce services: Used for packages weighing over 30kg.
Royal Mail International Services
If you're planning on sending your letters and packages internationally, the Royal Mail provides that service too:
International Tracked & Signed: 3-4 days, signed for valuable items.
International Tracked: 3-4 days, tracked to the delivery point.
International Signed: 3-5 days, tracking within the UK and signature on delivery
International Standard: Affordable service for every day international shipping.
International Economy: Good for heavier packages that aren't in a rush.
Royal Mail Business Services
For customers who send a lot of packages (20+ a week), the Royal Mail offers a service to help businesses of all sizes streamline the shipping process. You can organise a consultation to create an account that best suits your needs.
ParcelForce Worldwide
ParcelForce Worldwide is part of the Royal Mail Group and promises they are able to deliver parcels to every address in the UK and 99.6% of the world's population. They offer next-day delivery options both in the UK and abroad.
Royal Mail alternatives
While Royal Mail provides a lot of options for shipping, it has come under its fair share of controversy, price hikes and strikes over the past few years. All these things have made the service less reliable, especially following its privatisation in 2013 which saw share price increase by 72% over the first five months of trading. This has resulted in higher prices for consumers.
However the privatisation of Britain's oldest mail service has increased their need to compete in a heavily competitive industry. In the UK there are now many fast, affordable and efficient Royal Mail alternatives that businesses should compare before making a decision. Here are 9 Royal Mail alternatives you can use in 2024.
UK Mail
UK Mail is a courier service based in the UK that was acquired by DHL in 2016. The company collects and processes mail before handing it over to Royal Mail for final stretch. UK Mail manages transactional and bulk mail requirements across various sectors and for various industries. They offer three tiers of delivery:
Pre-sorted: Collects and arranges pre-sorted mail for delivery.
Unsorted: Collects and arranges unsorted mail for delivery.
UK Mail International
UK Mail's international service is ideal for businesses based outside the UK who wish to send packages into the country, or for businesses who want to send mail around the world. They offer a Priority and Economy international service. Enquire and find out more about UK Mail International shipping here.
Evri
Evri is the UK's biggest dedicated parcel delivery company. Formally Hermes UK, the company rebranded in 2022 to represent all the "different people, different parcels, different places, different communities" the brand comes into contact with. Evri delivers to 200 international destinations outside the UK from £6.08 depending on the size and urgency of the package. Evri has marketed itself as cheaper than the Royal Mail by up to £2.16 which makes it a great alternative for packages up to 15kg.
Yodel Direct
Another UK-based shipping service is Yodel Direct, which exclusively ships between the UK and Northern Ireland. They offer Smart Send for their e-commerce shipping solutions, which helps business owners send and receive bulk orders. Unlike other integrated e-commerce shipping options, the platform is free to use and there is no contract to sign. For personal use, Yodel Direct offers both store-to-door and store-to-door delivery services.
InPost
InPost offers an eco-friendly parcel locker service throughout the UK. The service allows you to collect, send and return parcels quickly with contact-free delivery — great for those who are still Coronavirus-conscious. The company has a relationship with online marketplace Vinted, offering a convenient and speedy way to ship Vinted packages delivered between lockers. Locker availability updates every hour, and allows you to have more privacy over your shipping process.
DX
DX (a.k.a. Delivered Exactly) is an independent courier service that services both the UK and Northern Ireland. DX handles 200 million parcels per year and has 70 locations across the UK and Ireland. They pride themselves on being one of the most dependable couriers available, delivering parcels and consignments of all sizes safely and securely to both business and home addresses.
Within the UK they offer two services:
DX Freight: Offers next day delivery with either a 1-man or 2-man team. DX Freight also has an international service for packages of all sizes.
DX Express: Two-hour ETA with fully tracked delivery options.
Geopost
Formally DPDGroup, Geopost is a parcel delivery service that specialises in e-commerce solutions. They are the largest international parcel delivery network in Europe for packages up to 31.5kg. They also provide the myDPD Portal to help you track your deliveries. They offer different services depending on your needs:
Business Delivery: Geopost offers a bespoke service that matches business needs.
Home Delivery: Customers can have deliveries sent to and from their home. They can also track updates through the myDPD Portal.
Out-Of-Home Delivery: With 70,000 package shop locations in Europe, OOH delivery is an eco-friendly way to receive packages.
Food Delivery: Geopost provides a service specifically to ship and receive food; both fresh and frozen.
Healthcare Delivery: They also provide a service to ship medical equipment and other packages related to the healthcare industry, which may need specific attention.
FedEx UK
FedEx is one of the world's biggest shipping companies. Their UK arm ships packages all over the world and within the country. They ship to 45 countries and territories within Europe, and have a lot of different services depending on the urgency and size of the shipment.
For urgent deliveries FedEx UK offers FedEx Priority Overnight® for domestic products and FedEx International Priority® for international delivery to 220+ countries by the end of the following business day. For e-commerce solutions, their most popular service is FedEx® International Connect Plus which delivers between 1-3 days in Europe, days for the United States and 3-5 days for Asia Pacific.
UPS UK
UPS is another global courier company that operates inside in the UK. They also offer multiple options for delivery both national and international. They offer extensive business solutions for e-commerce businesses and provide international shipping to 220 companies. With UPS My Choice for Business, you can manage your shipments, change deliveries and get alerts all from one dashboard.
For large shipments they offer several services:
Batch File Shipping: For up to 250+ parcels at once.
CampusShip: Send parcels between workplaces and campus' easily.
Flex Global View: Helps you manage complex supply chains and fulfilment status.
Worldship: Ship large volumes of mail worldwide.
Quantum View: Tracks hundreds of packages at once.

Emily Browne
Emily Browne is a writer for ShippyPro who blends her passion for writing with an interest in all things e-commerce. Emily strives to make complex topics more digestible, proving that the world of logistics isn't as confusing as it sometimes feels! Her expertise in supply chain management, coupled with a knack for storytelling, helps readers navigate the complex world of e-commerce and shipping.