How to get shipping discounts as an ecommerce company

By
ShippyPro Team
·
3 minute read
As an ecommerce company, you're likely shipping a high number of items on a daily, weekly or monthly basis. That means that shipping costs can quickly add up – especially if you offer free shipping to your customers.
Luckily, there are some ways you can get shipping discounts to reduce shipping costs. Typically these discounts come directly from your shipping carrier, although you can sometimes also get discounts through order fulfilment services. Find out more in this ShippyPro article!
Types of business shipping discounts
Many of the major shipping carriers offer discounts for small businesses, and this is the easiest way to get discounts on shipping rates. This is often done based on a particular number of orders per month. You may also be able to get a business shipping discount if you spend a certain amount with that carrier.
The other way to get a discount is via order fulfilment services. Outsourcing your shipping services to a company that specialises in this removes a lot of admin work for you. In many cases you can also get a discount.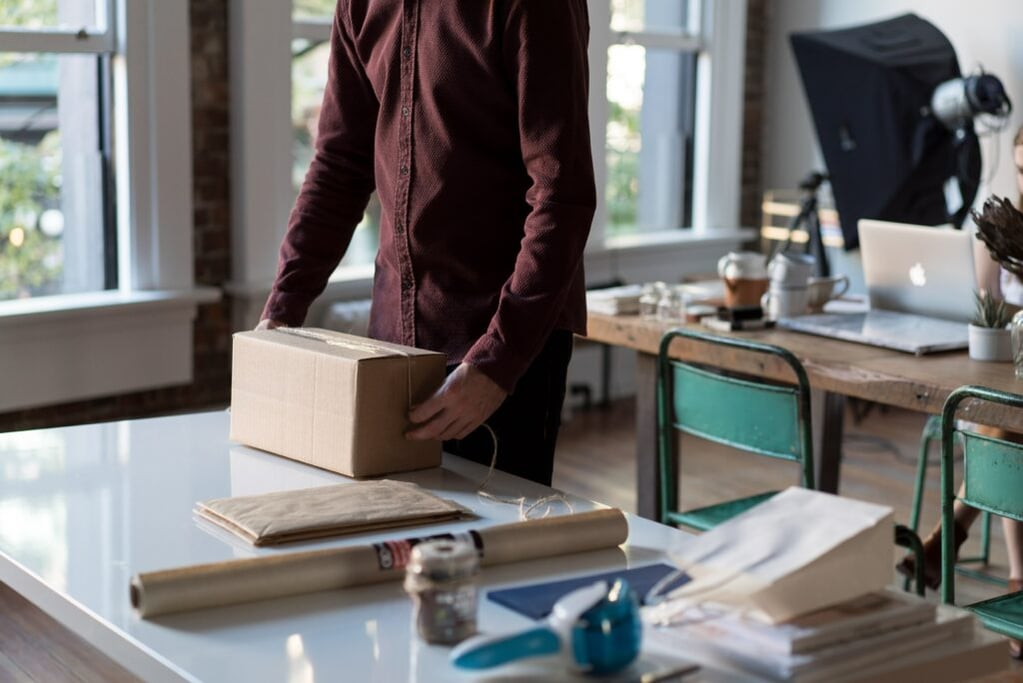 Where to get shipping discounts
Let's take a look at some of those shipping carriers and order fulfilment services in more detail, including the discounts that are on offer.
UPS
For businesses in the USA, UPS is a good option for shipping. They offer savings of up to 50% depending on how many items you ship, and how often these are sent out. For ground shipping, if your 6-week average weekly shipping volume is 10 or more, you can save 30%. The biggest discounts are available for volumes of 10 or more over 6 weeks when you use UPS Air Services or UPS International Express Service. If you sell on eBay, you can also save up to 34% when you link your eBay account with your UPS one.
FedEx
FedEx also offers discounts based on how often you ship with up to 30% off their services. They also have a rewards programme so you can earn points as you send your orders out to customers.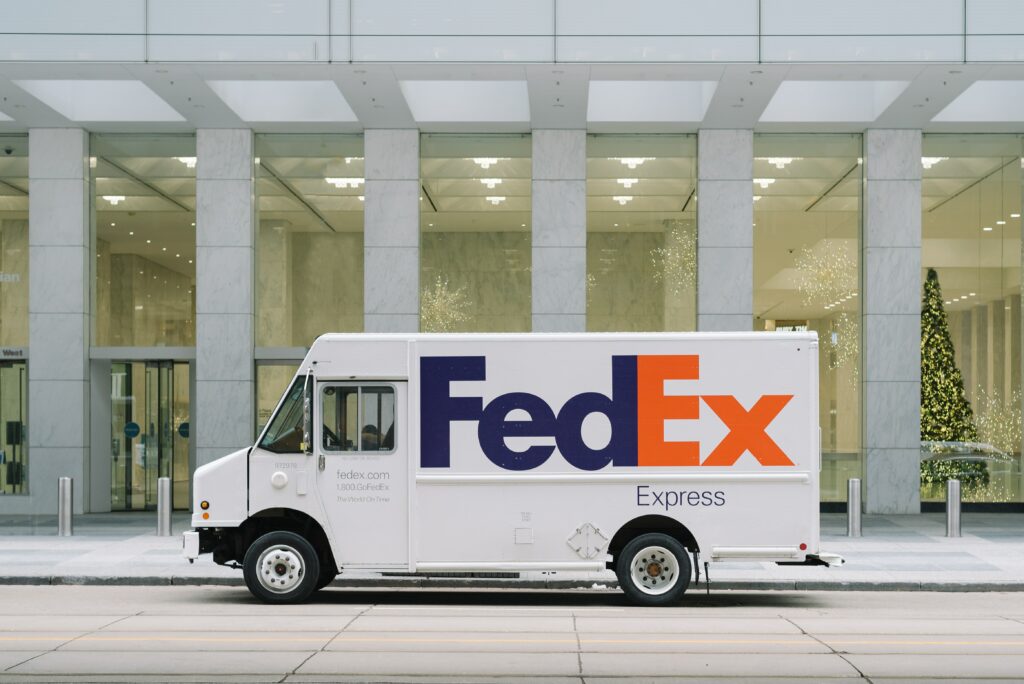 Hermes
If you send over 150 parcels a week, even if they're not all through Hermes, they can offer discounts through a Business Account. This gives you access to reduced pricing, daily collections and access to Hermes' business support teams.
DHL
If you ship internationally, DHL can offer up to 30% off international rates when you sign up for a business account. With their Express business account, you get preferential business rates. You can also access On Demand Delivery services, so your customers can choose the best shipping options to suit them.
USPS
Again for US-based businesses, if you ship exclusively with USPS, it's worth signing up for their Loyalty Program. As a member of this, for every $500 spent using their Click-N-Ship service, you can earn $40 in credit. You can get additional credits earned when you spend more.
Royal Mail
If you're in the UK and frequently send items via Royal Mail, consider signing up for a business account. If you spend more than £16,500 a year, you'll qualify for free collections. You'll also get free labels and a dedicated account manager to ensure you get the most from your account.
Parcelforce
Parcelforce, part of the Royal Mail group, is also based in the United Kingdom. When you sign up for a business account, you can save up to 45% off their standard parcel rates if you send an average of two or more domestic parcels per week, or one international parcel each week.
Parcel2Go
Parcel2Go is a UK-based parcel delivery comparison service that compares the postage prices from domestic and international shipping couriers. If you send small parcels and letters primarily, you can save up to 35% compared to the cost of second-class stamps when you use their business post service. This allows you to send small parcels from just 38p.
How to streamline ecommerce shipping with ShippyPro
ShippyPro is designed to make the process of shipping your parcels as easy as possible, leaving you with more time to focus on growing your business.
ShippyPro offers integrations with more than 135 carriers and 64 sales channels, all ready to be connected in just one click. Let your customers choose what shipping carrier works best for them and their situation.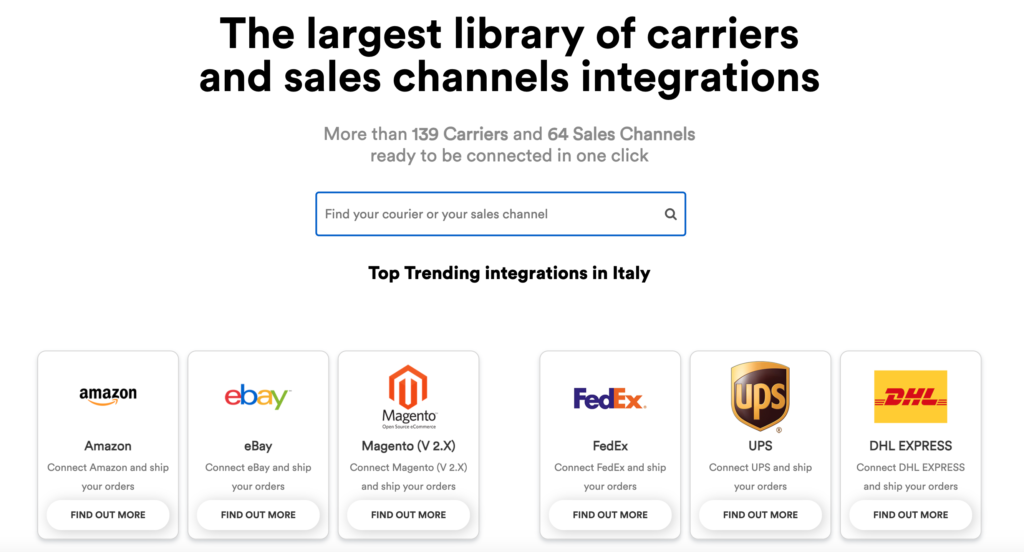 The Track and Trace service keeps track of all your shipments in one easy-to-use dashboard. You can also create branded emails to let your customers know where their order is, adding branding and personalised notifications to create a truly personalised customer experience.
Easy Return removes the logistical stress of international returns. This API is fully embeddable in your site, offering self-service returns for your customer. You can customise return rules to fit your business needs, and the portal offers you the ability to refuse or accept return requests.
Try out these features and more with a free trial of 250 orders to find out how ShippyPro can work for you to streamline your ecommerce shipping services.