Introducing SMS Shipping Notifications by ShippyPro

By
Martina Elizabeth Di Carlo
·
3 minute read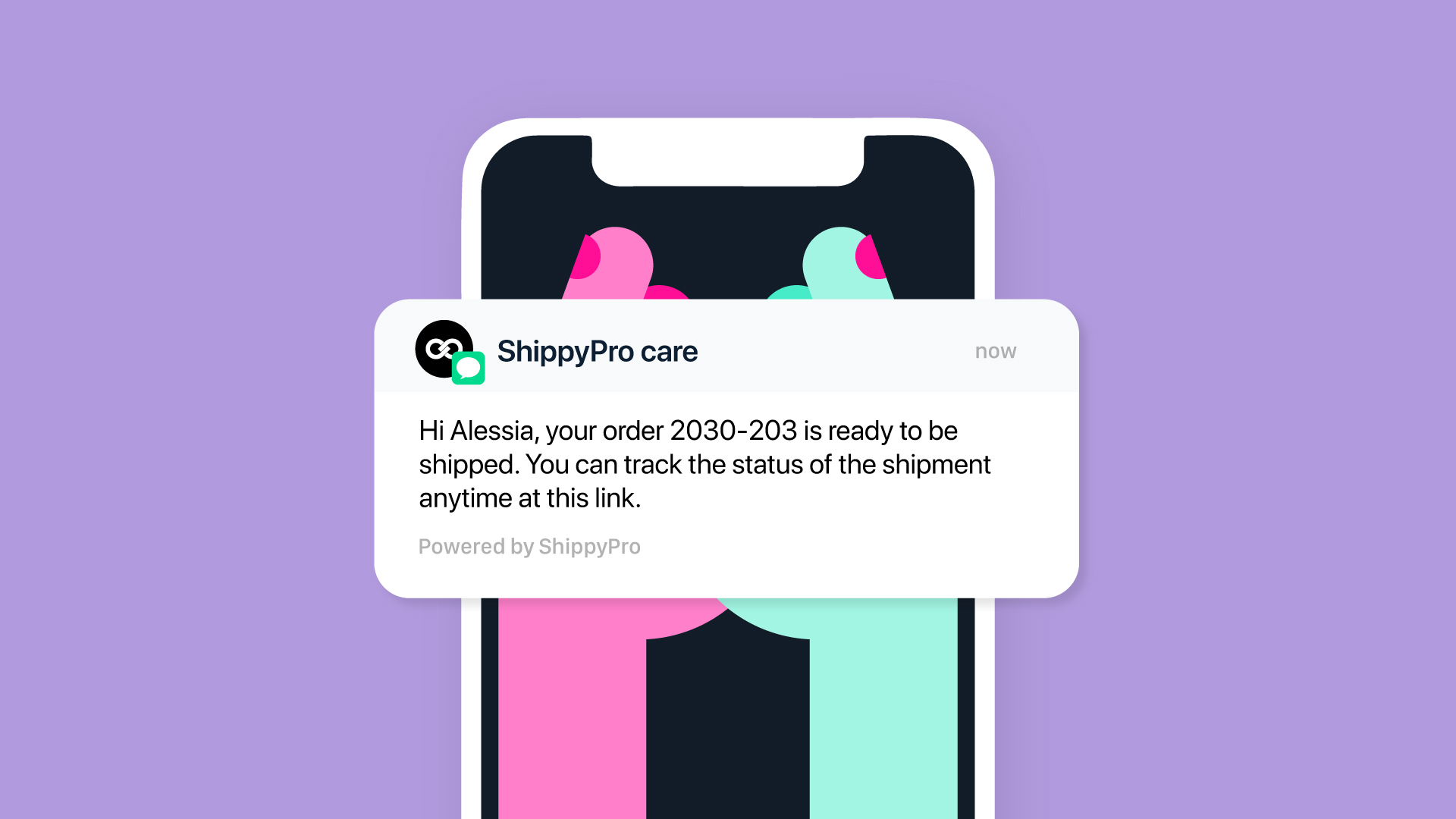 "Where is my order?" is a question that pops up on the screens of anyone who sells online nearly every day.
It is an inquiry that doesn't receive an immediate answer as often as it should because support teams are overwhelmed by this type of request. Not receiving an answer though, even in a very short time, can cause concern and frustration among buyers. The resulting sense of uncertainty, the numbers say, can lead a customer to prefer a more complete shopping experience with a post-sales service that keeps them constantly and punctually informed about the entire shipping and delivery process of their order.
One solution to this problem is in-transit order update notifications and, in particular, SMS notifications, which are among the most efficient ways to keep your customers informed of their deliveries.
Higher customer satisfaction, frictionless shopping (and shipping) experience
Thanks to ShippyPro's SMS Shipping Notifications, you can now keep your customers informed on the status of their orders (including contingencies and delivery changes) directly on their smartphones.
Receiving shipping information is increasingly appreciated by online shoppers. It reassures them about the status of their delivery, reducing the risk of it failing in case of a wrong address or missing recipient.
After two failed delivery attempts, the courier keeps the parcel in storage and charges a fee to the sender. If the parcel remains 5-7 days waiting at the courier, the shipment is then returned to the sender, and a full delivery charge is made.
Email dispatch notifications have a low open rate, and most of them end up in spam.
While the average open rate for email marketing is only 21.33%, of which only 4.2% result in an actual click on the tracking URL, that of an SMS is 92% [source: Sender].
SMS notifications open rate is 92%. Email notifications, on the other hand, have a 21,33% open rate.
What are the main benefits of SMS notifications in general?
They make your customers' shopping experience better
They improve your customer retention rate
They improve your shop's reputation
They substantially reduce the problem of missed deliveries
Let's dive deeper!
SMS Shipping Notifications by ShippyPro
SMS Shipping Notifications by ShippyPro have a lot of advantages that allow companies to offer an efficient and customisable notification service to their customers.
The SMS Shipping Notifications service will allow the customer to be informed of any change of status regarding their shipment, for example, if the shipment is in transit, out for delivery or if its delivery has been delayed.


The power of customization
While emails remain active by default for all ShippyPro users, they can now decide to activate SMS Shipping Notifications from their accounts and customise them.
For instance, it's possible to activate SMS notifications when the shipment is in transit, when it's out for delivery, and even when there is a missed delivery.
If a company sells on more than one marketplace, they can decide whether to activate the SMS notifications service for all their sales channels or just some of them.
In addition, if an ecommerce relies on SMS notifications from carriers, it should be noted that not all of them make this service available to their customers.
Thanks to ShippyPro's SMS Shipping Notifications, you have the opportunity to standardise communications with your customers, without having to worry about whether the courier chosen for that particular shipment provides the SMS notification service. What's more, you have the option to fully customise these notifications, turning them into marketing and retention tools.
Advantages for all companies
Let's take a look at the main features of SMS Shipping Notifications by ShippyPro.
Advantages for all companies:
Ability to trigger SMS notifications for specific countries, markets, and carriers
Fully automatic notifications
Possibility to translate messages into 8 languages depending on the destination country
Fully customisable notifications
Possibility to enrich the communication with promotional links
Advantages for companies that don't use any notification system:
Reduced customer service costs
Reduced shipping costs
Increased customer retention rate
Delivery experience becomes a competitive advantage
Advantages for companies that use third-party notification systems (carriers, marketplaces…):
Total control over the delivery experience
Possibility to increase your brand awareness through branded notifications
Use of SMS notifications as a marketing tool through social media engagement, product promotion, and message customisation
How to activate SMS Shipping Notifications on your ShippyPro account
It is important to say that SMS notifications will be an additional option within the 'Notifications' package, which already includes email notifications for all ShippyPro users.
Once this option is enabled you will be able to access the Track & Trace > Mobile Notification tab. There you will see three sections called Conditions, Templates, and Analysis.
Before starting: some operators provide the SMS option directly so make sure you uncheck the SMS notification option from Operator > Connection > Edit to avoid sending double notifications.
Here is what you can choose from the above-mentioned three sections:
Conditions
In this section, you can select the order statuses for which you want to send SMS notifications. By default, any status is selected so that you can choose which one to enable or not.
Templates
In this section, you can take a look at the current templates available for your SMS notifications. You can also customise the templates for each order status with your own text, add further details, edit the existing template, and customise the sender.
Analysis
This section gives you an overview of the number of SMS messages per shipment sent. You will need this to understand which package to purchase.
Learn more about how to implement this feature on your account here.
Get SMS Shipping Notifications for your company!