Comment devenir un PowerSeller d'eBay et augmenter vos ventes ?

By
ShippyPro Team
·
6 minute read
Nous sommes désolés mais cet article n'a pas encore été publié dans la langue sélectionnée. Vous pouvez le lire en langue originale ci-dessous.
In this article we will tell you all about what it is to be a PowerSeller merchant on eBay and how you can become one.
Becoming a PowerSeller on eBay will help you increase your turnover on this marketplace. But there are certain rules and requirements that you must meet.
In addition, we will talk about how you can create the perfect strategy for you to increase your online sales on eBay.
Let's start.
What it means to be a PowerSeller on eBay
Let's start with the first thing: what is an eBay PowerSeller.
These types of sellers are characterized by having a large turnover, since they sell many products every month, and because customers are satisfied with their shopping experience.
In order for eBay to consider that a seller belongs to this category, it must invoice at least around € 1,000 per month and carry out 100 monthly transactions for 12 months with Spanish customers.
But that's not all.
As we've mentioned, having the PowerSeller badge means being one of the top-scoring sellers on eBay.
The marketplace will only give this badge to merchants who offer excellent service and receive almost exclusively positive ratings.
In summary, a PowerSeller is characterized by maintaining two things:
high turnover
a high degree of customer satisfaction
Please note that during the coronavirus pandemic, eBay will protect the accounts of its sellers who have suffered a decline in performance. They explain it here.
Since keeping almost 100% of customers satisfied while maintaining your level of turnover requires effort and dedication, eBay rewards your work by giving you benefits.
We explain them below.
Benefits of being a PowerSeller on eBay
As we said, becoming a PowerSeller on eBay is not as straightforward as it sounds. But all this work is worth it.
Your business will benefit from the advantages that the marketplace offers to sellers who give a good customer experience and who are committed to their e–commerce.
One of the advantages of being a PowerSeller on eBay is that the platform will give you a badge that recognizes that your business is successful and will help you and your store stand out from the competition.
With the PowerSeller badge on eBay, users know that your store is trustworthy and offers an excellent sales service. They will buy knowing that they will have a satisfactory experience and that their payment will be made safely.
As a consequence, your sales will increase.
Other benefits of being a PowerSeller on eBay are:
access to more sales tips and suggestions
discount on eBay rates
eBay promotional merchandise
special offers
priority customer service and technical assistance
You should be aware that there are different levels of eBay PowerSeller accounts, depending on your billing level.
Let's discover them together.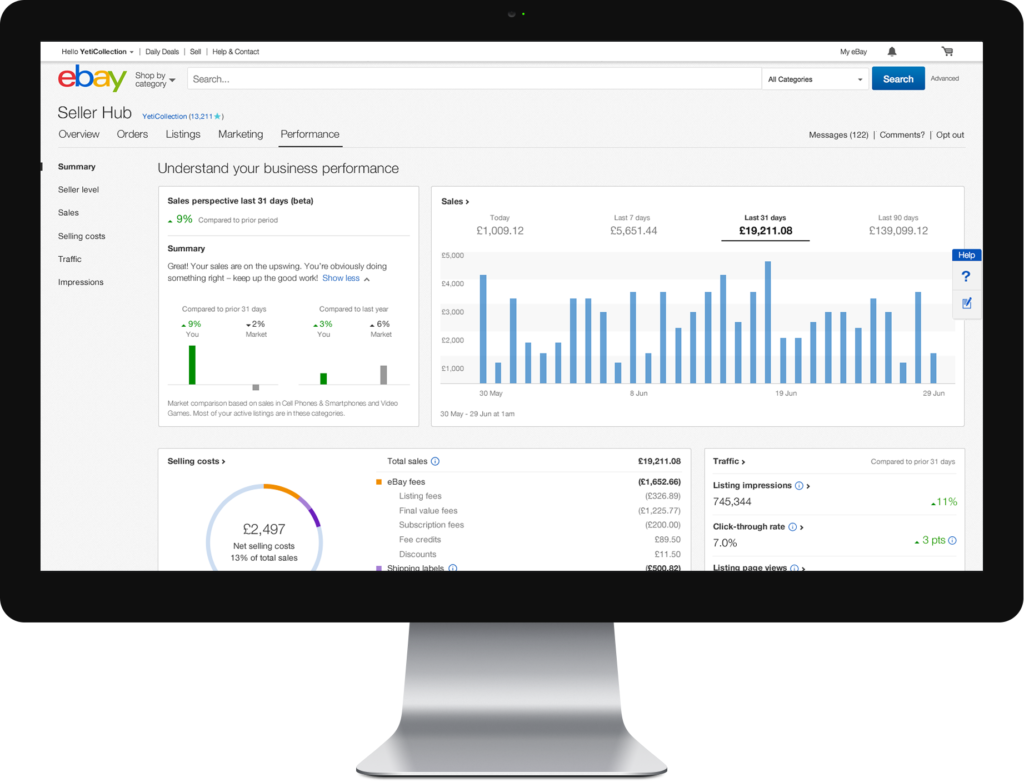 Different levels of PowerSeller on eBay
Knowing your eBay PowerSeller seller level is very simple. In your dashboard you will find all the necessary information.
These are the five PowerSeller levels:
Bronze
Silver
Gold
Platinum
Titanium
Let's see all of them.
1. Bronze
The Bronze seller level is awarded to sellers who have had a turnover of over € 1,000 per month for three months. Or in case the transactions made exceed 100 sales every month.
2. SIlver
To receive the Silver PowerSeller level, the monthly volume of your business must be equal to or greater than € 3,000 for three months. Or the number of transactions made by your online store must be at least 300 per month.
3. Gold
The Gold level is awarded to companies that have a higher turnover (€ 10,000 per month) or perform 1,000 transactions per month.
4. Platinum
The next level is Platinum. To obtain this title you need to have invoiced € 25,000 per month for three months. Or have made at least 2,500 transactions per month.
5. Titanium
The last level is PowerSeller Titanium. This category belongs to sellers who have a monthly volume of € 150,000 or more for three months. Or that realize over 5,000 monthly transactions.
Top-rated Sellers
In addition to the different PowerSeller levels, eBay gives sellers the title of "Top-rated seller".
To become a Top-rated Seller, your business must have at least 100 transactions and 1,000 euros of sales to Spanish buyers in the last 12 months.
Moreover, Top-rated sellers must ensure that they comply with eBay selling policies and the percentage requirements of:
transaction problems
cases closed without defect
late deliveries
If your business respects these performance requirements on eBay, the marketplace will automatically change your level to Top-rated seller.
eBay Premium Service
By becoming Top-rated Sellers, merchants have the option to offer eBay Premium service on their listings.
With this service, sellers benefit from a 10% discount on sales commissions they have made with an ad.
For this, the ads must meet certain requirements:
have a return period equal to or greater than 30 days
offer free national shipping
handling time cannot exceed one day
provide order tracking information on purchases of € 25 or more
The platform is in charge of updating your type of seller after the evaluations customers make of your online store.
How to become a PowerSeller on eBay: requirements and procedure
Now that you know what a PowerSeller is on eBay and the level differences that exist, let's see how you can become one.
To become a PowerSeller on eBay, you must meet three criteria:
Have an eBay seller account and have made at least one item in the last 90 days.
Meet the performance criteria for PowerSeller sellers.
Have a billing level for your store or a volume business that corresponds to one of the five PowerSeller levels.
In addition to meeting those criteria, you must meet these requirements to become a PowerSeller on eBay: :
Not have violated any eBay policy in the 90 days prior to evaluation.
Carry out at least 100 transactions every 12 months.
Keep your seller account up to date.
Respect the values ​​of the eBay community.
Have at least 98% of positive votes.
Have a good reputation in the marketplace.
Have posted, on average, four new ads per month in the past three months.
Have followed the rules for publishing ads on the platform.
Do not take more than three working days to contact the bidders.
You don't have to do anything to get the PowerSeller badge on eBay. As for the Top-rated Seller badge, if you meet the requirements and criteria, eBay will automatically give you a badge.
Please note that sellers cannot include the PowerSeller badge in their online store or use the word PowerSeller.
The requirements are periodically evaluated to ensure that the seller meets them. If you do not, you will receive an email notifying you that you have 30 days to get back to meet the requirements.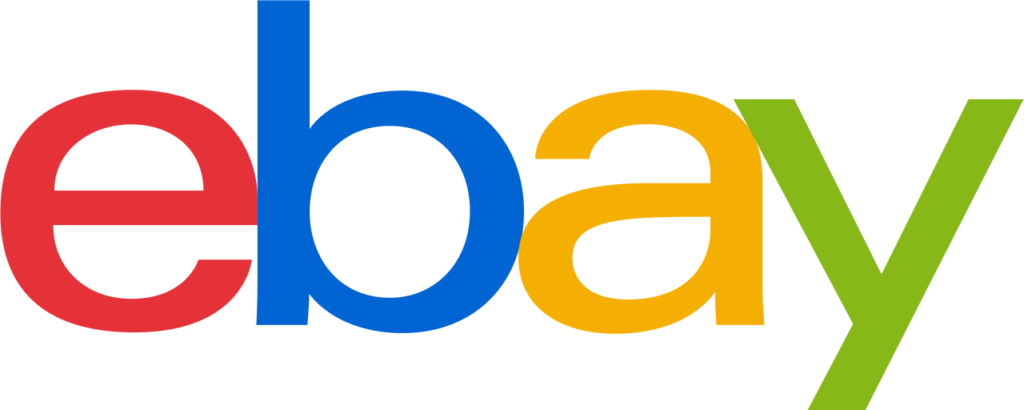 A good shipping strategy can help you become a PowerSeller
Despite meeting the requirements to be a PowerSeller on eBay, there are some obstacles that affect your valuation as a seller and that you will have to overcome to achieve the badge.
The most common are:
Transaction defect rate.
Cases closed without seller resolution.
Problems with shipments.
This last point can affect return rate. So it is important that you pay attention to the eBay shipping options that you offer.
If you want to know how to improve your performance on eBay, you must focus on shipments from your online store.
There are two factors have a great weight on shipments:
1. Shipping time
As for time, it is essential that you are able to make shipments on time so that your customers receive their products within the delivery time. This guarantees positive feedbacks.
So you should avoid packages being delivered out of the established deadline.
2. Shipping costs
High shipping costs do not have a positive effect on your business. If you can, offer free shipping to get five stars.
If you can't, there is another option: keep shipping costs as low as possible.
With this in mind, make sure your shipping strategy has several options for eBay.
This way you will be able to get your PowerSeller badge.
Shipments can help you improve your seller score
As we have mentioned, in order to become a PowerSeller seller on eBay and improve your score, it is important to pay attention to your shipments.
To improve them, you need to work with different carriers and keep your clients informed at all times.
With ShippyPro you can ship without complications. We tell you how you can do it.
Connect eBay to ShippyPro to access more than 119 carriers and automatically ship your orders
Offering multiple shipping services for eBay doesn't have to be complicated. With ShippyPro you only have to connect your account and access more than 119 carriers.
In fact, ShippyPro has the largest library of carrier integrations.
You can use the carrier company that offers the better rate and delivery time for a particular destination, keeping your customers happy.
In addition, you can also:
print shipping labels with one click
manage returns smoothly
increase your turnover
improve customer satisfaction
Use ShippyPro Track & Trace to track your orders and deliver on time
One of ShippyPro tools that will help you keep your customers informed about the status of their order is Track & Trace.
With Track & Trace you will ship smarter. So you will be able to:
control all your shipments from a single dashboard
send notifications to your customers about the status of their order
increase the conversions of your online store through coupons and discounts
Needless to say, this will significantly improve your eBay seller score, earning you the PowerSeller badge in no time.
Join ShippyPro now and start your free trial. In less than a minute you will have your account and you will start ship your orders.

ShippyPro Team
ShippyPro est le logiciel d'expédition complet pour la vente au détail en ligne et hors ligne. Avec ses fonctions de création d'étiquettes, de suivi et de traçabilité, de retour facile et d'analyse, notre logiciel simplifie vos opérations d'expédition. ShippyPro s'intègre avec plus de 160 transporteurs et 80 canaux de vente, ce qui le rend compatible avec une large gamme de produits et de cas d'utilisation.