Commercial invoice tips and examples for ecommerce companies

By
ShippyPro Team
·
3 minute read
If you have an ecommerce business, you've likely heard of commercial invoices. But if you've only been shipping domestically so far, you may not have had to use one yet. However, if you're thinking of expanding your business internationally, you'll need to get to know them sooner rather than later.
So, let's take a look at commercial invoices – what they are, when you need to use them, and anything you need to keep an eye out for.
What is a commercial invoice?
A commercial invoice is a customs document. It's needed when shipping goods abroad and acts as a customs declaration for exports. It gets your package through customs and helps authorities to decide whether taxes and import duties are applicable.
What are commercial invoices used for?
Commercial invoices aren't just important for getting your order through customs. They're also helpful for several other reasons, including:
Providing your customer with all the details of their order
Helping you to understand your yearly sales and calculate annual reports
Helping your business to determine your best-selling products
Giving you a better understanding of what products are most popular in particular markets
Other common export documents
When you're shipping internationally as an ecommerce merchant, commercial invoices aren't the only export document you need to think about. Depending on what country you're based in, and where you're shipping to, you'll need to include other customs documents.
If you're in the UK and sending goods abroad (unless you're sending items from Northern Ireland to the EU), you need to include a customs form.
Certificate of Origin: This confirms where the exported goods have come from and is issued for goods being sold abroad as a permanent export. It may be requested at customs.
EUR1 Movement Certificate: This is used to support claims for preferential duty rates in the country of importation. The goods must originate in the UK and be supported by a correctly completed and endorsed EUR1.
If you're sending goods from the US, you need a different set of documents alongside the commercial invoice. These are:
Pro Forma Invoice: This is used as a tool for negotiations between the buyer and seller before sending goods. The seller should use this document to quote the price at the start of an export transaction. It should contain a description of the goods being sold and is used as confirmation that the seller will provide the products as listed.
Packing List: This document lists the seller, buyer, shipping carrier, invoice number, shipping date and mode of transportation. It also lists the type of package (e.g. box, crate, drum), item quantity, description, number of packages, the weight of the package and its dimensions. It may be used by both US and foreign customs officials to check the package before it leaves the US or on arrival at the destination country.
Electronic Export Information Filing (EEI): Your electronic export data must be filed via the Automated Export System (AES) online. This is necessary for any shipments exceeding $2,500 in value.
Airway Bill: All air freight shipments from the USA must have an airway bill. This provides information about the package, allowing it to be tracked.
Bill of Lading: A contract between the owner of the goods and the carrier, it acknowledges receipt of the goods.
How to create a commercial invoice
There's a standard format that needs to be followed for commercial invoices, and they follow a fairly standard format so you can create a template to use every time you have to send an order abroad.
What to include in the invoice
There's a list of important things to include in every commercial invoice. This includes:
The sender's name, address and contact details
Name and address of the receiver
Shipping date
Full description of each item

If there are multiple items, these should be listed on a separate sheet and attached to the invoice

VAT number
Quantity of each item
Currency used
The total value of all goods
Country of origin
Gross weight (including packaging)
Net weight (excluding packaging)
The following statement: "I declare all of the information to be true to the best of my knowledge"
Date and signature
Examples of commercial invoices
Not sure how to lay this all out in a document? Here are some examples of commercial invoices you can use for inspiration: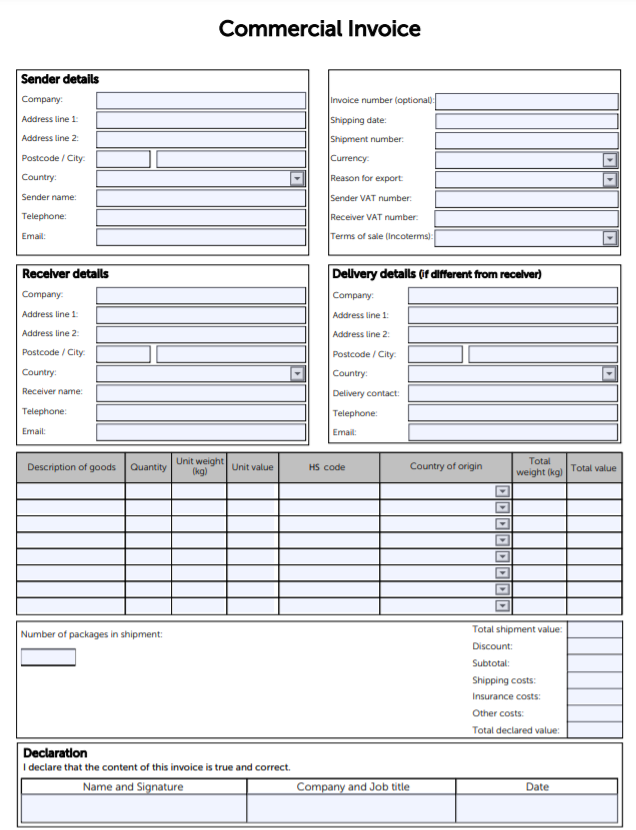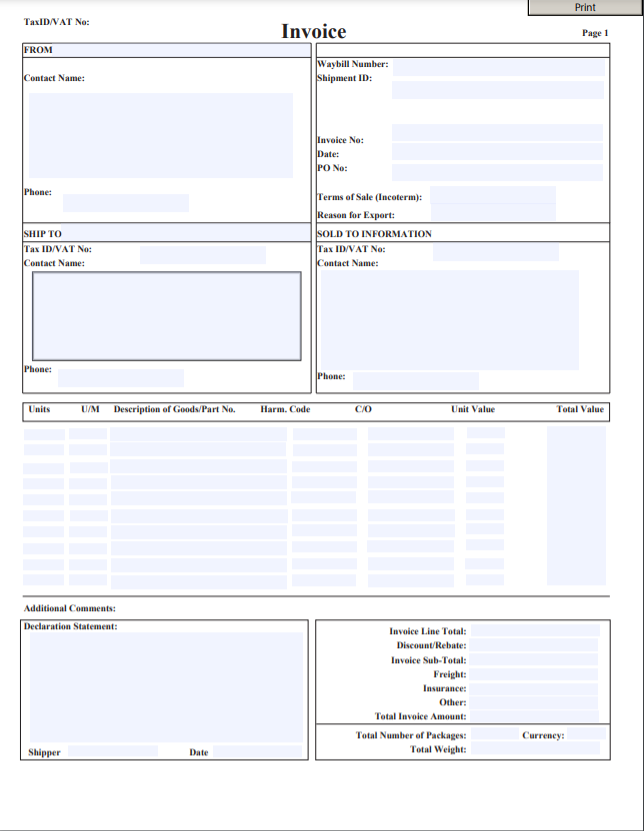 Where to attach the invoice to clear customs
Once you've filled out all of the relevant details on your customs invoice, it just needs to be attached to the outside of your parcel. Some carriers also allow you to send an electronic invoice.
How to effortlessly manage ecommerce shipments to customers
Whether you're sending items domestically or internationally, ShippyPro can help to make the process easier. ShippyPro offers an easy-to-use, all-in-one dashboard to help you manage and keep track of your customers' orders, with several features designed to make your life easier including:
If you don't yet have a ShippyPro account, what are you waiting for? Register for free and try it out for 30 orders to see how it can save you time and help to expand your business to new areas.