Ecommerce returns: best practices, policy examples, and more

By
ShippyPro Team
·
10 minute read
It's exciting to get new sales for your e–commerce store. But undoubtedly some of those items will be returned. It's just the name of the game.
Although dealing with e–commerce returns can be frustrating, not allowing returns isn't the answer. Today's online shoppers expect to be able to return an online purchase either for free, or for a reasonable fee. In fact, not allowing returns can actually lower your store's conversion rate.
Importance of delivery and return options for online shoppers in the United Kingdom (UK) in 2022: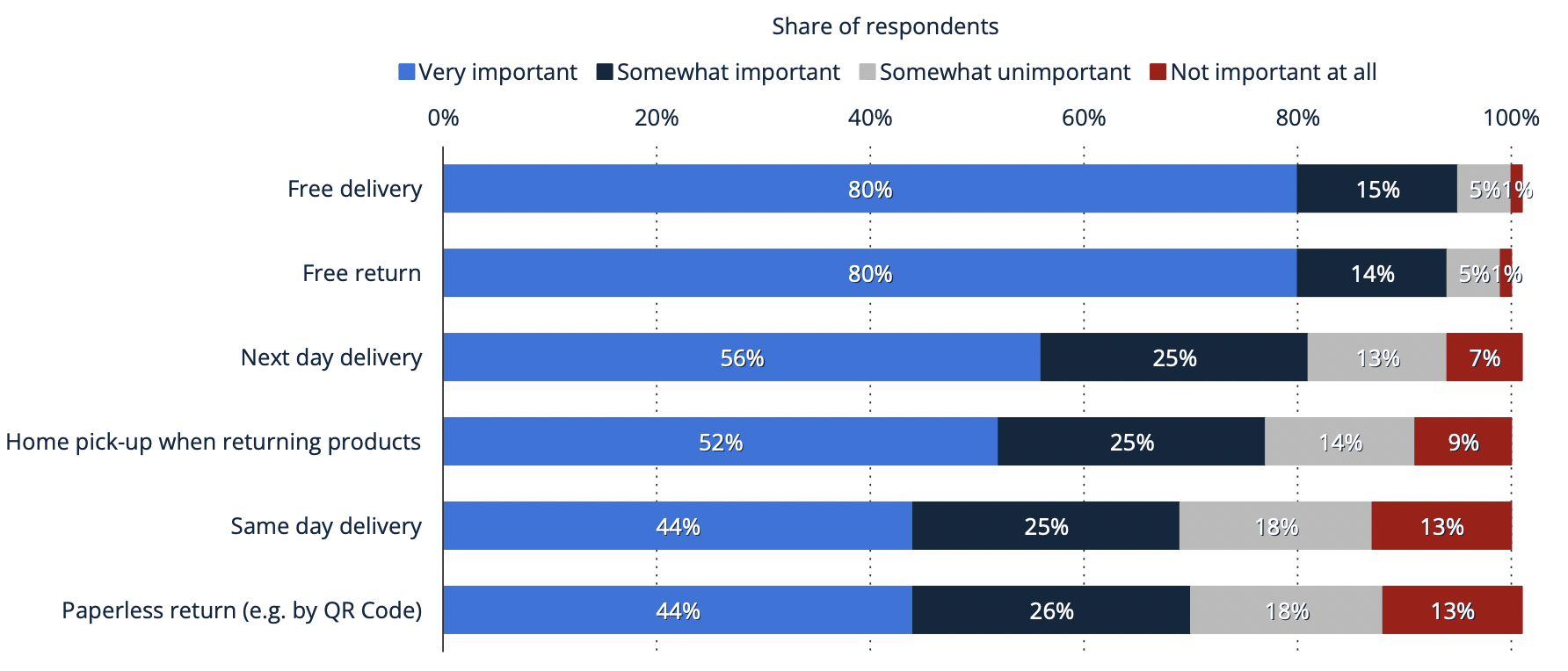 Luckily, there are plenty of things you can do to make returns less painful. You can make it easy for customers to initiate and print return labels online.
In this post, we dive into the best practices for handling e–commerce returns.
The difference between ecommerce returns, exchanges, and refunds
Not all returns are similar. There are different types of returns.
Exchange – With an exchange, the customer will return one item in exchange for another item, or the same item in a different color or size. With this option, you typically don't lose revenue.
Store credit – When returning an item for store credit, the customer is returning the item in exchange for the same value amount which they can spend on your website at a later date. With this option there is no revenue loss and you're only out the cost of the return shipping if you offer free shipping.
Full refund – A customer might return an order for a full refund, meaning you lose the revenue from their original order.
Many ecommerce websites will encourage customers to get store credit in exchange for free return shipping. For example, Venus waves the return shipping fee if customers get store credit with their Wallet program.

How to use ecommerce returns to your advantage
Approximately half of all US and Canadian online shoppers will not buy from an e–commerce store that doesn't offer free returns. At the same time, 10% of shoppers say they will abandon their cart if they don't like the return policy. 85% of shoppers say they look for and read the return policy before purchasing. And 72% of shoppers are more likely to buy from you again if they had a good return experience with you in the past.
Clearly, your returns policy has a huge impact on your revenue. So, it's important to keep this in mind when making decisions about how to handle returns.
To foster brand loyalty and increase conversions, you should offer the most liberal returns policy you can afford, while still protecting your profits.
The return metrics you need to track
Overall return rate for all products
Return rate for each product
Return rate for each product category or product line
Return rates during the holiday season or other time periods that are important for your business (seasonal hobbies or large promotions)
Return rates by geographical market
NPS score for your ecommerce business as a whole
Customer satisfaction score after customer service interaction
You can use a metrics dashboard like Klipfolio or Tableau to automatically pull in your data from different sources into cohesive reports.
You might also want to set key performance indicators (KPIs) for returns of each product. For example, you may set a KPI for a return rate of 25% for your clothing items. If any product has a higher than 25% return rate, you might consider improving or discontinuing that product, or updating the product listing for improved accuracy.
What's an acceptable return rate?
Return rates can vary drastically based on the product category. These are some common benchmarks:
On average, return rates for all products tend to be around 15 to 30% in the US, with clothing heavily skewing that rate. In Europe, clothing gets far more returns as well. If you can't find a specific benchmark for your product category, you could use that as a general benchmark.
Common causes for ecommerce returns
Why do customers return items? Understanding the reasons for returns just might be your answer to lowering your return rate. The product category will determine the reasons, but in general these are the top motivators for returning an item:
No longer needed
Found a different product elsewhere
Found the same product for cheaper elsewhere
Doesn't fit the person, or match the room, etc.
Not as pictured or described
Sizing not as expected
How to lower your return rate
To lower returns, you need to know the causes for your unique products. In your return process, include a multi-choice question. Write in the top 3 – 6 reasons why customers might need to return an item. Provide the option for them to write in their own reason after selecting "other" if one of the predetermined reasons doesn't fit them.
This will allow you to collect feedback and discover the most common reasons for returns. With the open ended "other" question, you can find out issues you might not have thought about.
You can then use this survey information to lower your e–commerce return rate.
For example, if lots of customers are telling you that the sizing for a product is off, you can update the size chart for that specific product and note the change on the listing. This can help ensure that new customers buy the right size, so you can lower your return rate.
How to match your return policy to customer expectations
Sometimes in business, you want to do the exact opposite of what your competitors are doing in order to stand out in a crowded marketplace. This isn't necessarily the case when it comes to your e–commerce return policy.
If competitors in your market are not offering a liberal return policy, then you might choose to one up them by allowing free or affordable returns.
But if your competitors are already offering free or low-cost returns, then you likely shouldn't go against the grain and not allow returns.
Your competitors might have already trained customers to expect free or affordable returns. Customers have already been taught to expect this by large companies like Amazon, Zappos, Williams Sonoma, Wayfair, and other popular marketplaces.
How to write an ecommerce return policy that fits your business
Your return policy is a mutually beneficial document for you and your customers. It helps your customers make informed buying decisions and know how to initiate returns if allowed. It also helps you create specific rules so you're not at the whim of unfair customer demands.
Here's what to include in your return policy:
What products can be returned – Make it clear what can and can't be returned. Here's an example from Wayfair's return policy, where we see that clearance items, gift cards, personalized items, assembled items, Open Box items, and other products are not eligible for return. You might choose to allow all product categories except clearance, or you might exclude certain items. For example, you might allow returns of jeans but not underwear, especially if the underwear is low priced.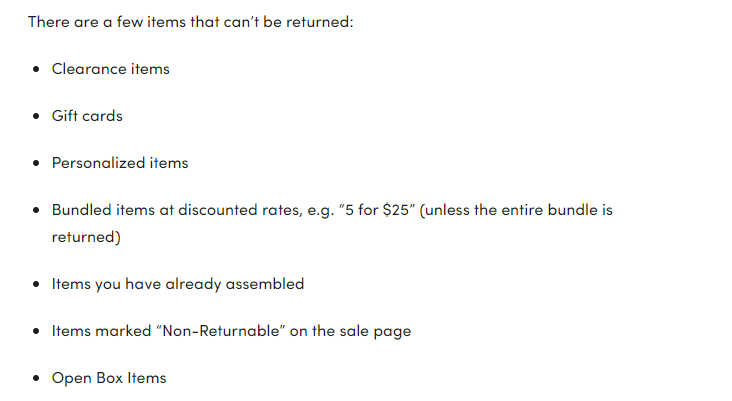 The allowable timeframe – You also need to have a timeframe in which products can be returned. Best practices dictate that you have just one timeframe. Don't have different allowances for different products. You might choose a 30-day, 60-day, or even a 90-day return window. Of course, this window only applies to products eligible for return.
Changes by country – Do you need to make any adjustments per country? For example, if you're based in the UK, you might offer returns for a flat rate fee of 3.95 pounds only for people in the UK. Customers outside of the UK must ship products to you at their own expense without a flat rate fee or a prepaid label.
Customer fee (if any) for the return – Do you want to set a fee for the return or do you want to make returns free in certain regions. Free returns place a large burden on the business in terms of expenses. So unless your online store is already quite profitable and looking to scale to a larger audience, free returns aren't advised. However, a small flat rate fee can help shift some of the cost burden onto the customer while not reducing conversions. As long as your flat rate fee is reasonable enough given the cost of the average order value, customers won't be deterred from making a purchase.
How to return something – Don't forget to tell customers how to initiate a return. Your return policy should spell out your returns process very clearly. For example, you might use ShippyPro's Easy Return feature to offer printable return labels. If so, then you'd want to link to the page where that functionality is embedded in your website. If you're using a more manual process, such as asking customers to fill out a form or mail the product to you, then you need to outline all of those important steps.
Online versus in-store rules – If you have an online store and some retail locations, you'll want to clarify how your policy is affected. For example, you might want to state whether or not online orders can be returned in store or not.
Should you offer free returns or a flat fee?
Offering either free returns or a low flat rate can help increase your conversions. Customers prefer free return shipping most of all (of course), but a low flat rate is second best. What customers don't like is being required to pay upfront for shipping with a carrier, especially if that amount is more than a few dollars or euros.
Can you afford to offer free returns? Can you afford to offer a low flat fee?
You'll need to consider this for each of the major markets you sell in. For example, you might offer free returns in one company, a flat fee in another, and in the rest of the countries you sell to, require customers to pay the carrier directly for return shipping.
In order to determine the rate (if any) for returns for all of your major markets, consider these factors:
What customers expect from your brand
What your competitors are doing
Your long-term growth strategy
The operational strain and expense of allowing returns under your current policy
Estimations of conversion increases and how that translates to revenue
Estimations of the increase in returns
Unfortunately, there aren't one-size-fits-all calculations to determine what type of return policy you can afford to offer. You'll need to play with the numbers and run different scenarios.
You can also temporarily test different return policies in different regions, and if needed make changes. However, if you do offer a more liberal return policy and later change it, you'll need to honor it with customers who, having seen the policy, request the old version.
Ecommerce return policy examples
Examples are always helpful. Let's take a look at some example e–commerce return policies to help you know what to include in your own policy and how to share these details with customers.
Zara
Zara allows ecommerce customers to return items to any Zara store in the same country or region as the online purchase.
Or, customers can choose "Drop Point" and print a return shipping label to drop off at the appropriate shipping carrier.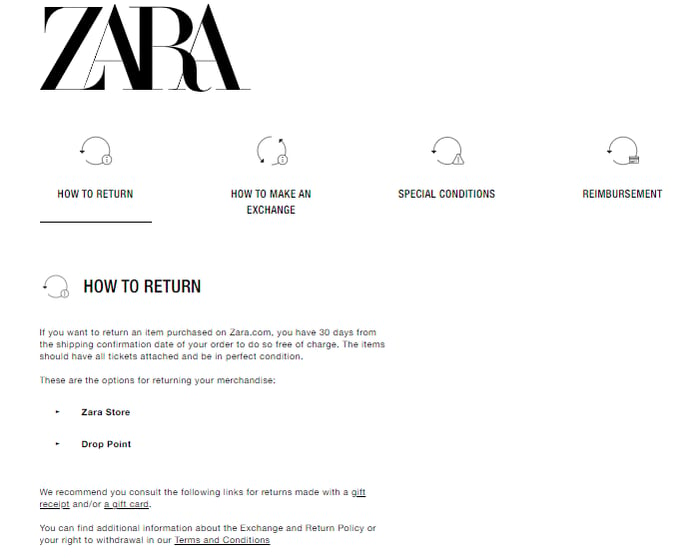 Armani
In their return policy, Armani clearly states the process and the cost. In the US, for example, returns will be processed at a flat rate fee of $5.00 per order. Each order comes with a pre-paid label.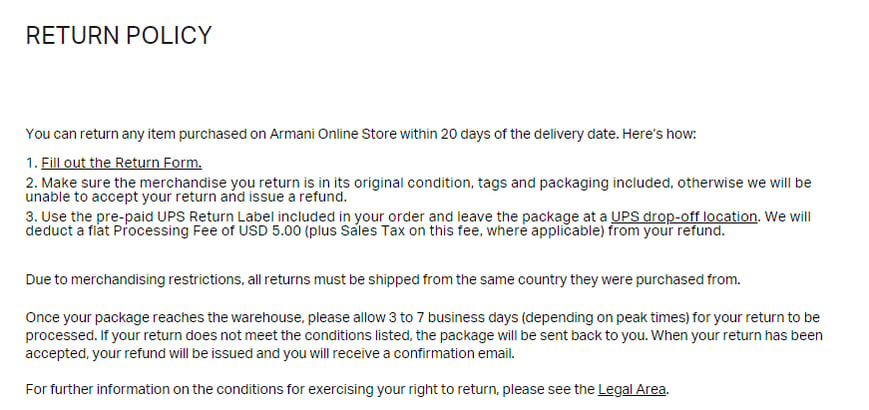 Gucci
Let's take a look at Gucci's return policy. The company includes a pre-paid label in every package. Items can be returned up to 30 days, but beauty products must be returned within 10 days. It's important to create a policy that fits each of your product categories.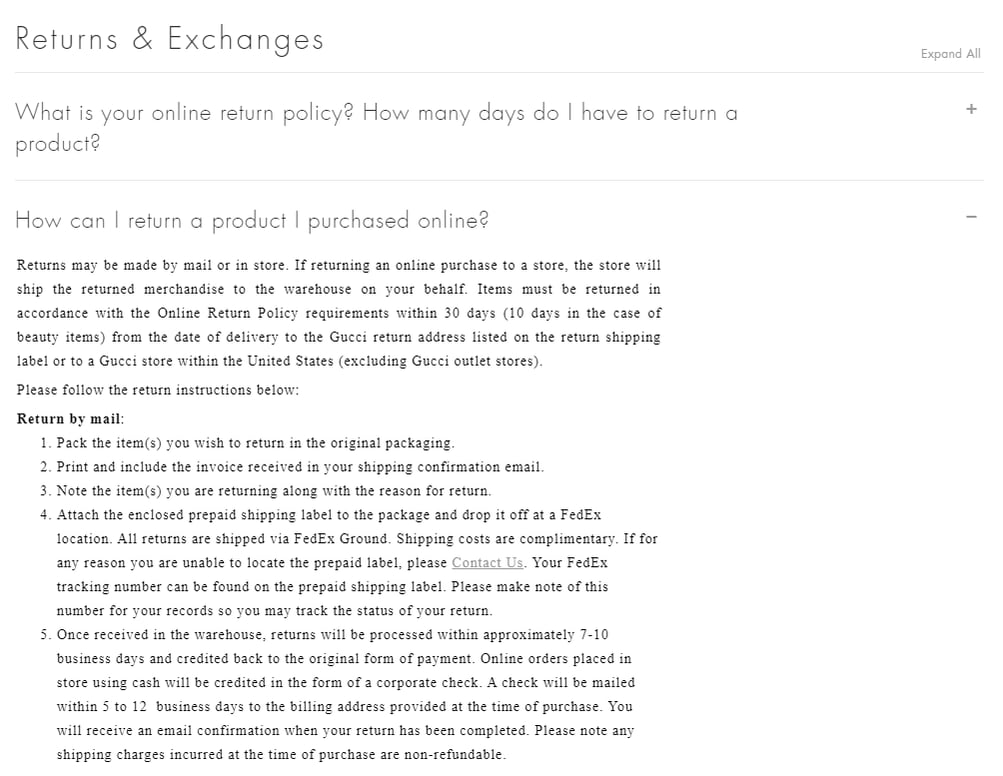 Intimissimi
Here's a snippet of Intimissimi's return policy: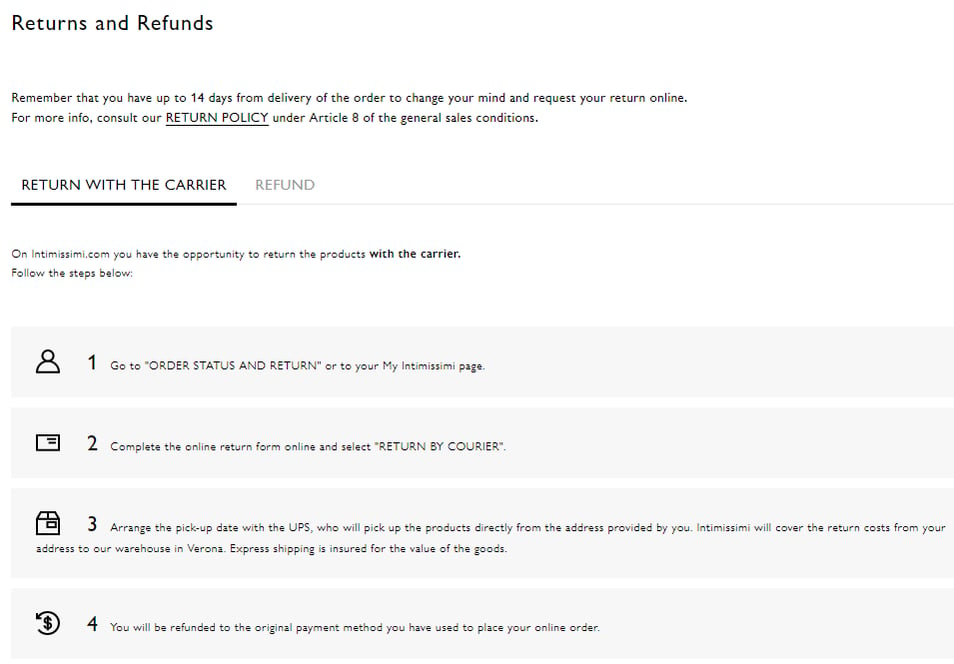 Intimissimi has a very clear return policy that directs customers to their online returns portal. The policy is also a winning example because the site design of the customer service section of their website is very on-brand. This is important. While your return policy should be clear and easy to follow, it should also match the design of your site in terms of font, icons, and whitespace. Intimissimi customers have 14 days to request a return in their customer portal. Then, they can arrange a pick-up date with the relevant carrier in their country.
Huel
Huel also has a return policy that we can learn from: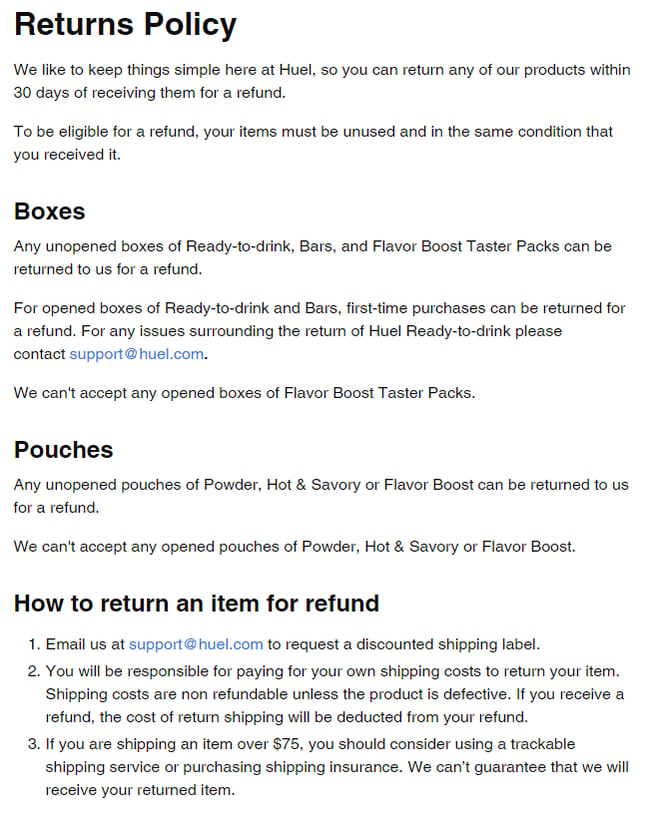 Huel's return policy gets several things right. They start their return policy with some on-brand copy, "We like to keep things simple here at Huel, so you can return any of our products within 30 days of receiving them for a refund."
As mentioned, your return policy should reflect positively on your brand. That's why you should use simple, understandable language, not legal jargon. If your brand is elegant, humorous, or informal, your policy should reflect that personality.
Huel's policy is also a great example because it offers very clear guidance based on the different products and whether they are opened or unopened. So, if you have different allowances for different products or product lines, take a look at their policy for inspiration on how to format your own.
Alex and Ani
Here's another returns policy to explore for inspiration.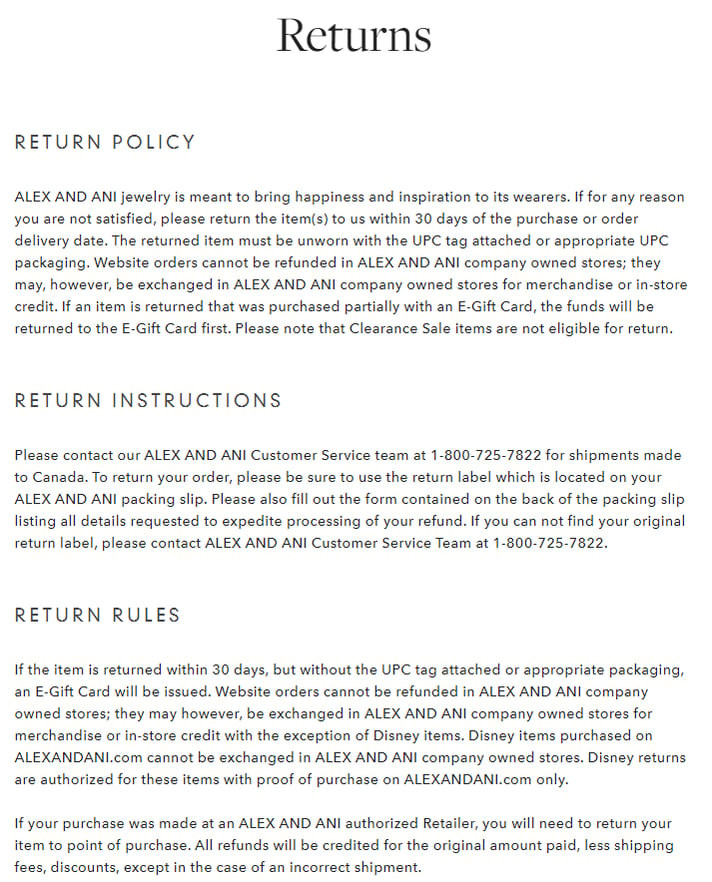 Do you have an online store as well as retail locations or kiosks? If so, the return policy on the Alex and Ani website is a great example to check out. They have clear return guidelines for purchases bought on their online store, which can be returned to an in-person store for a store credit but not a monetary refund.
How to save time managing returns
Communicating your policy with customers is only the beginning. As a business, you need to be constantly considering how to improve operations.
Allowing e–commerce returns can be a burden if not optimized. Here's how to reduce the amount of time your employees spend dealing with customer returns:
Allow customers to initiate returns online
When customers can initiate returns online, everyone wins. Shoppers get to enjoy a modern customer experience. Meanwhile, your employees don't have to spend time responding to nearly as many customer support inquiries about returns.
The good news is that creating an online e–commerce returns portal doesn't require a lot of complicated software development work.
ShippyPro's Easy Return is a portal that is easy to customize and add to your own website. Here's an example of what returns portal powered by ShippyPro looks like: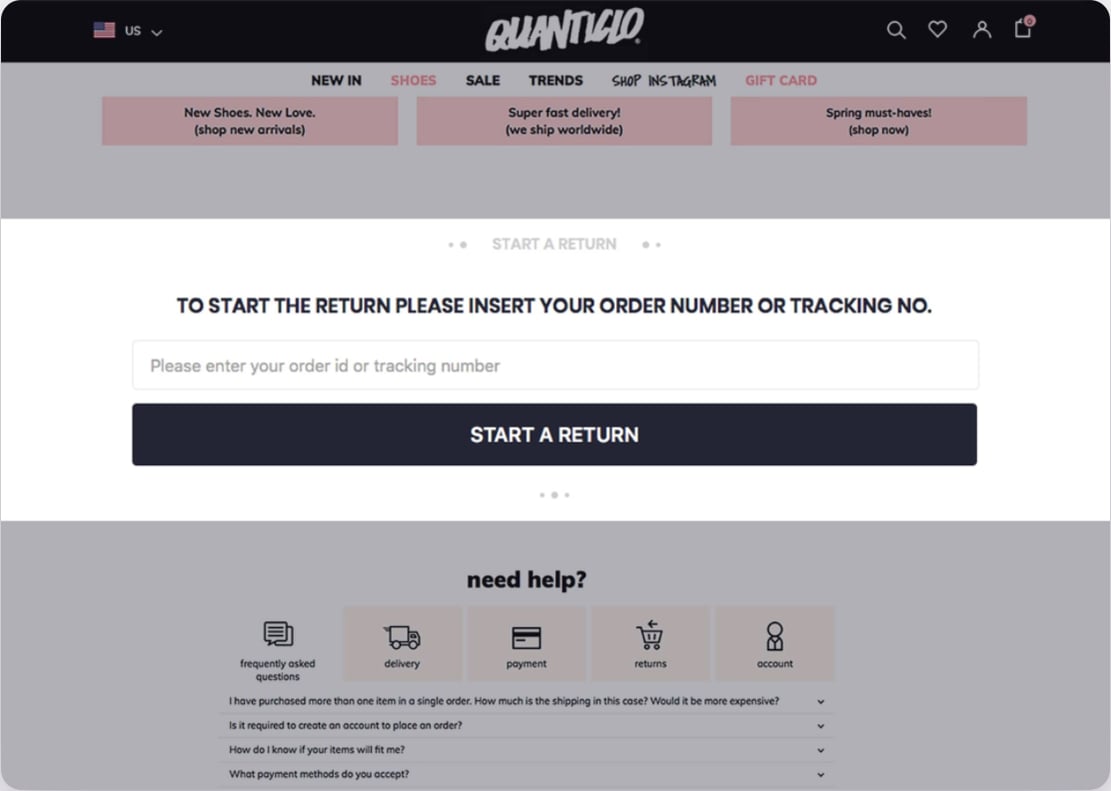 Set up automated rules to allow returns per your policy
Regardless of whether you build your own returns portal from scratch or use a ready-made returns software, you need to set up automated rules.
These rules should match your policy exactly. For example, if customers can only return an item up to 30 days after purchase, then this is a rule you would set. Then, if a customer attempts to return something 40 days after purchasing, the system will politely tell them they are not eligible for a return and won't take the process any farther.
Other rule examples include the customers' country, the type of product, and the amount of the product.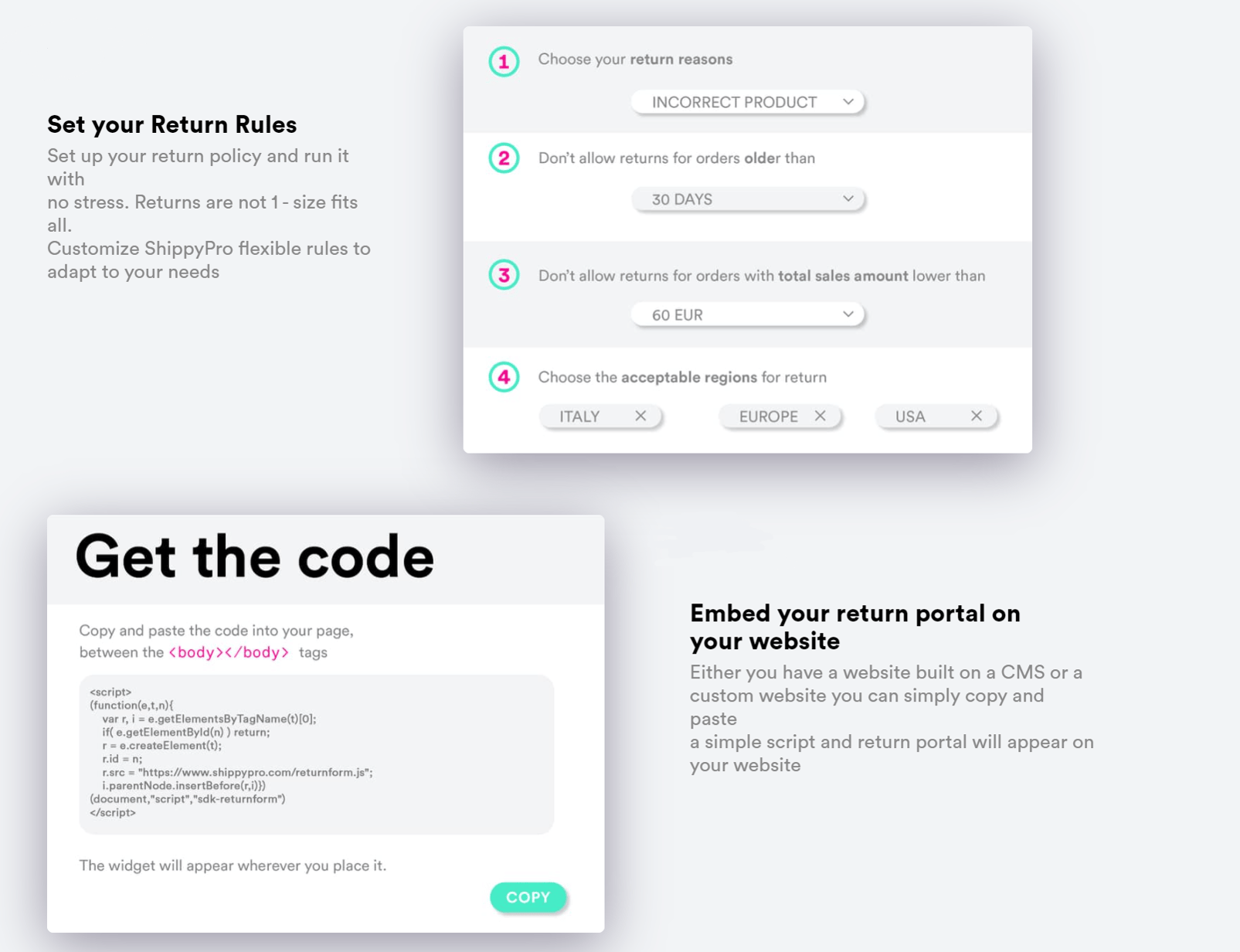 With ShippyPro, you can set these rules inside of your dashboard, and then copy and paste the embed code in your site to create a fully whitelabelled returns experience.
Have customers print their own return labels
To save time on customer returns, you should make it easy for customers to print their own return shipping labels. Include this as part of the flow in your returns portal, and you'll drastically reduce how often customers contact your support team about returns.
You can set it up to charge a flat rate fee for using a return shipping label, or you could make the return free for customers in certain regions.

Offer online return tracking so customers can watch the progress
Automating your returns process always offers benefits to both parties. Customers get what they need quickly. Your employees field fewer questions.
This is certainly true when it comes to tracking returns. Without traceable returns, customers will constantly ask when they're going to get their refund.
But when you offer traceable returns, customers can check the status of their return themselves without submitting a ticket to customer support.
Best practices for dealing with ecommerce returns
Your returns policy is a critical part of a smart e–commerce shipping strategy.
These are the key factors you need to consider when determining how to handle e–commerce returns:
Customer expectations
Expenses and profitability
Burden on operations
If you offer easy, online returns, you can reduce the cost of operational involvement in the returns process, especially when it comes to answering customer support tickets. Some of that savings could be directed to making returns more affordable for customers.
While small, light products can put the responsibility on paying for return shipments on the customer, most companies will increase customer satisfaction by offering either free or flat rate returns.
Manage your returns and shipping with ShippyPro
With ShippyPro, you can manage returns the easy way. Set your rules and allow customers to initiate returns and print shipping labels.
These are the key features you get with ShippyPro:
Label Creator – Automate the creation of labels with the right partner carrier after orders. ShippyPro integrates with all major carriers in North American and Europe.
Track & Trace – Proactively field customer support inquiries with shipment tracking. Customers can check their order at any time to get progress. Plus, they can sign up for notifications on shipment updates if desired.
Easy Return – Create your own returns portal without having to code it from scratch. Just add the rules you want, and embed the portal in your own website.
Ship & Collect – Offer multiple shipping options in your checkout process to increase conversions. Let customers pick from faster shipping, slower shipping, store pickup, local locker pickup, or any other options you might have.
Ready for smoother e–commerce shipping and returns? Start your free trial of ShippyPro.

ShippyPro Team
ShippyPro is the complete shipping software for online and offline retail. With Label Creator, Track & Trace, Easy Return and Analytics features, our software simplifies your shipping operations. ShippyPro integrates with over 160 couriers and 80 sales channels, making it compatible with a wide range of products and use cases.