Ecommerce Reviews: Using Customer Feedback for eCommerce

By
Emily Browne
·
5 minute read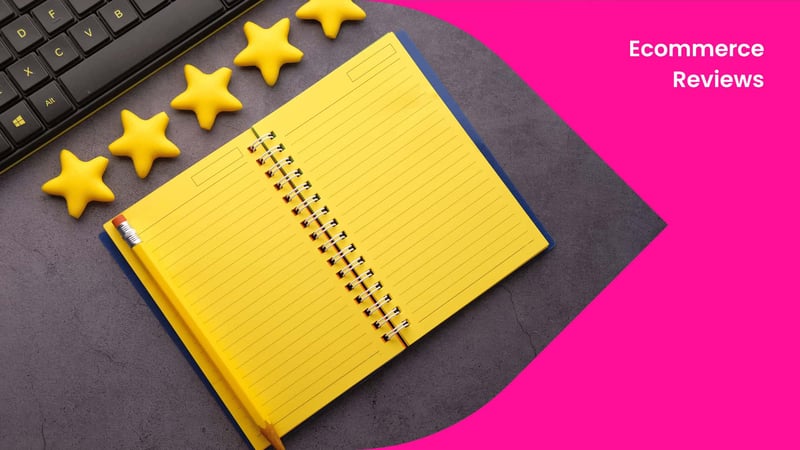 During the 2020 COVID-19 pandemic, online sales grew by a massive 46%. Ecommerce—that is, commercial businesses that only exist online—are thriving, but this enormous increase in growth and sales fuels a more competitive marketplace. A great way to get ahead of the competition is through ecommerce reviews.
In the age of high tech marketing tools, the most powerful way to get ahead of the competition is still word of mouth. Positive user reviews can go a long way in improving brand awareness and boosting sales. Customer feedback is a key tool for more than just sales; it can also reveal which areas of your ecommerce business can be improved.
Why do ecommerce reviews matter?
Over 70% of consumers trust online reviews more than traditional advertising. Ecommerce reviews let you know how your customers are perceiving your brand, service and products. Reviews matter for several reasons, and can have a big impact on the future of your business. Positive reviews are social proof that your product is good quality and the service you offer is working well. As a result, other online consumers doing their research are more likely to trust your brand and make a purchase, but negative reviews might put them off.
Customer reviews also provide valuable feedback for the seller, which in turn helps you figure out the best ways to improve your services if you receive any specific negative feedback. As a result, it's good to encourage your customers to let you know how you did so that you can provide a better experience next time. Ecommerce reviews are key for increasing engagement which form a closer, stronger relationship between you and your customers; which is important for improving brand awareness and scaling your business.
Ecommerce customer reviews also improve your presence in search engines such as Google. Search engine optimisation (SEO) helps consumers find your business by targeting keywords and phrases associated with your business. If your ecommerce store or product has a lot of reviews, the more likely it is to appear in search engine results. This will help more customers discover your business.
How can you encourage customers to leave reviews?
As previously mentioned, customer feedback is a valuable metric for gauging how well your products and service are being perceived by your customers, so how do you encourage more of them to leave reviews? Here are a few tips:
Make it easy!
Make sure the offer to leave feedback is easy to find and even easier to complete. Leaving feedback shouldn't be especially time consuming for the customer. Simply providing a few short questions with multiple choice answers is enough to suffice, with the option of elaborating on anything they found particularly helpful or unhelpful.
Send a follow-up email
Once a customer has received their purchase, finished their transaction with your business or had a positive experience with your customer service, you can send an email requesting feedback with direct links to the review page(s). This can easily be automated and is a great way to encourage ecommerce reviews. You can also use email tools which can help you personalise the request, which makes your
Offer discounts or other incentives
Discounts and other incentives are a great way to encourage more customers to leave feedback while also increasing brand loyalty and repeat purchases. Incentives for leaving reviews could include buy-one-get-one-free, discounts on their next order, loyalty points or a free gift, for example.
Respond to reviews
Responding to reviews lets customers know that you appreciate their feedback and that it is valuable to you. It's also a good way of mitigating any potential damage caused by a negative review, but replying to all reviews (both good and bad) in a timely manner is a great way to show potential new customers that you're engaged in their ecommerce experience and actively wish to improve your offering.
What are the best ways to respond to reviews?
Now I know what you're thinking: What happens if I get hundreds and hundreds of reviews and can't respond to them all? That's OK! However it's a good idea to try and respond when you can. When responding to reviews — and especially negative ones — there are a few things to keep in mind.
Be polite and professional. No matter the tone of the consumer, always reply in a polite and courteous manner—remember: your reply will be seen by potential new customers!
Respond quickly. If possible, respond within 24 hours.
Address specific concerns. Make sure you acknowledge and address all concerns mentioned in the feedback, including ways you can improve.
Promise to improve where possible—and implement change!
Offer assistance. If the review asks for help, provide assistance or offer further ways they can get in touch.
Keep it brief and to-the-point. You don't need to write a paragraph, keep your reply short, direct and to-the-point, responding directly to concerns or praise.
Be authentic in your response, and try to make each reply individual!
Follow-up. If you have the time and capacity, follow-up with your reviewers and repeat customers after a period of time to see if their initial concerns or queries have been dealt with.
How can you use ecommerce reviews to improve your business?
One of the best ways to improve sales and increase customer retention is by gathering as much data as possible. Acquiring feedback from past customers is a great way to do this.
To start, analyse your feedback to gain insights into what customers like or dislike about your products or services. See if you can identify any trends or patterns that might come up more than once so that you can identify key areas of improvement. This could include product quality, customer service, shipping process, website functionality or any other business processes mentioned in the reviews.
It's important to address any negative feedback promptly, but also celebrate any great reviews you receive. This is important for boosting employee morale and identifying what you're doing right. You should also promote and share positive reviews on your social media platforms, website and in marketing materials to highlight your businesses best attributes and attract new customers.
Lastly, keep an eye on emerging trends, preferences or demands mentioned in customer reviews that give you insight into how you can adapt your products, services or marketing strategies to better meet customer expectations. This could involve improving website navigation, streamlining the checkout process, providing clearer product descriptions or optimising customer support channels.
What are the best review platforms for ecommerce businesses?
Businesses have access to a variety of ecommerce review tools and plugins they can use alongside their website. Here are some review apps and websites you can use to help encourage customers to leave feedback on your business and its products:
Ecommerce Reviews FAQ
Are online reviews important?
Yes, online ecommerce reviews are important because they let you know how your customers perceive your brand, service and products. They are a great way of attracting new customers, boosting brand awareness and highlighting which areas and business processes may need improvement.
How do online reviews affect business?
Many positive reviews can really boost brand awareness and consumer opinion, helping increase sales. However many negative reviews can cause problems as they put off potential new customers. That said, a few negative reviews won't sink or float your business, especially if you respond to concerns quickly and implement any feedback.
How does online review management work?
Online review management works by harnessing online review websites and channels to track, respond and gain insights into your customers' experience with your business, products and brand. Knowing how to reply effectively to feedback and gathering data on trends helps you improve your ecommerce business and is an important aspect of marketing strategy.

Emily Browne
Emily Browne is a writer for ShippyPro who blends her passion for writing with an interest in all things e-commerce. Emily strives to make complex topics more digestible, proving that the world of logistics isn't as confusing as it sometimes feels! Her expertise in supply chain management, coupled with a knack for storytelling, helps readers navigate the complex world of e-commerce and shipping.