What is brand awareness and why does it matter? + strategies

By
Emily Browne
·
6 minute read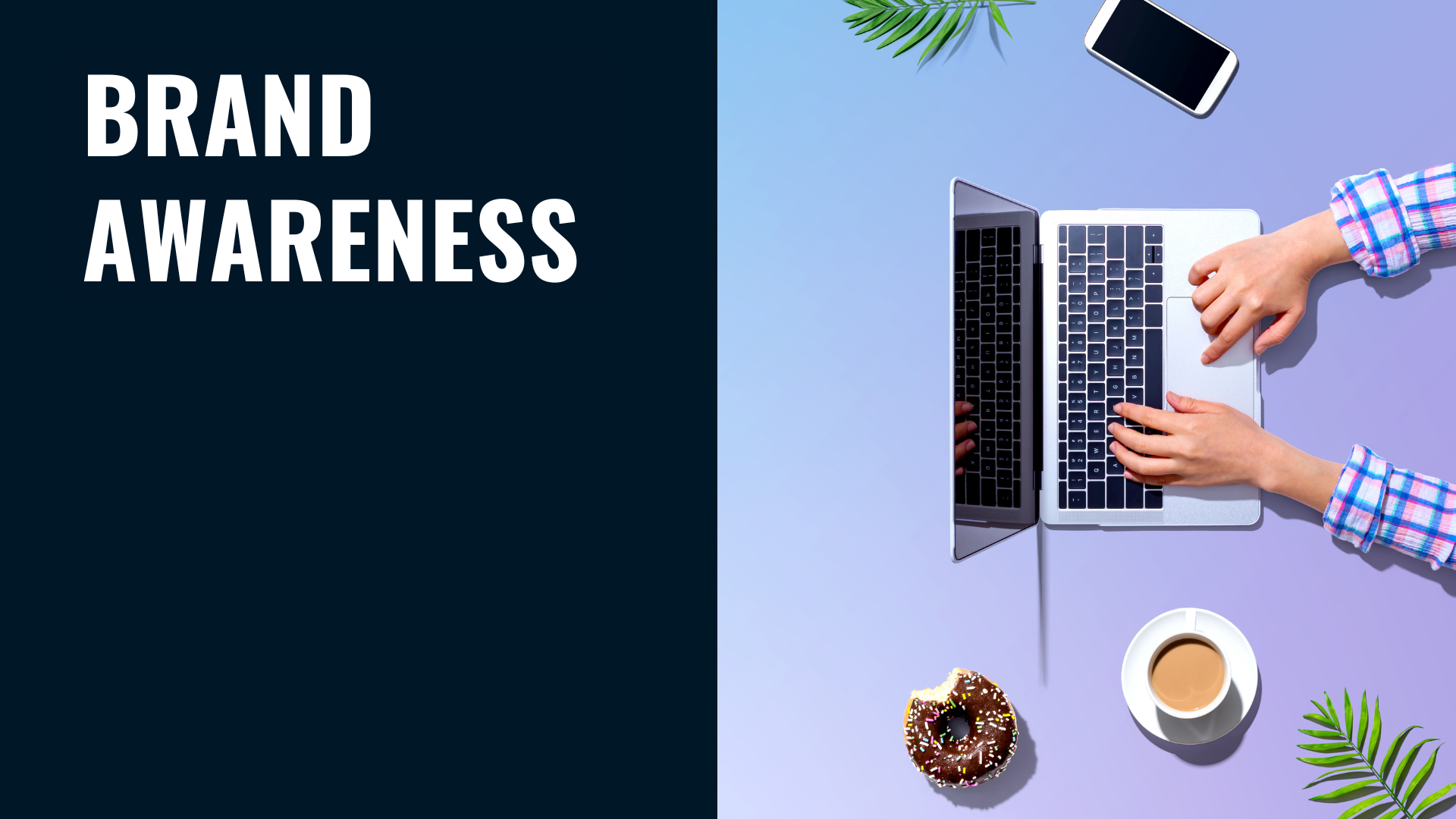 There are some brands and businesses that are so ingrained into our daily lives that we aren't even aware of how we know so much about them — this is the power of brand awareness. Establishing strong brand awareness will improve revenue, build customer trust and give you an advantage over your competitors. Here's everything you need to know.
What is brand awareness?
Brand awareness is the measure of how well people know about your business and what you do. It is often thought of as the first step in the purchasing process and therefore building good brand awareness should be baked into your marketing strategy from the very beginning. Brand awareness is more than just getting people to know about your business; it's about building recognition and trust over time.
Brand awareness is also a key performance indicator (KPI) of how well a brand is performing globally. Good brand recognition is a sign that a company is familiar with and successfully marketing to their target audience. High levels of brand awareness will usually lead to higher revenue as people tend to purchase from businesses they already know and trust.
What are the 4 levels of brand awareness?
When it comes to brand awareness there are four levels of recognition consumers will associate with your brand if you have included brand awareness into your marketing:
Top of mind/brand dominance: Being at the forefront of consumers' minds is one of the goals of brand awareness. You want to establish your brand as the first business your target audience thinks of when they are considering a purchase. To build this level of brand awareness you need to be regularly engaging with your customers, positioning yourself in a way that reminds them you exist through various marketing verticals including social media, influencer marketing or out-of-home.
Brand recall: Being memorable is a big part of brand awareness. You want consumers to be able to remember your brand without prompting when considering a specific product category or service. Brand recall is a representation of how strongly people relate a certain product or service to your brand.
Brand recognition: People recognise your brand's identifying characteristics against your competitors. When consumers see your logo, tagline or advertising they will have a clear idea about what products and services you offer and without any further information from you. You are recognisable.
Unaware of brand: One of the largest roles brand awareness plays in marketing is getting the brand, product or service in front of new consumers — and making sure they don't forget about you. You want to create and foster positive associations with your target audience to build trust and boost customer retention.
What are the benefits of brand awareness?
Good brand awareness has a ton of benefits for businesses regardless of their size. Here are a few reasons why you should invest in regular brand awareness campaigns.
Improves brand recognition
When potential customers have seen your marketing materials and know what you're about long after, they're more likely to make a purchase, spend more money or recommend you to someone else. Creating brand recognition is a key benefit of brand awareness.
Builds trust and credibility
In the same vein, brands with strong awareness are often thought of as more credible and trustworthy by consumers. According to Harvard Business School, 95% of purchasing decisions are made in the subconscious mind. This means that trusted brands will always be able to win over more loyal customers through positive associations and strong brand recognition.
It can give you the competitive advantage
In highly competitive industries, great brand awareness and recognition can be the thing that gives you the edge. Brand awareness is the X factor that will make them choose you over one of your competitors.
Improves customer relationships
When consumers feel a connection with your brand, they are more likely to engage with you at various points in the customer journey. They trust you to deliver a good service, are more likely to recommend you to others and are more likely to repeat purchases and spend more money. However one in three people will abandon brands they love after a single bad experience, so once you've got your customer's on board, you still have to retain their custom.
Increases sales
As previously mentioned, strong brand awareness is more likely to generate more sales. Consumers are more likely to buy again from brands they trust — especially if their experience was a positive one.
Lower marketing costs
When your brand is well-known it can be easier, faster and less expensive to market your products or services. Consumers will already be familiar with your offerings so you won't need to invest quite so much in advertising to convince them to make a purchase.
How do you measure brand awareness?
While many areas of marketing can be closely monitored through black and white statistics and ROI, brand awareness can feel a lot less tangible — however there are a number of ways you can track how your brand is doing in the eyes of consumers.
Social media
16% of people follow a brand on social media because they like them, so social media follows, likes, comments and shares are all a pretty good indication of how your brand is being perceived. People who follow you on social media will usually resonate with your product or service already, or at least want to keep track of you online before making a purchasing decision. However be careful, it's also estimated that 45% of people will unfollow a brand because of too much self-promotion, so figuring out often how to share and post content is important.
Run surveys
If you're not sure how well you resonate with your target audience, why not ask? Running regular customer surveys will give you a good idea about what people like or don't like about your brand, products or marketing.
Invest in great software
Living in the age of intelligence means there are a lot of different tools marketers can use to try to get an idea of successful brand awareness. Here are some examples of software that can help you monitor brand awareness and impact:
Social media listening software that can help you keep track of the conversations being had about your brand. This can help you create more targeted campaigns with better reach and better engagement. (Hubspot Social Media Managing Software, Brand24)
Social media management tools help you keep track of your accounts in one place. You can keep track of your likes, comments and impressions. (BrandWatch)
Influencer management tools can help you track and monitor reach through influencer campaigns. (Influencity, GRIN)
Website traffic & Google Trends
Monitoring traffic to your website is a good way to assess how successful brand awareness campaigns have been. Furthermore, you can use tools to track all kinds of metrics related to your website; such as hotspots, bounce rate and cart abandonment.
Google Trends, on the other hand, will help you keep track of people searching your brand name, products or services. However Google's search privacy means that you won't be able to differentiate between who has found your brand through searching for its name and who found you using keywords. Having said this you can leverage Google Trends and Google Adwords Keyword Planner to track your direct search volume over time — and whether it increases following a brand awareness push.
5 strategies to build and improve brand awareness
Brand awareness can be improved through many different channels and strategies which can all come together to increase recognition and retention over time. Here are a few strategies brands can use to boost their awareness.
Sponsorship deals & influencer marketing
Sponsorships with sports clubs, industry events, movie screenings, etc is a great way to get your brand seen and heard by thousands of people quickly. When you use sponsorship as a means of increasing brand awareness you are hitching your reputation to another entity, so it's vital that the relationship is symbiotic and a good brand fit. It's key to do your research early on to make sure these relationships match and support your values.
The same goes for using influencers to boost brand awareness. Influencers have a lot of sway over their audience as long as the brand is a good fit. Influencers allow you to tap into enormous new markets and create further positive associations between the people they love and follow and your business.
Be consistent
Consistency is a really important part of brand awareness. You want people to instantly recognise your brand as soon as they see your logo or any kind of marketing material. Consistency and positive associations lead to brand recognition and stronger awareness. In fact, research by Lucidpress demonstrated that on average, consistent branding can increase revenue by 33%. Furthermore, regular contact with your customers through email marketing, promotions and social media helps you consistently reach your audience where they are.
Promotional programmes & freebies
Consumers love free gifts or promotions, and it's a great way to give your brand a positive and generous association. Referral programmes, buy-one-get-one-free limited promotions, and various other bonuses boost brand engagement and allow people to sample your products and services in the hope they will come back and make a purchase.
Create shareable content
Creating bite-sized and shareable social media content, infographics, whitepapers, etc will help establish your brand as a thought leader in your industry. If potential customers know you to be an expert or leader, they will put trust in your company. This will help increase awareness and position you ahead of the competition when people are searching for your brand online.
What's more, the brain also processes images 60,000 times faster than text, so sharable content (such as infographics) helps get your message across much more efficiently.
Create memorable (and lasting) campaigns
Some of the most memorable marketing campaigns have been purely to improve and strengthen brand awareness. Investing in surprising, interesting or unique marketing strategies and campaigns will get you noticed and get your name out there. Some famous examples include the Coca-Cola polar bears or their "Share a Coke" campaign, Apple's bombastic product launch events and Nike's infamous "Just Do It" slogan.

Emily Browne
Emily Browne is a writer for ShippyPro who blends her passion for writing with an interest in all things e-commerce. Emily strives to make complex topics more digestible, proving that the world of logistics isn't as confusing as it sometimes feels! Her expertise in supply chain management, coupled with a knack for storytelling, helps readers navigate the complex world of e-commerce and shipping.