What are transactional emails and 6 outstanding examples

By
Martina Elizabeth Di Carlo
·
6 minute read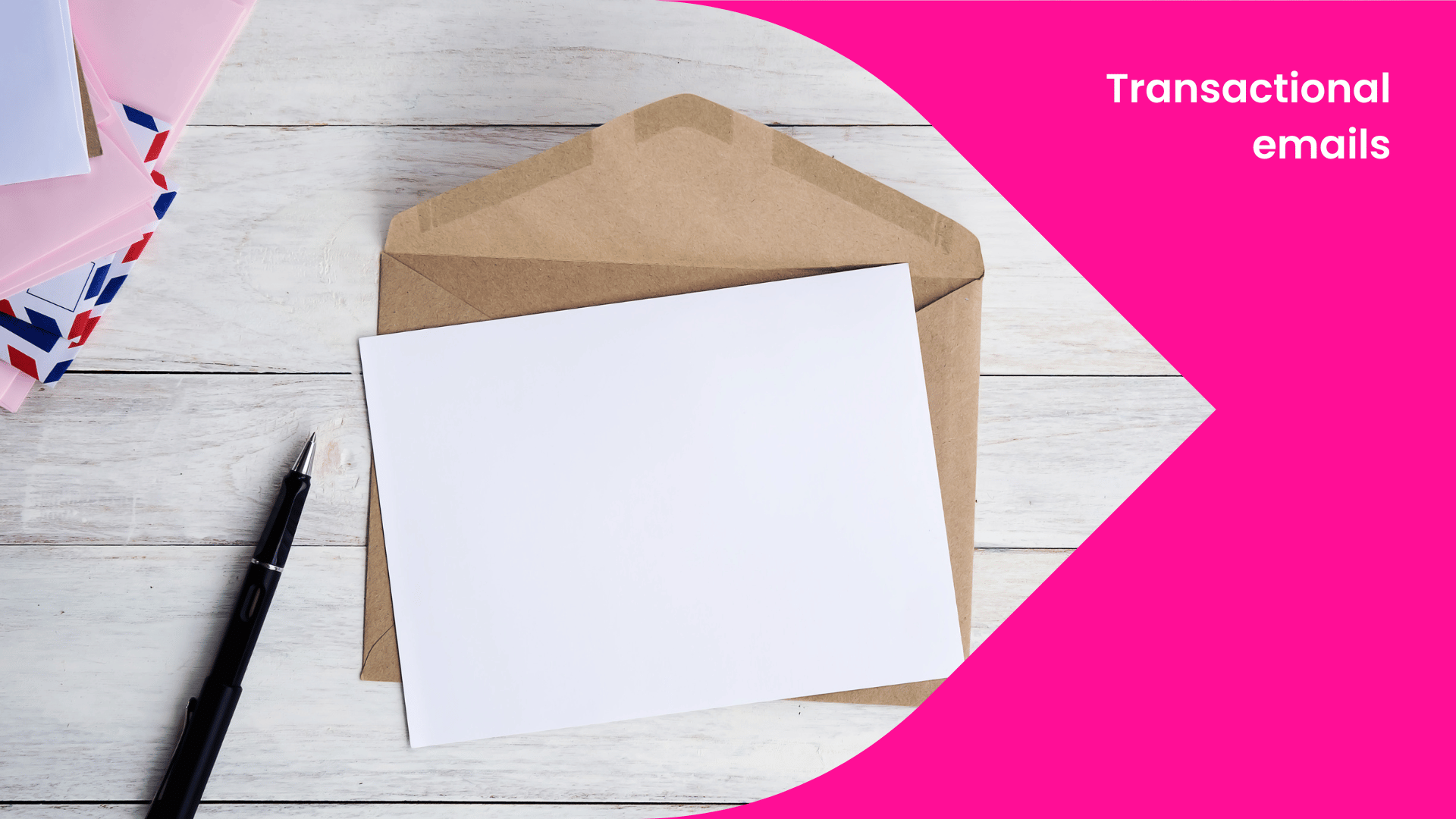 Transactional emails are among the most important emails for an ecommerce business. Even though retailers often treat them lightly or don't consider them at all, these emails can become a powerful tool to build loyalty, as well as cross-sell and up-sell products and services. Not using them can result in missed business opportunities or even a poor service for your customers. In this article, we will examine the importance of transactional emails for businesses and uncover how you can obtain amazing results following a few simple suggestions.
Table of contents
What are transactional emails?
Transactional emails are automated emails with important information sent to an individual after a specific action was completed on a website, for instance a purchase, transaction, subscription to a service or after opening a new account. They also contain order and shipping confirmations, as well as delivery updates, trial expiries, and receipts. What is more, customers expect this type of email and consider it as an essential part of their shopping experience. When personalised and written in an engaging way, transactional emails create plenty of opportunities for ecommerce businesses. Just think that most of these emails have an average open rate of 70%!
Transactional emails vs marketing emails
The main difference is that transactional emails are triggered by a specific action and contain relevant information to the user, whereas marketing emails have the purpose of highlighting promotions, discounts, announcements and are not triggered by an action performed by the user. Moreover, they are usually sent to a list of contacts, while transactional emails are addressed to an individual.
5 tips to write engaging transactional emails
Keep them short and clear
The key to an efficient transactional email is that it must be easy to read. It should contain the essential information needed and, in this way, you will be sure they have more impact, as well as credibility.
Personalise content
Personalising the content of transactional emails, while keeping them simple and clear is a great way to make your emails more engaging. Moreover, adjusting your tone of voice according to the content and writing sharp subject lines are good ways to connect people to your brand and increase the possibilities of them taking action.
Include strategic CTAs
CTAs are an essential part of transactional emails. You should take time to create persuasive CTAs, choosing your words carefully, to increase chances of higher click and open rates. What is more, CTAs create an enjoyable shopping experience for customers, who will clearly know what step they should take next.
Be creative and include engaging design and visuals
Having a great design even in your transactional emails is important to make your brand stand out from competition and to connect more people to your business. Employing visuals is also central for clarity, as well as a good way to give your customers examples when you require them to take specific actions or when they need technical support.
Optimise transactional emails for all devices
Most people open their emails on their mobile devices, meaning it is important to optimise your emails for all screens. In this way, your emails will look good everywhere. Don't underestimate this aspect, as it conveys professionality and makes your company appear more trustworthy.
---
Why transactional emails matter - 4 advantages
They increase sales
Transactional emails are fundamental to enhance a customer's purchase journey. They are a great way to drive sales if you are offering discount codes or giving product recommendations related to a purchase. In fact, they generate 5x more revenue than company newsletters. Also, when customers receive a personalised and useful message after taking a specific action, they will have a positive impression, which increases the likelihood of future purchases.
They improve customer loyalty
Transactional emails improve the customer experience, as they deliver tailored and helpful information. Remember, people are always impressed when they perceive you are going the extra mile for them.
They have higher engagement rates
Transactional emails have a higher engagement rate than most emails, especially because people know that they contain relevant information, such as order confirmations and receipts. Compared to marketing emails that have an open rate of 20%, transactional emails can go as high as 70%.
They improve brand awareness
Transactional emails are an opportunity to deliver your brand's personality and communicate your uniqueness at every step of your client's shopping experience, which is the key to a lasting business relationship.
Common types of transactional email and 6 examples
Let's look at the most common types of transactional emails and get inspired by different brands who nailed communication with their clients.
Welcome emails
Welcome emails are sent after a person creates a new account on a website or signs up for a service for the first time. Sending a welcome message is the best way to start a relationship, especially if you think of it as greeting a stranger with a friendly smile. It is also an opportunity to showcase your products or offer discounts.
Spotify example
Spotify keeps design simple and lists the exclusive features you can enjoy in a friendly, capturing way.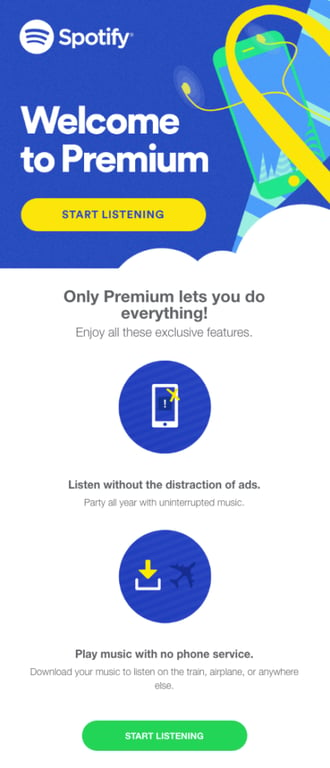 Order confirmation email
Order confirmation emails should be sent as soon as a customer places an order. They include all the information regarding the purchase, for instance the items that were bought, return and delivery details, as well as contact information.
Amazon example
Amazon sends post-purchase transactional emails including both order information and further action the buyer can take regarding items they viewed or put in their wishlist.

Abandoned cart emails
Abandoned cart emails should be sent when a customer puts items in the cart but abandons it before completing the purchase. They are a great way to remind people of what they were willing to buy, encouraging them to complete an order. This is why most abandoned cart emails also include a discount, which can be just the right boost for someone to complete an order.
Rudy's example
Rudy's cart abandonment email has a great copy to attract readers' attention and includes a special free shipping offer that customers can take advantage of within a specific time.
Shipping notifications
These emails are very important since nowadays everyone expects to be updated on the status of their order. Let's be honest, these are the most exciting emails to receive! This is why you should make the most out of them. It will result in a unique shipping experience for your clients and will have a major impact on your company's revenue.
MeUndies example
MeUndies used a charming design and a catchy, original copy to make their shipping notifications original.

Password reset email
This email is sent when customers forget their password and need to log back into their account quickly. When you design this type of email remember to:
Personalise it, calling the recipient by name to build trust
Include a clear subject line
Share a password reset link or a CTA button
Include information on what the recipient should do if they didn't request a password reset
Include link expiry time
Verve Wine example
Verve Wine kept their password reset email clear and simple, with a pleasant design and friendly tone of voice.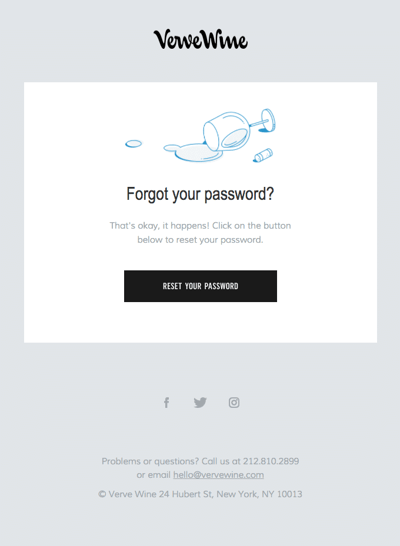 Trial or plan expiration email
If you offer a free trial for your products or services, as well as specific subscription plans, you should stay ahead by sending automated emails reminding your clients of expiry dates, special offers to extend the service or even additional products they may be interested in. You should also include information on features they haven't tried yet. It is a good way for businesses to reach out to whoever is interested in what they sell.
Also, remember to include feedback to prove how valuable the product is and how others benefited from it.
Headspace example
Headspace used a witty subject line to intrigue readers, as well as a compelling copy and design to grab people's attention.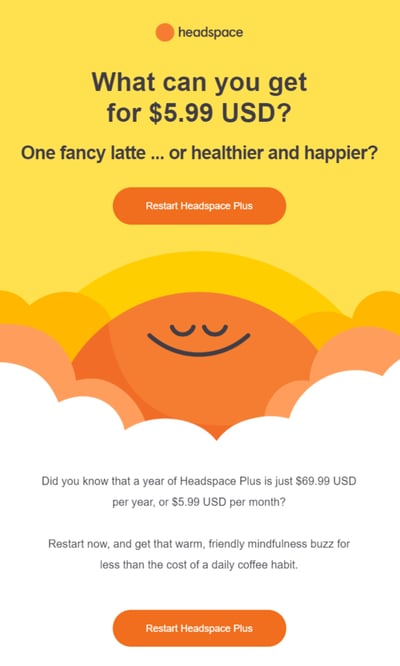 Feedback emails
Feedback emails are usually sent to customers after they received their order or subscribed to a service. You should pay special attention to them because they are a great way to collect reviews to showcase on your website or use in your marketing notifications. Including them in delivery notification emails or offering a something in exchange to whoever leaves a review will encourage more people to do so.
Moosejaw example
Moosejaw used an attractive design and offered a special reward in exchange for feedback.

How can I send transactional emails? 7 tools
Sendinblue

Sendinblue is one of the top transactional email providers and has multiple additional tools such as email marketing, SMS marketing, live chat, marketing automations, segmentation, and landing pages. Regarding transactional emails, you can choose from different templates, or you can design them yourself in the way that fits your brand best.
ShippyPro

ShippyPro is the complete shipping hub that helps worldwide merchants to ship, track and return their ecommerce orders easily. With ShippyPro you can easily configure your automated transactional emails and personalise them with your brand's unique design and tone of voice.
Mailjet

Mailjet has a drag and drop feature that makes creating transactional emails very easy. For example, you can drag text images, links, and different elements in blocks that you can add and delete according to your needs. Designs are already optimised for desktop, laptop and mobile devices.
Mailchimp
Mailchimp is a popular user-friendly solution for your transactional emails. You can customise them for individual sends, and create automated transactional emails triggered by specific actions on your system, such as order confirmations and password-reset emails. You can even schedule your messages and review activity reports.
Active Campaign
Active Campaign helps you to easily set up your transactional emails and personalise them. It allows you to drop in content from existing email campaigns, automate your emails and monitor relevant metrics, such as click-through rate, open rate, and subscriptions.
Drip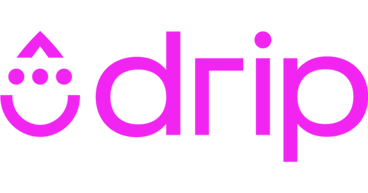 Drip is a powerful tool as it also makes sure you don't break CAN_SPAM regulations, allowing you to manually confirm you are creating a transactional email beforehand.
Ecommerce platforms
Even your ecommerce platform can provide support in sending transactional emails to your clients. Some softwares (like Magento 2 or Shopify) allow you to create and customise different transactional email templates, adjusting them to your business needs.
Transactional emails are an essential part of an ecommerce's communication strategy. Setting them in the right way will lead to more long- term sales and definitely to a superior shopping experience.
Start setting up the emails that matter and make your customers' journey one they will remember.
---

Looking for a different kind of customer notifications?
Discover ShippyPro's SMS Notification service!
---