Discover the Best Marketplaces to sell in Germany

By
ShippyPro Team
·
6 minute read
Germany is one of the main markets in Europe where the growth of e-commerce is unstoppable. Every year, millions of users discover the best marketplaces in Germany to make their purchases. So maybe you can consider entering this market to expand your business.
As we already talked about, choosing a marketplace to sell your products in another country is the best choice. However, not all marketplaces offer the same benefits.
Here you can find everything you need to know to choose the best platform for your product. Take note!
Statistics of Ecommerce in Germany
The Ecommerce statistics in Germany reflect the potential of the German market. It is expected that the number of users buying online will continue to grow and that ecommerce will multiply its income over the years.
Last year, e-commerce in Germany generated around 62 million euros, according to Statista data.
And this number is increasing. Statista estimates that ecommerce in Germany will grow by 8.2% in 2020.
Amazon's website for Germany was the most popular online marketplace based on the share of visits in April 2023. This data comes from SimilarWeb and was published in May 2023.
| | |
| --- | --- |
| Marketplace | % visits in Germany |
| amazon.de | 53,23 |
| ebay.de | 22,23 |
| otto.de | 5,03 |
| amazon.com | 2,74 |
| aliexpress.com | 2,28 |
Percentage of visits per Marketplace: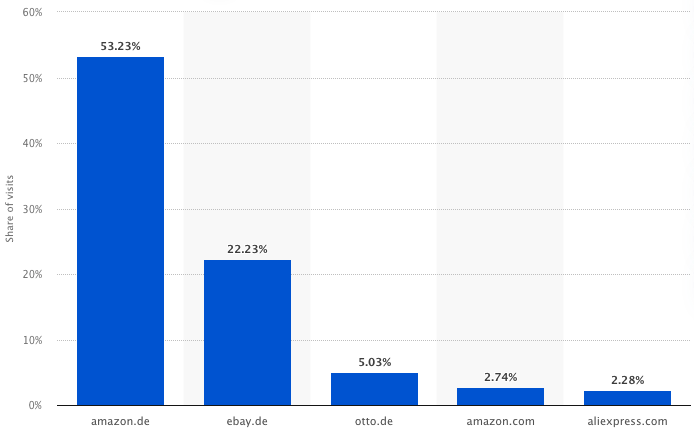 But how old are the buyers? And what do they buy the most?
The German Ecommerce
German ecommerce has experienced a boom. In 2018 revenues increased by three million euros compared to 2017. And 2019 is expected to close with four million euros more than in 2018.

Regarding the age of the buyersde, in 2017 26% were between 45 and 54 years old. Users between 18 and 24 years old accounted for 12.4% of all buyers.
In 2018 the Germans spent about 19 million euros on electronic products. And, in the same year, they bought around 17 million euros in clothes and accessories.
Discover how to sell online in Germany
As you can see, being part of German ecommerce is an excellent choice. The best way to do this is by selling your product through the best marketplaces in Germany.
We made a list with the five best marketplaces to sell in this country. Choose the one that best suits your needs, upload your catalog and increase your business.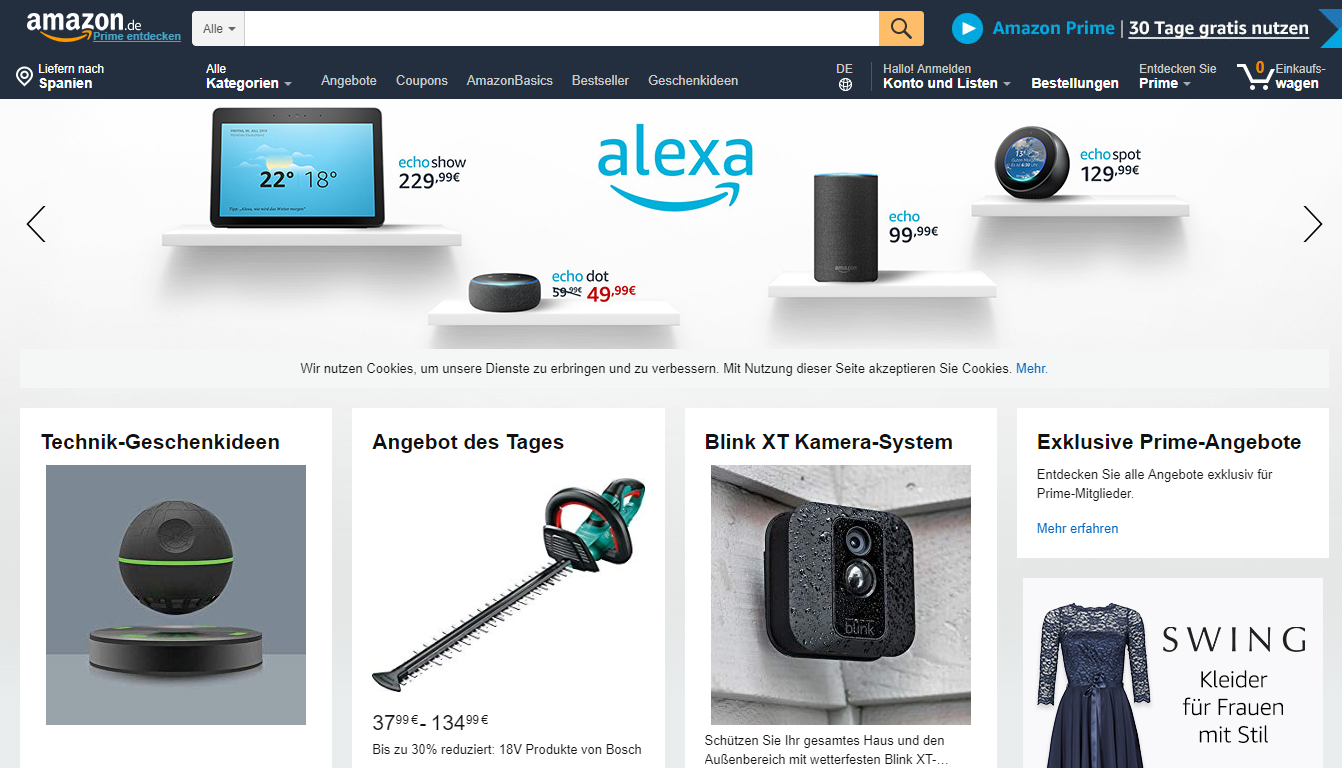 If you want to compete with the best ecommerce sites in Germany, you will have to use a marketplace with presence. Amazon is one of the best options.
With just one account you can sell your product in many country in Europe, including Germany.
Amazon.de makes it easy for you. The international marketplace has a service that you can hire so that its experts can help you get a German VAT number.
In addition, you have the assurance that you will always receive payments in your currency.
Amazon offers the option to choose the shipping method that you prefer. For example, if you like to personalize each package with a handwritten note, you can take care of the shipping management.
If on the other hand you do not have a lot of time to devote to each order, the platform puts at your disposal its warehouses to store your products there.
In this way, Amazon will be responsible for shipping and inventory management. With this you can reduce the time you invest in each order and focus on improving other points of your e-commerce.
How to sell on Amazon.de
Learn how to sell on amazon.de with these simple steps:
1. The first thing to do is create a seller account. In about five minutes you can activate it and choose between the Basic or Pro plan.
2. Upload your catalog and create lists with your products. Write a brief and attractive description to arouse curiosity in the reader.
3. Start selling and generating income.
Important figures
According to Ecommerce News Europe, 27 % of the revenue generated by German ecommerce comes from Amazon. This percentage corresponds to about 10 billion euros in sales.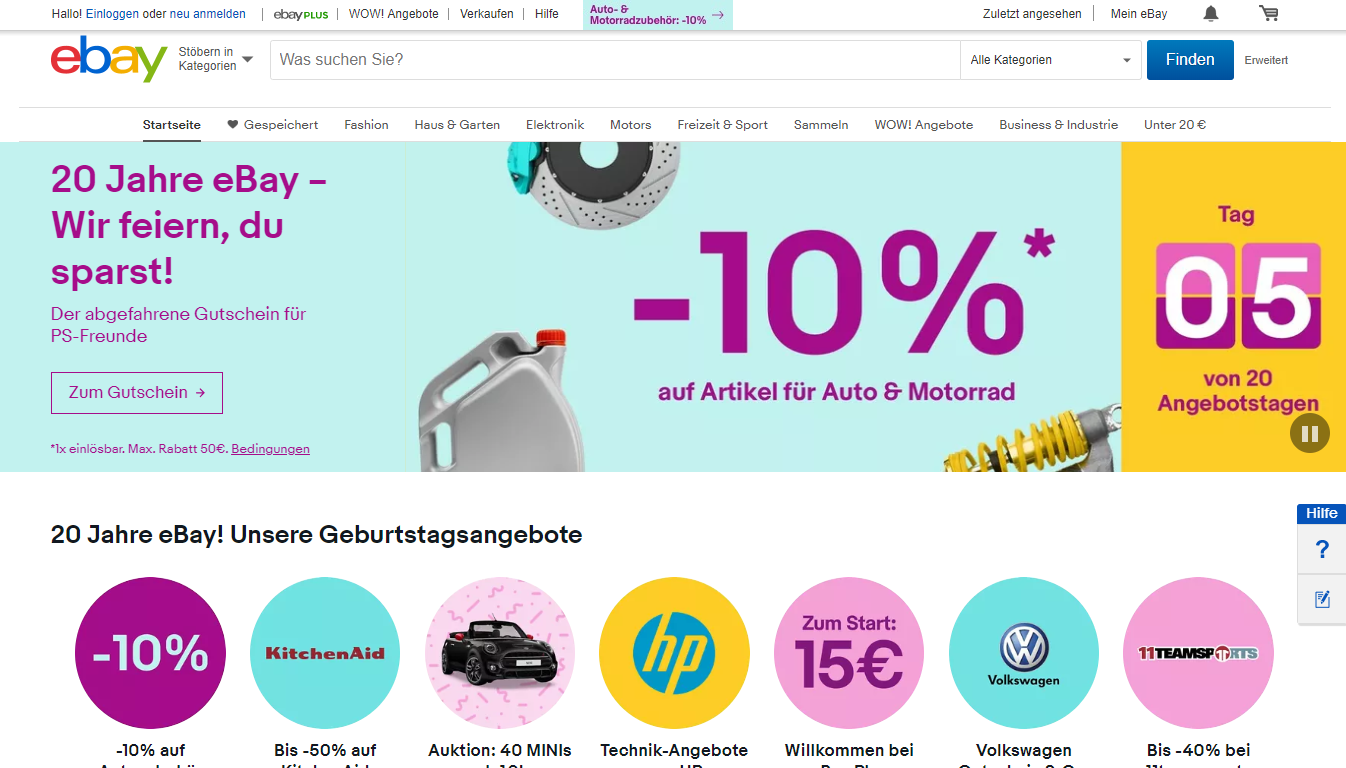 Like Amazon, eBay.de is another important marketplace in Germany. This platform offers sellers different tools that they can use to promote their products.
With eBay marketing tools, for example, you can create campaigns to advertise your items. This tool allows you to monitor the impact of the ad and modify it if you are not generating the objectives you had in mind.
As a seller, you can also use the templates offered by the platform for free to create your store.
How to sell on eBay.de
If you want to know how to sell on eBay.de, follow these steps:
1. Create an account on eBay as a private user or as a professional seller. To choose this last option, you will have to enter your company's data.
2. When you have your professional account ready, you can open a store on eBay. If instead you choose the private seller option, you will have to individually upload the products you want to sell along with a description.
3. To promote your products, eBay recommends that you make offers, using a professional design for your store and taking into account customers' expectations.
Important figures
In Germany, the category that sells the most on eBay is Home&Garden, occupying 26% of total sales. On the contrary, the least sold is within the Entertainment category, generating 1% in sales.
Keep these numbers in mind if you decide to sell your products through eBay.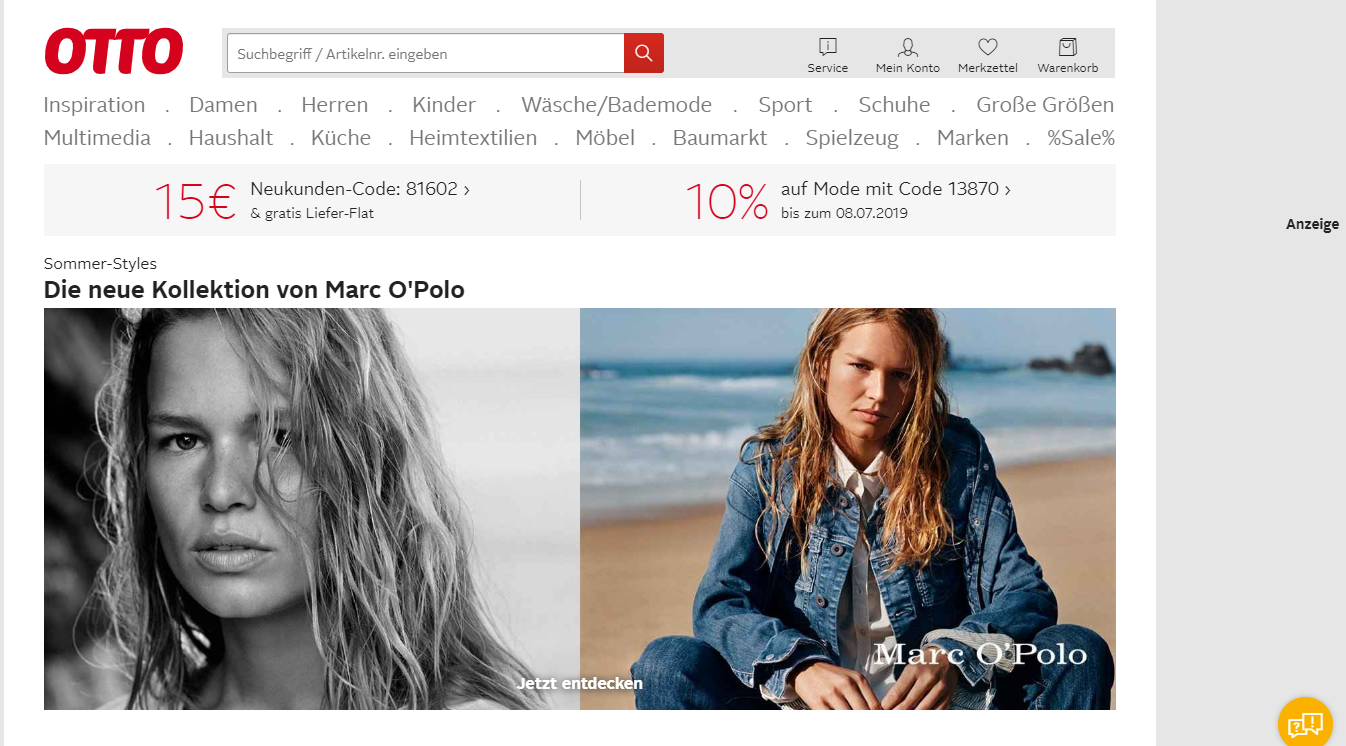 Otto.de is the other one of the best marketplaces in Germany together with Amazon and Zalando. Its online catalog, with millions of items for sale, receives thousands of daily visits.
In addition, Otto is a company that looks for the environment. It has a strong sustainability policy to ensure that the production in its factories is carried out in a responsible and respectful manner, both for its employees and for nature.
Otto requires its partners (external sellers) to have the same commitment to sustainability. In this way, customers can be sure that they are buying from an ethical company.
How to sell on Otto.de
The process to sell in this marketplace is different. Instead of creating an account and uploading your products, you have to contact them.
To know how to sell on Otto.de, you will have to send them a message through the contact form. But before doing so, make sure you meet the requirements to sell on this platform.
You should also bear in mind that if you decide to join this marketplace, they will ask you to adapt to their responsability and sustainability policy.
Important figures
Otto has around seven million active users. According to data published on the site, the marketplace generates 10 sales in a second, making it an excellent option to sell your products.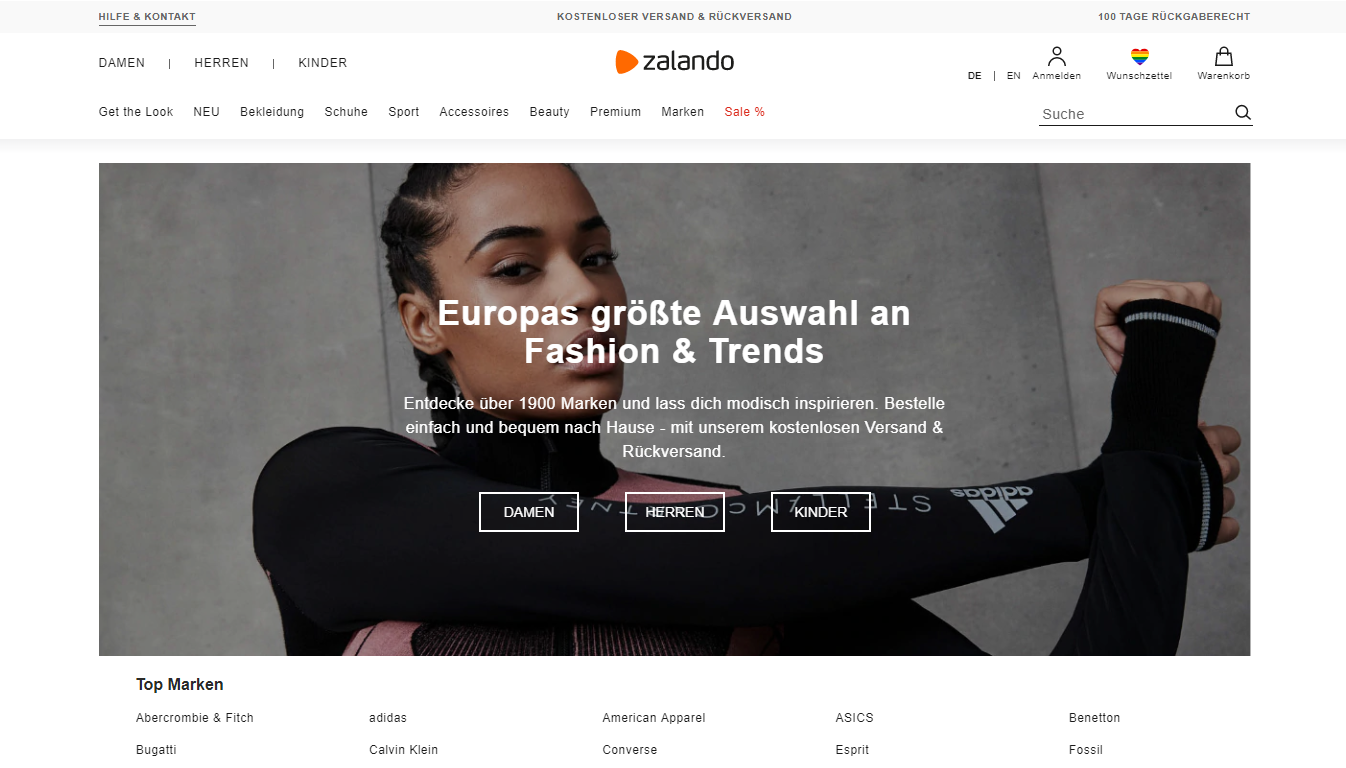 Through the affiliate program of Zalando.de, sellers will be able to access a market composed of 15 countries. The Zalando catalog is made up of some 2,000 brands and, they are always open to new collaborations.
However, the platform only accepts external sellers who have products in the categories of clothing, sports, accessories and shoes.
So if you offer items within these categories, Zalando can be a great option. Whether you are a company or an individual seller, you can contact them to sell on their platform.
Remember that you will have to provide enough information about the items you want to sell so they can value them.
How to sell on Zalando.de
Before getting in touch with Zalando, you have to know how to sell on Zalando.de and what they expect from you. First, the platform does not accept sellers that do not offer free shipping and returns.
You will also have to manage shipments through DHL and have a return policy of 100 days.
If you meet these requirements and your products are within the categories of Zalando, consider this marketplace a good option for your products.
Important figures
You can be sure that Zalando is one of the best marketplaces in Germany for its rapid growth. In the first four months of 2019, according to data published on the Zalando website, the company increased its active clients by 14% and its visits by 29%.
The marketplace expects this streak to continue increasing throughout the year.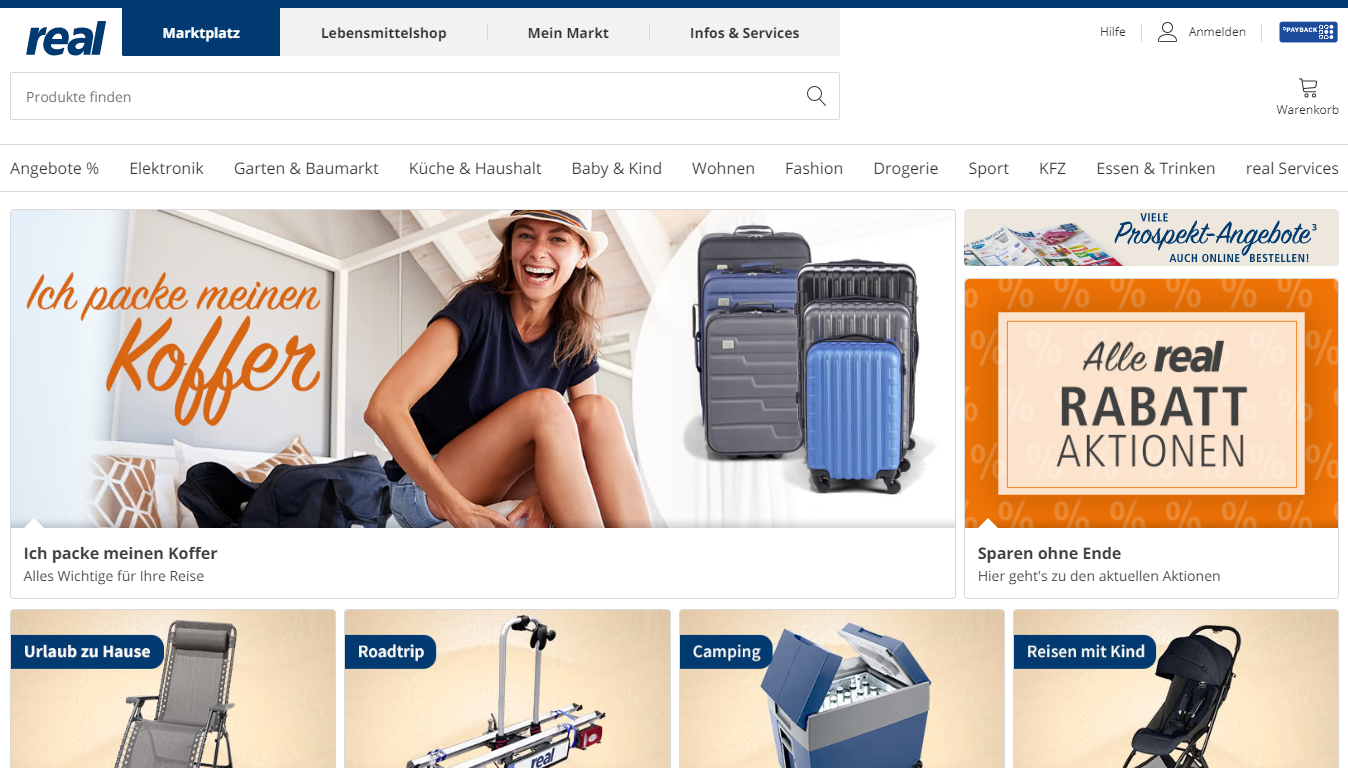 Real is a German hypermarket chain that has opened its doors to online sales. This platform lets you upload your catalogs for free and choose the payment method that suits you best.
When you make a sale, Real.de will enter the earnings directly into your account. In addition, you can cancel your profile whenever you want.
One of the conditions to sell on this marketplace is to offer a customer service in German.
How to sell on Real.de
If you want to benefit from the millions of users who buy in this marketplace you need to know how to sell on Real.de. You just have to create an account and choose a rate.
For € 39.95 per month you can upload your products to the marketplace and take advantage of the benefits offered by this plan.
The other option, if you already have an online store, is to pay € 49.90 a month to make Real connect the products to your ecommerce.
With both rates you can manage the evolution of your sales with the tools at your disposal.
For example, through your seller account, you can see the reports and statistics of your products. This can help you improve your sales and create new campaigns.
Important figures
Real is considered one of the best marketplaces in Germany because it receives, every month, about 19 million visitors who are interested in buying on this marketplace.
Around 5,000 merchants sell products in its catalog, which has more than 15 million products.
Compete with the best ecommerce sites in Germany
Now that you know how to sell online in Germany, you only have to choose the best platform. Each one, as we have mentioned, offers different benefits that can help you increase the sales of your ecommerce.
Remember that if to choose one of the best marketplaces in Germany you will have to:
Check if they accept the category of your product
Be sure that you meet all the requirements that the platform asks for
Enter your company data if you decide to open a professional seller account

ShippyPro Team
ShippyPro is the complete shipping software for online and offline retail. With Label Creator, Track & Trace, Easy Return and Analytics features, our software simplifies your shipping operations. ShippyPro integrates with over 160 couriers and 80 sales channels, making it compatible with a wide range of products and use cases.