Delivery management for holiday shipments

By
Emily Browne
·
5 minute read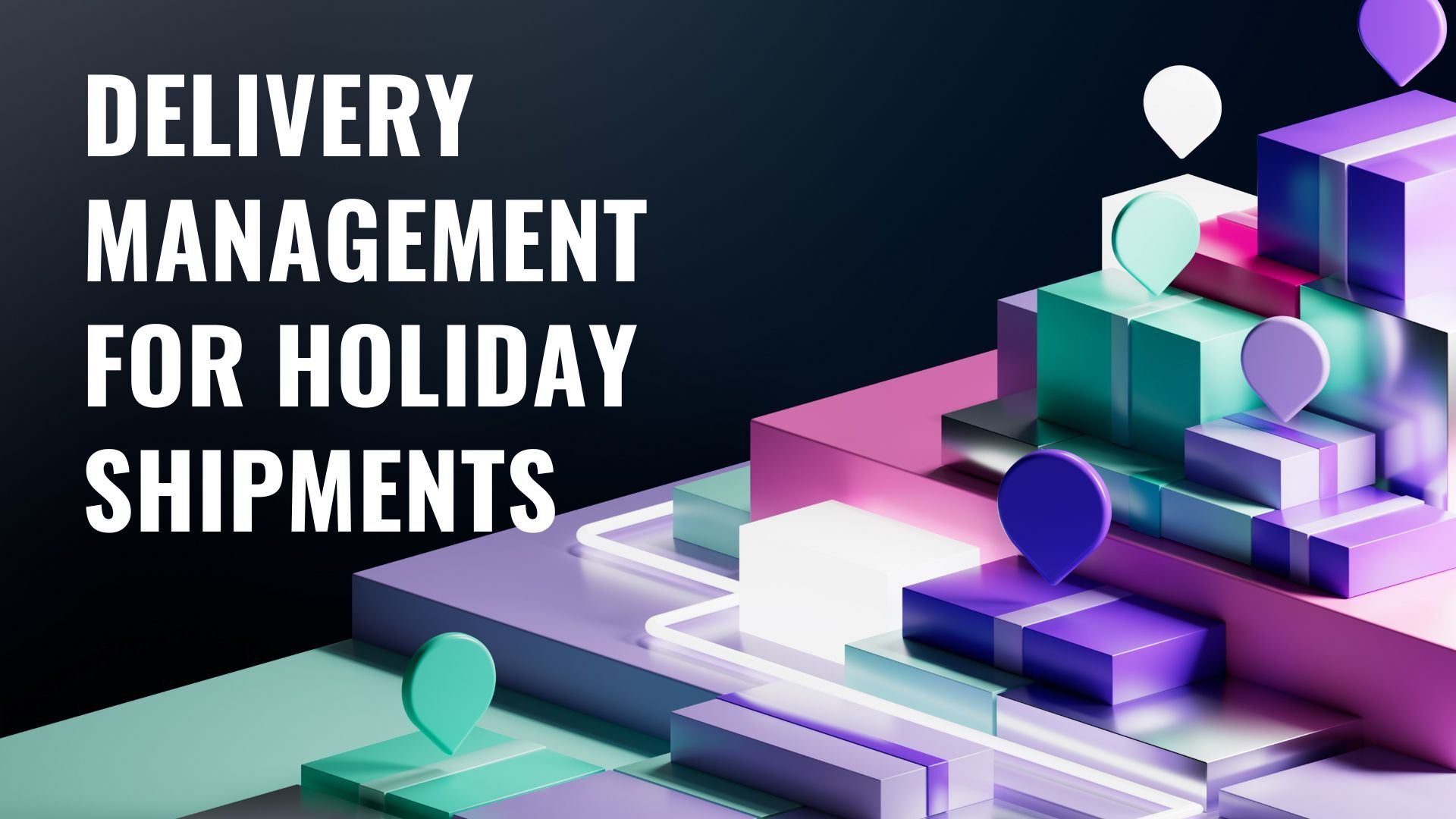 Christmas is on the way, and with that comes cosy weather, delicious food and an estimated 5.7 trillion U.S. dollars spent in online retail worldwide. The UK is expected to spend more money online over Christmas than anywhere else in Europe; a whopping £84.9 billion. Online sales account for 36.5% of all retail sales during this time, which is somewhere in the ballpark of £30 billion.
Even without the statistics, we know that Christmas is a lucrative time for retailers both on and offline. But this boom in sales can come with a new set of challenges. Effective delivery management during the busy holiday season is very important for e-commerce businesses, and can affect your customer retention, sales and satisfaction well into the new year if handled badly. This article helps online stores figure out the perfect strategy for handling delivery management over the Christmas period.
Why does efficient delivery management matter?
No matter what time of year it is, consumers demand the same level of efficiency and accuracy when they order products online throughout the year. This does not change when the holidays roll around. Most customers ordering online for Christmas need to receive their products on time, which adds an extra layer of expectation during the holidays. However, more demand for timely delivery can make it harder to meet customer expectations without an effective delivery management strategy in place. E-commerce stores and logistics businesses need to be able to adapt easily when demand increases.
Delays and disorganisation during the holiday period can come with a number of negative consequences. One of the biggest is that late delivery can negatively impact your brand's reputation. Satisfied customers are more likely to become repeat customers and recommend your business to others, but delays over the Christmas period can stop that from happening.
4 Strategies for effective delivery management
A great delivery management strategy is one that lets you adapt and scale your businesses and logistics to handle increased demand without compromising the quality of service. The great thing about the holidays is that they happen every year, so you can already predict an uptick in orders and start planning ahead. Here are some strategies for effective delivery management.
Plan your strategy in advance
As mentioned, pre-planning and forecasting for Christmas and Black Friday is one of the best ways to stay on top of orders and not get overwhelmed. You can start planning for the holidays well in advance by analysing historical sales data and trends from previous holiday periods to ensure you have sufficient inventory. Consider any company growth or changes in your customer base or market conditions that may impact demand come December. Lastly, you can also make sure your logistics technology is up-to-date, start communicating expectations to your customers and consider implementing a backup plan in case of any delays or disruptions.
Optimise inventory and warehouse operations
Talk to your logistics partners about the holidays and what to expect. This involves preparing your warehouse or fulfilment centre for the influx of orders, and organising your supply chain to meet demand way in advance of the holidays. Organise your inventory for quick picking and packing, and establish a clear workflow to minimise errors. Collaborate with your shipping carriers and gain an understanding of their holiday schedules and cutoff times for delivery. Communicate this to your customers if necessary.
Leverage technology for real-time tracking and communication
Leveraging technology is one of the best ways to ensure effective delivery during the Christmas period. Real-time tracking tools like GPS and regular update notifications provide customers with visibility into the status and location of their purchases, which improves transparency and builds trust in your delivery service.
What's more, simply communicating with your customers is a very effective way to manage expectations. Most customers already know the holidays are busy for retailers, but a note on the website or email encouraging timely orders can really help keep your customers informed and updated.
Plan for a last-minute rush
There will always be someone who leaves it right to the last moment to get their Christmas presents ordered on time, so it might be possible to include expedited shipping services at checkout for last-minute shoppers, as well as standard delivery for those who plan ahead. It's just important you are very clear about delivery deadlines for each option.
Addressing Common Holiday Shipping Challenges
Successfully managing an increase in deliveries during the holidays is a challenge for all retailers no matter how big or small. Here are some of the most common holiday shipping challenges and how to prepare for them.
Managing more orders and bigger shipments
Handling shipping delays and disruptions
Ensuring accurate and timely deliveries
Technology's role in delivery management
Tracking analytics and data
Using advanced software solutions for logistics optimisation
Embracing AI for enhanced efficiency
Implementing automation
Managing more orders and bigger shipments
If you've noticed an increase in sales during the holiday period year on year, then you'll already be prepared for when Christmas rolls around — but what if you get an unexpected surge? While that's great news for your bottom line, it can create a bit of a logistical nightmare. In this case you should work with warehouses and shipping companies that can manage any unplanned increases in shipping volumes.
Handling shipping delays and disruptions
Shipping delays happen and are out of your control, so it's also important to develop contingency plans for various scenarios, such as unexpected delays due to weather, staff sickness or transportation issues. Think about how you will inform your customers of unexpected delays. Good, transparent communication can help mitigate any unwanted consequences.
Ensuring accurate and timely deliveries
One of the biggest challenges in delivery management over the holidays is making sure all purchases arrive on time for Christmas. To guarantee timely deliveries, early planning is a must. Examine your inventory, staffing needs, delivery routes, and customer communication strategies. Let your customers know what they can expect and communicate clear deadlines.
Technology's role in delivery management
Technology plays an important role in delivery management. Real-time tracking, inventory management software, chat support and automation all help make the delivery process as seamless as possible by providing regular updates, forecasting problems and speeding up the manual labour (picking, packing and labelling). Technology is a vital component of modern shipping management and helps you maintain a competitive edge.
Tracking analytics and data
Keeping track of data is also a challenge, but is incredibly important for transparency and ongoing learnings. One of the best ways to plan for the Christmas period is to examine historical data from previous years, covering your businesses and the industry as a whole. From here you can make informed, data-driven decisions that will improve your delivery management. Ongoing data gathering is an important part of any shipping strategy.
Using advanced software solutions for logistics optimisation
Software such as warehouse management tools, route optimisation, demand forecasting and inventory control can all be used to optimise logistics over the Christmas period. Leveraging these tools comes with a number of benefits including cost savings, improved efficiency, better customer satisfaction, and a competitive advantage in the market.
Embracing AI for enhanced efficiency
Artificial Intelligence (AI) is everywhere, including shipping and delivery management. AI-powered systems can analyse historical data, make predictions and automate processes to improve efficiency, accuracy and customer satisfaction. AI can use data to predict potential issues in the delivery process, such as delivery delays or package damage. It can also leverage real-time data to dynamically change routes based on traffic or heavy weather. Lastly, AI-driven chatbots can communicate with customers on your behalf, which takes the strain off employees and improves customer satisfaction.
Learn more about AI and logistics here: Boosting efficiency: AI-powered logistics for e-commerce.
Implementing automation
In general, automating as many processes as possible is great for successful delivery management. Label generation, order processing, returns management, order tracking, performance monitoring and a variety of other processes can be automated to improve efficiency and accuracy. During the busy holidays season, it's important to audit your automated systems and technology to ensure they are up-to-date. Automation also allows companies to adapt to changing market conditions and scale their operations more effectively.
In conclusion, delivery management over the Christmas period can be daunting but with some planning, the right software and partnering with efficient carriers, the holidays can be a great time to grow your businesses, find new customers and boost sales.

Emily Browne
Emily Browne is a writer for ShippyPro who blends her passion for writing with an interest in all things e-commerce. Emily strives to make complex topics more digestible, proving that the world of logistics isn't as confusing as it sometimes feels! Her expertise in supply chain management, coupled with a knack for storytelling, helps readers navigate the complex world of e-commerce and shipping.