What is WMS (Warehouse Management System) and 10 softwares to try

By
Martina Elizabeth Di Carlo
·
7 minute read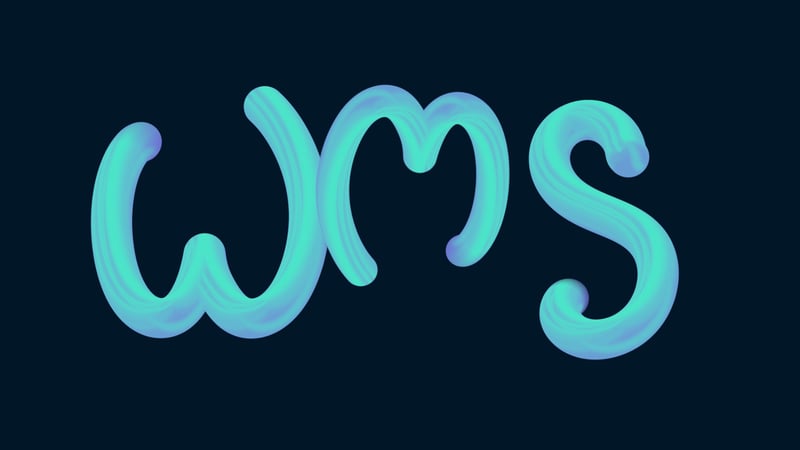 An efficient supply chain management is crucial for a company's success in today's fast-paced market. To boost productivity, many businesses rely on a Warehouse Management System (WMS).
By streamlining warehouse operations and enhancing efficiency, this software improves the whole workflow of the department. In particular, it automates many manual operations and improves overall accuracy. This is a huge asset for companies who have to be able to respond to demand as quickly as possible and fulfill orders with exceptional quality.
Warehouse management is currently undergoing changes and developments worldwide and many have adopted WMS, experiencing the benefits of it, including cost reduction, improved efficiency, lower error rate, and higher customer satisfaction. It has become so popular that the warehouse automation market is projected to expand significantly and reach $3.9 billion by 2025.
What is WMS?
WMS stands for Warehouse Management System, which is a software application used for managing and optimising warehouse operations. A WMS can provide real-time information on inventory levels, orders, and shipments, and can help warehouse managers increase efficiency and reduce expenses.
Types of Warehouse Management Systems
There are several types of WMS, including:
Standalone WMS
Supply Chain Modules
ERP Module
Cloud based WMS
Standalone WMS
A standalone WMS is a specialised software application that companies purchase, usually combining it with other solutions, that manage inventory and warehouse operations. A standalone WMS software has limited features, which often include Picking, Packing, Shipping, Returns, data management, Cycle counts, Barcode scanning, Inventory tracking. However, standalone WMS may be incompatible with other types of business software, and companies won't be able to benefit from a comprehensive logistics solution. In this case, it is ideal to choose another type of warehouse management system that can provide greater compatibility with other software applications.
Supply Chain Modules
While WMS softwares manage everything related to the warehouse, meaning only a part of a business' supply chain operations, an SCM encompasses a wider range of operations, like customer service, vendor and transportation management, inventory management or even risk assessments.
This is an optimal solution for businesses looking for a more comprehensive solution with better visibility into their supply chain operations. However, it is important to check for overlaps between softwares. For instance, if a ecommerce company already has separate softwares for warehouse management, inventory management and transportation management, it may be more effective to integrate these into a single SCM platform in order to improve flow of data across different departments and have a more centralised view of operations.
ERP Module
ERP Module stands for Enterprise Resource Planning Module and is the best solution for businesses that desire expanding and improving their supply chain operations. Its features in fact include supply chain management, accounting, customer relationship and even HR.
If you decide to invest in an ERP, it is important to keep in mind that Warehousing is not its core function. Therefore, before purchasing it, you should check that it comes with a strong focus on warehouse management features.
Cloud based WMS
A Cloud based WMS is a solution hosted by a provider and has notably less installation costs compared to on-premise solutions. This also means that a cloud-based WMS eliminates the need for companies to invest in their own IT infrastructure. Another great advantage of a cloud-based WMS solution is its scalability, making it suitable for any type of business that wants to adjust operations according to demand. What is more, it can be accessed from anywhere and it is therefore more flexible, also providing secure data recovery and backup options.
ERP vs WMS
The main difference between WMS and ERP is that the former has a very specific purpose, while the latter encompasses a wide range of functions and may not have the same level of deep functionality across all business aspects. This is because a WMS is specifically structured to offer automation and optimization of warehouse operations, while an ERP is an all-in-one solution that streamlines operations across the entire business, from inventory to human resources. Which to choose depends on specific business needs and goals and the operational depth required.
Benefits of a Warehouse Management System
Optimised workflow and cost reduction
A WMS optimises warehouse flow by accurately tracking inventory and therefore helps companies to better use available space and reduce excess stock. This results in reduced expenses, both regarding warehouse owning space and labour expenses.
WMS systems also benefit material rotation, since their ability to constantly track arrival dates of inventory and alerting of expiry, ensures that rotation is adequate, avoiding excessive material movement.
Inventory visibility
A WMS system provides accurate and real time inventory tracking, which is a significant benefit since it allows companies to reduce overstocking or stockouts, resulting in improved customer satisfaction and cost savings. When integrated with an ERP system, a WMS can also provide visibility on product performance, enabling companies to make data- driven decisions on stock adjustments to minimise loss and maximise revenue.
Reduced manual operations
One of the key benefits of a WMS system is that many routine and manual tasks are performed automatically, such as inventory checks. This improves time and effort required and reduces human errors. The result is a quicker order fulfilment process and a higher customer satisfaction. Implementing a WMS can help employees focus on more value-added tasks, thus improving overall productivity.
Optimised picking operations
Picking is one of the most common warehouse operations and accounts for 40%-60% of a warehouse or distribution centre expenses. Integrating a WMS software can significantly reduce order processing times and risk of errors.
Supply chain optimisation
Since a WMS provides real time visibility and tracking of inventory levels, companies can improve their supply chain operations and reduce costs, offering clients faster shipments. Thanks to automation, all processes are simplified and information is therefore more accurate, resulting in improved productivity.
Higher customer satisfaction
Since a WMS system improves picking and packing operations, the result is faster order fulfilment and shipping times. With advanced automation technology, a WMS provides customers with regular notifications on their order status and improved shipping accuracy, leading to higher customer satisfaction.
Top 10 Best Warehouse Management Software Systems in 2023
Sortly
Sortly is a cloud-based fully customizable WMS software with tools to track and organize inventory, item movement, as well as information regarding products and alerts. Users can create and print custom labels and barcodes and even upload high resolution images to manage all items more easily.
Sortly features:
Real-time access to entire inventory across multiple locations.
Ability to scan items with in-app barcode and QR code scanner.
Avoid out of stock thanks to custom alerts.
Upload high-resolution photos for a more detailed record of items and their condition.
Manage inventory from any device any time, anywhere.
NetSuite
NetSuite is a cloud-based ERP software, product of Oracle, with tools designed to streamline inventory, order, financial, as well as global business management operations.
NetSuite features:
Automate Financial Processes
Multi-location fulfillment
Demand based replenishment
Cycle counts
Item visibility and tracking
Supply Chain Optimization
Procurement features such as expense tracking and vendor management
Reporting and analytics
Maropost
Maropost is a cloud-based, scalable solution designed to automate inventory and order management and allows retailers to simply manage multiple stores from a single dashboard.
Maropost features:
Flexible picking workflows
Inbuilt returns management
Inbuilt inventory management (purchase orders and receipting, stock taking, stock adjustments and transfers)
Integrated shipping label printing and manifesting
Pick multiple orders simultaneously
Customizable content, layout and design of pick slips, dispatch dockets and product labels.
Fishbowl Inventory
Fishbowl inventory is a cloud-based ERP software that allows businesses to easily manage inventory, warehousing and manufacturing processes.
Fishbowl Inventory features:
Efficient scanning and barcoding
Accurate order management and inventory control
Workflow and process traceability
Reporting on business metrics
Accurate inventory counts
Multi-location visibility
Asset tracking and management
Softeon
Softeon is a cloud-based Warehouse Management System that includes tools for inventory management, order management and transport management.
Softeon features:
Order fulfilment
Labour planning
Automated DCs
Waveless picking
Parcel Shipping system as part of the WMS, with certified integration to all the major parcel carriers
Billing Management system
Assembly and Kitting Support
Enterprise Integration Workbench
3PL Warehouse Manager
3PL Warehouse Manager is a cloud-based WMS software to manage receipts, locations, picking, packing, shipping, inventory, and customer management. It also has data analytics and reporting tools to view real-time performance.
3PL Warehouse Manager features:
Automated billing
Mobile barcode scanning
Dock scheduling
Automated small parcel shipping
Reporting and visualisation
Infor SCM
Infor SCM is a software with end-to-end ERP solutions to help businesses optimise their supply-chain operations.
Infor SCM features:
Multi-site and holistic warehouse management
Omni-channel
Modern UX
Native in 14 languages
Deploy on premises or in the cloud
Highjump
Highjump is a cloud-based flexible WMS solution for every type of organisation. It features many tools including inventory management, workforce/load management and cross docking.
Highjump features:
Multi-client operations
Labour management
Omni channel fulfilment
ERP Integrations
Barcoding/Serial Tracking
Cross Docking
Inventory Management
Kitting
Picking & Packing
Real-Time Data
Receiving & Putaway
Returns/Recalls
Third Party Plugins
Warehouse Map
Workforce/load Management
SAP
SAP WMS software features a suite of tools that help streamline different warehousing processes. It is widely recognized as a top-tier option for large companies who seek comprehensive and strong capabilities. Also, it integrates with other features like ERP systems to enhance logistics, financial, and inventory operations.
SAP features
Accessibility via integration with ERP systems or separately
Monitor stock movements across warehouses
Calculation of product capacity using putaway and stock removal processes
Receipt management
Stock transfers
Visibility over stock and warehouse
Accurate reports and records of hazardous products in the warehouse
Storage bins
Return management
Flexible picking for multiple orders
Delivery cancellations or changes management
Scheduled picking, packing and shipping
Optimised work packages through stock selection, augmented reality and voice picking
Warehousing activity and performance analysis
Cross Docking
Manhattan Associates
Manhattan Associates is a cloud-based inventory, logistics and order management solution designed to support businesses of all sizes.
Manhattan Associates features:
Machine Learning to process retail, wholesale and direct demand simultaneously
Unified control
Gamification to increase productivity and engage workforce
Slotting optimization
Transportation management
Conclusions
Adopting a WMS software can trigger a significant transformation in your business warehouse operations. With features like barcode scanning and automated data collection, a WMS is able to provide accurate and timely information, optimising workflow and enabling faster response times. Since almost all manual tasks are eliminated, workers can shift their focus away from operational activities and direct their attention to other areas of the company, thus adding value and quality to departments that involve decision-making and human expertise.
Also, thanks to WMS ability to integrate with ERP, you can achieve greater visibility into the entire supply chain and operations across your whole business.
Which WMS software to use depends on your unique needs and goals. For instance, companies who deal with complex supply chain operations, high volumes of inventory and orders will greatly benefit from using a WMS software. Ultimately, regardless of the size of your business, using a WMS software plays a critical role in helping achieve greater efficiency, accuracy, and revenue in today's market. To discover more about Warehouse Management's future developments, you can read our full article here.
WMS FAQs
Is SAP considered a WMS?
Sap offers SAP WMS software among its suite of ERP solutions. SAP WMS offers tools designed to help companies manage multiple warehousing processes. Also, the software integrates with other ERP systems to boost daily logistics, finance, and inventory operations, providing a more comprehensive solution for daily business processes.
What are the 4 types of WMS?
Standalone WMS
Supply Chain Modules
ERP Module
Cloud-based WMS
What is the difference between ERP and WMS?
The main difference between WMS and ERP lies in their respective purposes. WMS objective is to optimise warehouse processes, while ERP is a comprehensive software suite that has a broader range of functions, allowing businesses to have a complete overview of all aspects related to their activities. Unlike standalone systems, ERP creates a deeply connected ecosystem across all company departments. However, some ERP functions may not have the same level of depth. In short, WMS is a standalone software while ERP is an "all-in-one" solution that is able to accommodate WMS as an additional module. Though WMS has more functional depth compared to ERP standard modules, it cannot integrate an ERP in itself, of which it will always be part.
What are the benefits of using a WMS?
Optimised workflow and cost reduction
Inventory visibility
Reduced manual operations
Optimised Picking operations
Higher customer satisfaction

Martina Elizabeth Di Carlo
Passionate freelance copywriter, with a niche in ecommerce and logistics. When collaborating with ShippyPro, she loves writing about trends, marketing and communication strategies to help brands gain an edge in an ever-evolving digital landscape.