Top 7 fashion marketplaces to sell on and trends for 2023

By
ShippyPro Team
·
4 minute read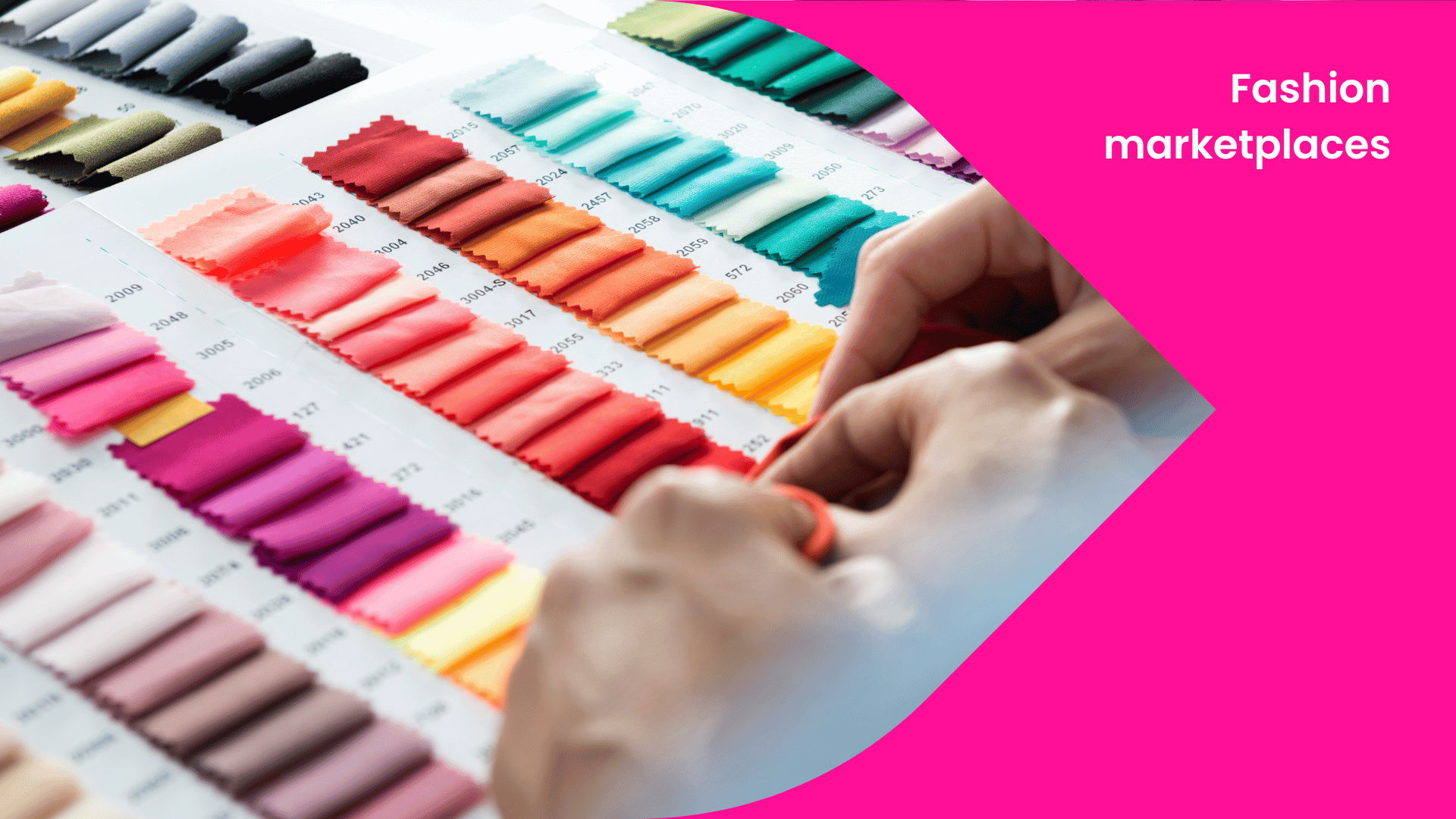 Are you curious what the e–commerce fashion industry will look like in 2023?
More brands will prioritize sustainability in how they source, produce, and ship products. Brands will expand into new online retailers, drive sales with social commerce, and exceed customers' delivery expectations.
In this post, we cover all of these e–commerce fashion trends and the top fashion marketplaces for 2023.
The 7 best marketplaces to sell fashion products online in 2023
These are the 8 top online marketplaces for fashion in 2023:
ASOS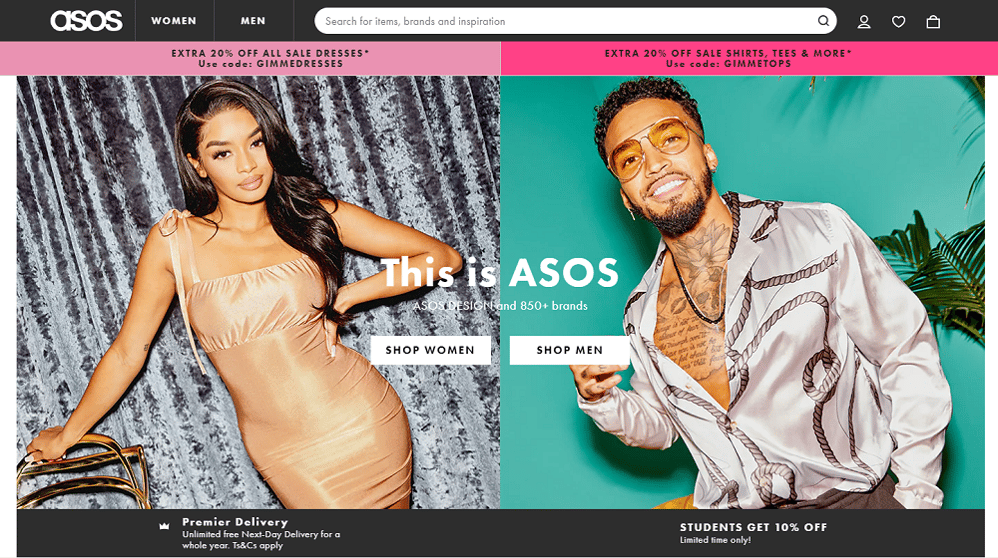 One of the most popular online fashion marketplaces in Europe, ASOS has in recent years dominated the US market as well. The platform includes ASOS's own brands, and also hundreds of popular fashion brands such as Nike, River Island, Missguided, and French Connection.
Farfetch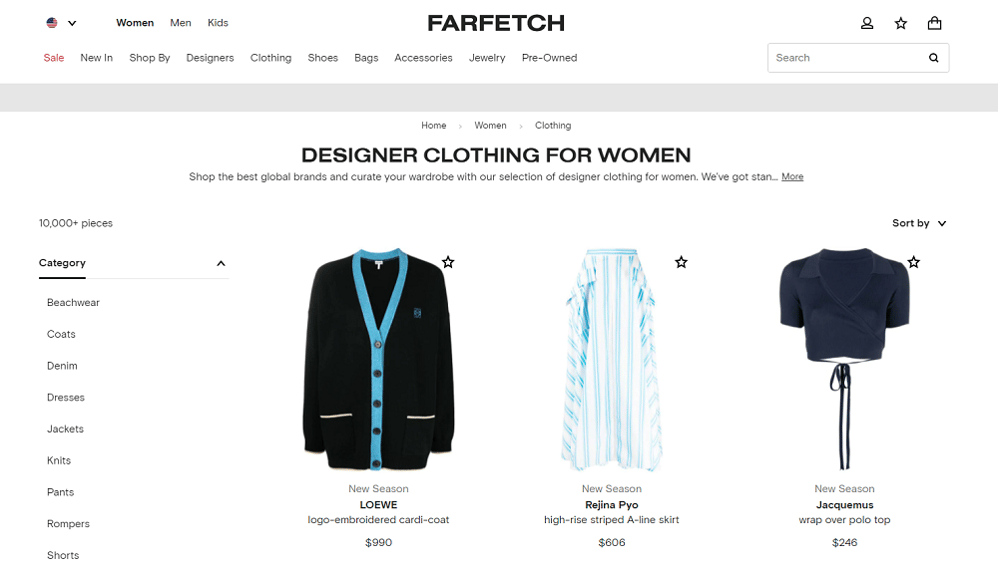 Farfetch sells hundreds of fashion designers on its marketplace, with items in the medium to higher price points. The online retailer is a great fit for luxury fashion brands that want to access a wider audience. Known as a "disrupter of luxury retail," Farfetch boasts over 2 million customers.
Joor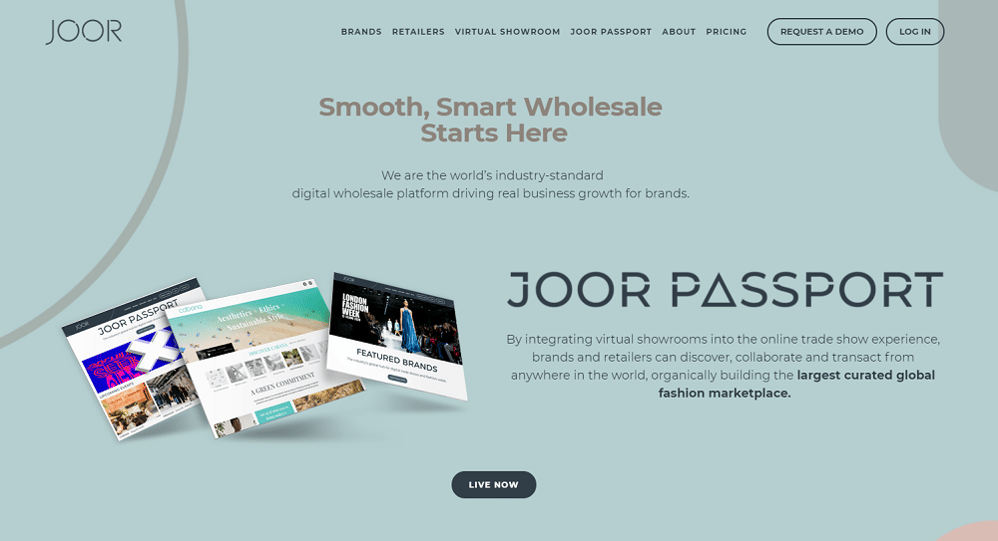 Joor is a solution for fashion brands that want to easily wholesale their products to more retailers and distributors. With virtal showrooms and an online trade show experience, retailers can discover brands and place orders to carry their products. Many well known brands such as Jason Woo and Cole Haan use Joor to get more wholesale orders.
NuOrder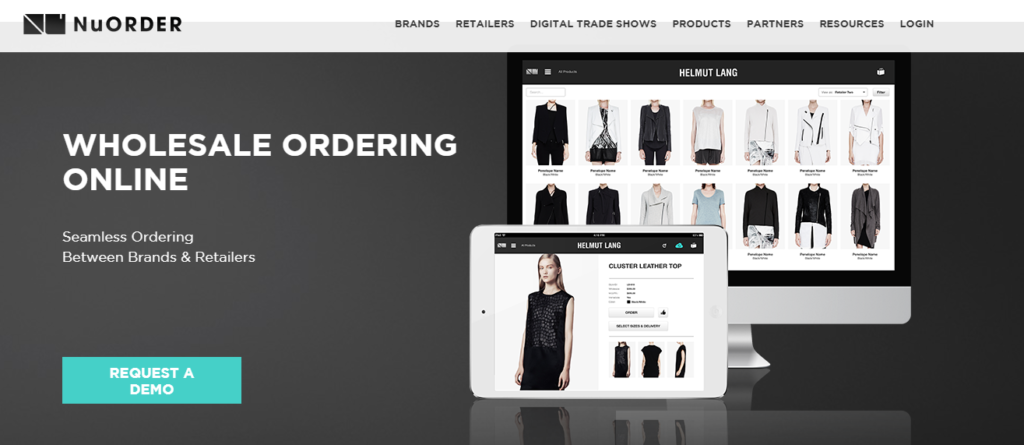 Similar to Joor, NuOrder is a platform where retailers and brands can discover one another. The B2B platform enables fashion brands to run all of their wholesale operations, from orders to fulfillment. Customers include Steve Madden, Coach, and Vince.
Zalando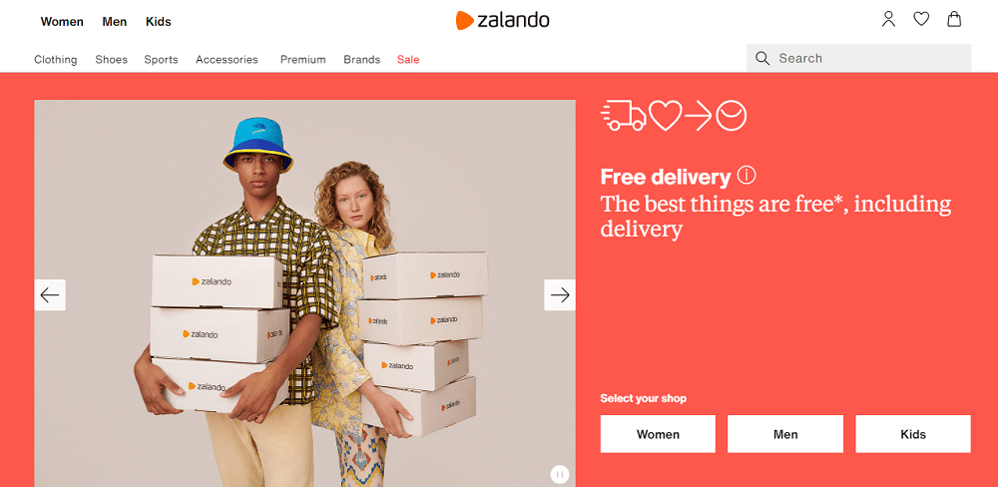 Zalando offers both high-end and street fashion brands. The site is known for selling popular consumer brands such as Fossil, GAP, Vans, and Lacoste, but also sells lesser known brands such as Zign and Blundstone. The popular site has approximately 34 million customers per year.
Privalia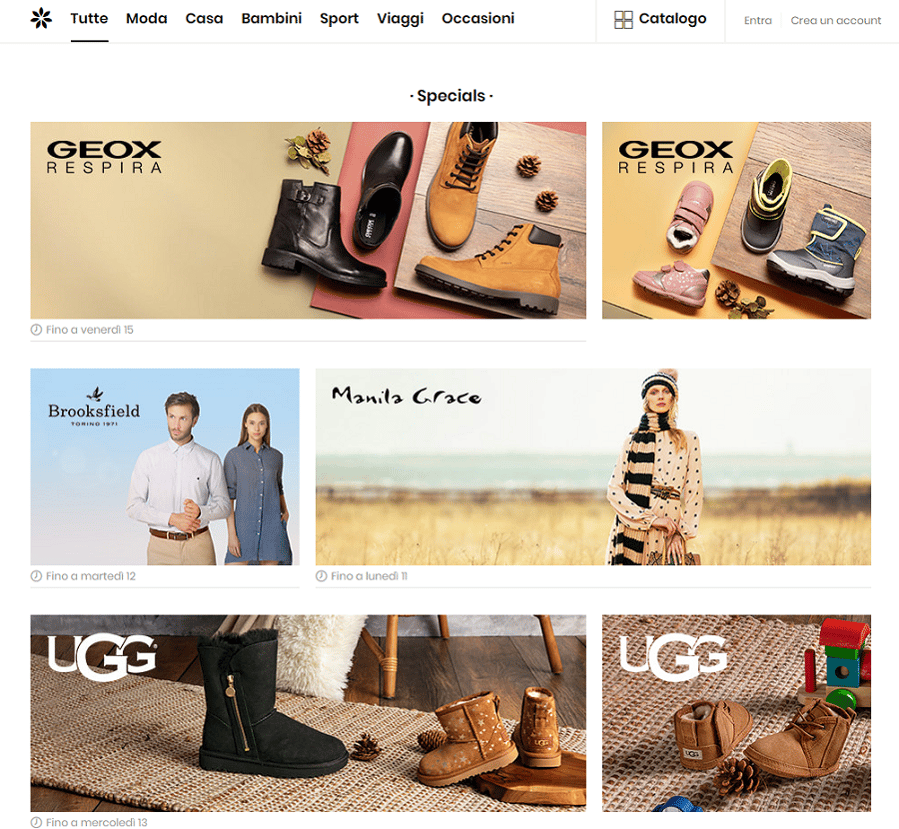 Privalia serves the following markets: Brazil, Italy, Spain, and Mexico. The site offers products in fashion, home, sporting. It's known for offering great specials on top brands in each product category, but also sells products at regular price too.
Spartoo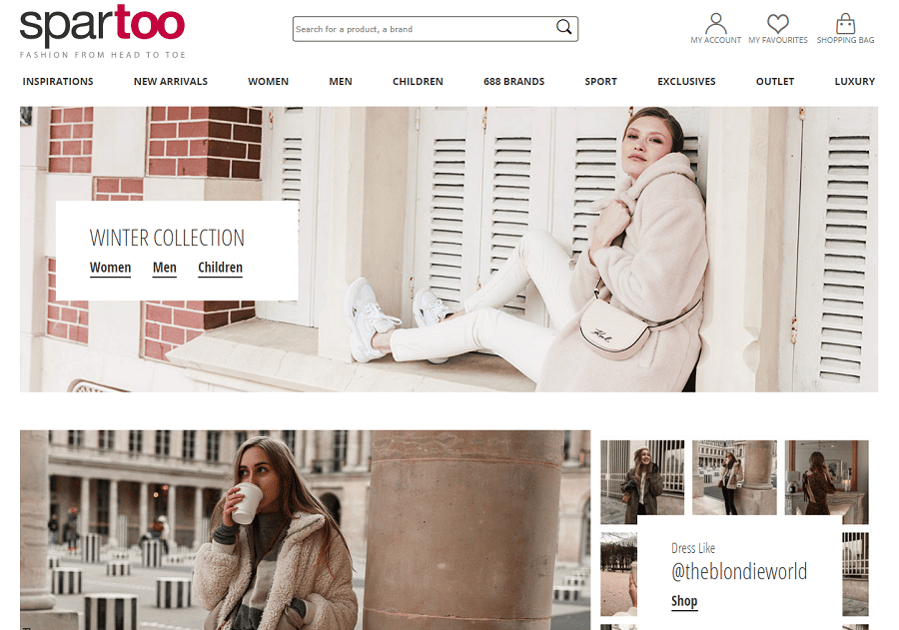 Spartoo sells to a younger a demographic and offers popular consumer brands like Vans and Tommy Hilfiger. They also have luxury brands such as Michael Kors and Roberto Cavalli. The site is a great fit for fashion brands that target generation Z.
---
Advertising and product promotion trends for e–commerce fashion brands
What about online sales? Because offline shopping is going to be hindered for at least the first quarter of 2023, fashion brands will need to put even more effort into their online marketing.
Social commerce
Social commerce refers to the ability for social media app users to view and purchase products in an experience that is native to the app. Facebook already offers this with it's online shopping capabilities, and TikTok is currently building social commerce into its platform, as well as improved conversion tracking for advertisers.
Facebook and Instagram ads
Facebook and Instagram ads remain the most popular advertising channels for e–commerce fashion brands, largely due to the unparalleled ability to target consumers based on very detailed demographics and interest criteria.
With rising ad costs predicted to continue into 2023, fashion brands will need to shift more ad spend to retargeting and less to cold traffic. Instead, they'll need to rely on content marketing and brand awareness campaigns to drive those initial clicks.
Other trends for 2023 include:
Increased use of ad management automation
More AR for virtual try-ons
More creative focus on Stories ads
Google ads
When shoppers shop online, they search. That's why Google ads are so smart for fashion brands. You can run traditional search ads or ads in the "shopping" section of the search results page.
The images on top are shopping ads, while the Lululemon ad below is a traditional search ad.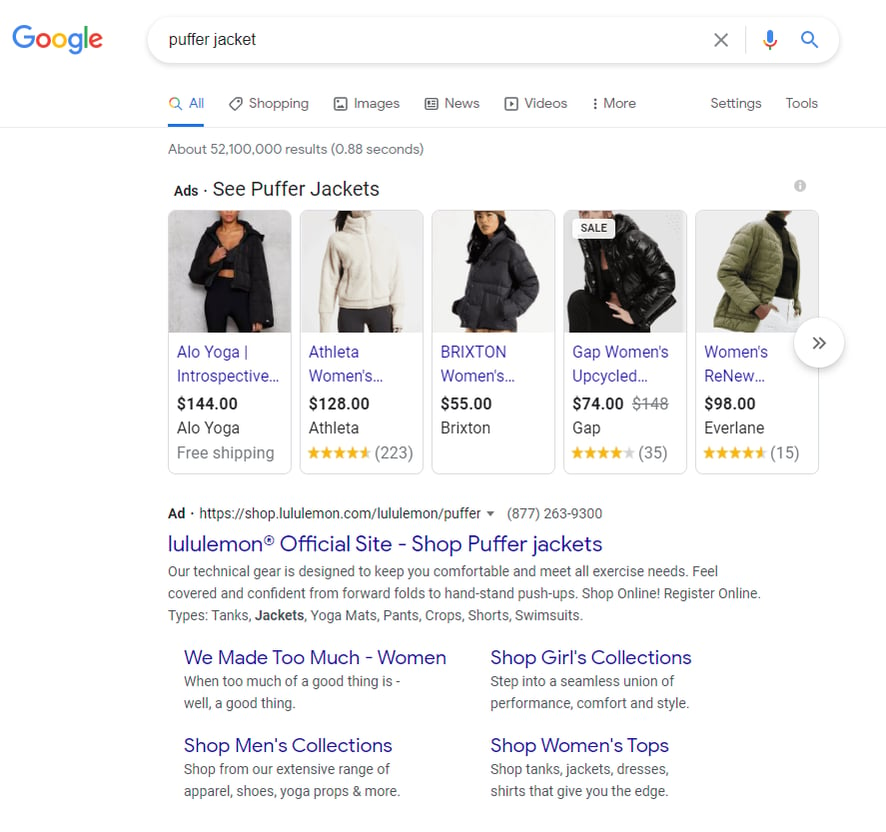 Top trends for Google ads in 2023 include:
Higher spend on Google search ads relative to Facebook ads (because Facebook ad costs have been notoriously high).
Using response search ads that automatically optimize the copy based on the exact search query.
Increased usage of Google video ads via YouTube.
Increased usage of Google shopping ads versus traditional search ads.
Adopting an omnichannel strategy
Ominchannel retail will be a huge trend (and challenge) for e–commerce fashion brands in 2023. Customer experience research from Zendesk shows that 87% of consumers think that brands need to put more work into creating a seamless multichannel experience.
Consumers expect to easily purchase on the channel they want, whether that's a site like Zalando, or Amazon, or shop from Instagram, or visit your website. To improve your omnichannel strategy, conduct customer research to understand what channels your customers want you to be on.
Of course, you'll also need to sync omnichannel operations to ensure accurate inventory and speedy delivery across all channels.
Best shipping strategies for online fashion businesses
To enjoy e–commerce success, you can't ignore your shipping strategy. In 2023, fashion brands that haven't yet implemented the following will rush to do so in order to satisfy shoppers in the Covid and post-Covid era.
Multiple shipping options
It's essential to have multiple shipping options for your customers. Some customers would rather pay less and wait longer, while others would rather pay more to get their items more quickly. In addition, sustainably minded consumers want to pick up their items from lockers in order to reduce carbon emissions from last-mile deliveries that go door to door.
Automated returns
Easy returns are so important. In 2023, customers expect to be able to print a shipping label online without having to contact support via email.
With ShippyPro Easy Return, you can save time and hassle for both your customers and employees. Set up rules that allow the right returns to be initiated, so that customers can print their own label if the return is allowed.
In-store pickups
In-store pickups will grow in popularity in 2023, as more consumers make sustainable lifestyle choices. Particularly in cities, where customers can walk or bike to pick up their purchases, in-store pickup will be an increasingly popular option. If you don't have offline stores, you can research offering pickup lockers as an option.
Choose ShippyPro as your shipping partner
ShippyPro offers the easiest way to manage your shipments and returns. Key benefits include:
Tracking and tracing orders for customers
Automatic carrier label creator
Easy return management and label printing
As you grow your fashion brand in 2023, don't forget to give shipping the attention it deserves. Impress customers with the best possible experience, including shipping and returns.