How to start selling online in the UK

By
ShippyPro Team
·
4 minute read
Selling online in the UK can be an excellent growth opportunity for your ecommerce business.
66 million inhabitants are a huge audience that you should consider, because they might really be interested in your products.
However, before selling online in the UK, you cannot help but carefully evaluate the new VAT and customs rules introduced at the beginning of 2021 as part of Brexit, which we will talk about later in our article.
But despite bureaucracy and duties, online sales across the Channel remain profitable.
It's not just us saying it: just analyze some interesting statistics to find confirmation of our words.
Ecommerce statistics in the UK
According to these data, in the period 2014-2019 the growth of ecommerce sales in Great Britain was constant, with a small decrease only in the biennium 2015-2016.
While in 2014 sales amounted to 513.5 billion pounds, growth reached 693 billion pounds in 2019.
The Coronavirus pandemic, so devastating on all fronts and in all countries, has not spared even the British economy. But starting from 2021 a production growth of 5.3% is expected, as evidenced by this research.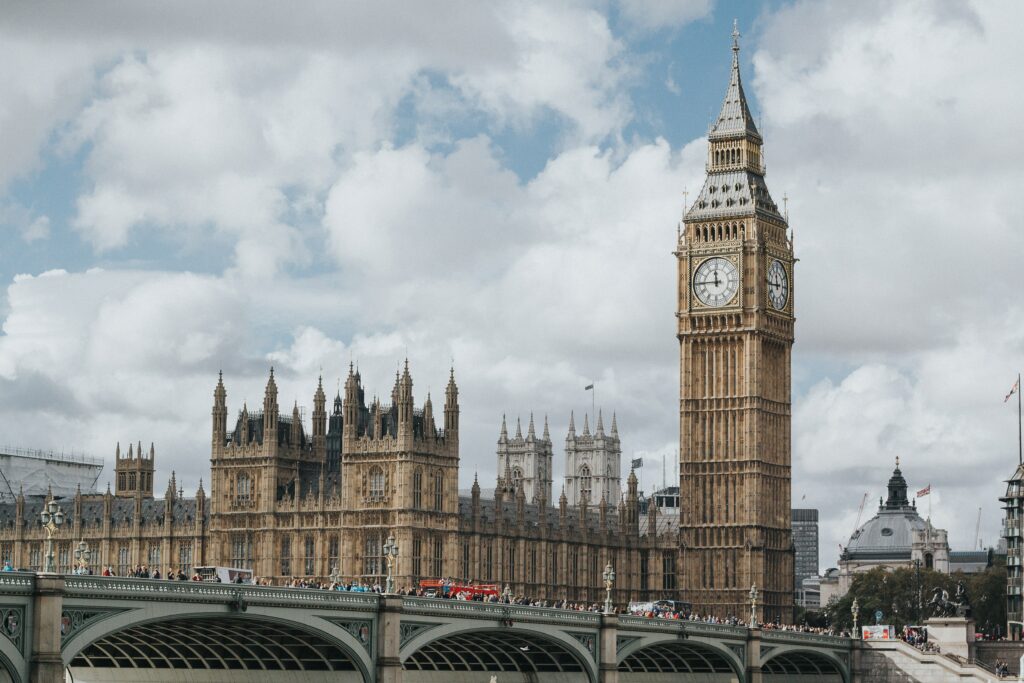 It is therefore clear that selling in the United Kingdom is worthwhile, but what should you consider now that the British have left the European Union?
What economic and customs agreements have been made and what impact do they have on ecommerce sellers?
Selling online in the UK: regulations
From 1 January 2021 the rules for selling in the United Kingdom have changed: in particular, Great Britain has introduced a new, articulated VAT regulation on ecommerce sales.
The applicable VAT on shipments to England depends on the value of the product shipped and on the sales channel.
Things have apparently become a little more complicated, but fortunately there are many guides and articles that clearly explain everything that has changed with Brexit.
Shipping to the UK
Once you understand the new rules to follow, you are almost ready to sell in the UK. All you have to do is choose the Carrier to ship your orders and the best marketplaces to show your items to British customers.
As for the Carrier, it is never an easy choice. You should consider several factors such as:
Delivery options that the Carrier provides to UK customers.
Cost of each shipment to the UK.
Customer service ready to dispel any doubts of the merchants.
At ShippyPro we dedicated a detailed study to guide you in choosing the best Carrier for you: we also focused on some tips for fast and smooth customs clearance operations and we described in detail every aspect of shipping to the UK after Brexit.
The best marketplaces to sell online in the UK
In order to reach the widest possible audience of buyers, it can be convenient to rely on a platform able to connect you easily to thousands of people ready to buy.
This is why you need the support of one or more marketplaces to be able to propose your articles to new customers living in the United Kingdom.
Why should you choose OnBuy?
Among many marketplaces that seem to be only "containers" of products that do not work for the benefit of sellers, there is one where merchants come first.
We are talking about OnBuy.com, a sales platform alternative to the same old names, perfect to easily reach many UK customers.
Why "easily"? Because OnBuy, even if it was born only in November 2016, is the marketplace with the fastest expansion rate in the world, so that it has grown by over 600% year-on-year for the last three consecutive years.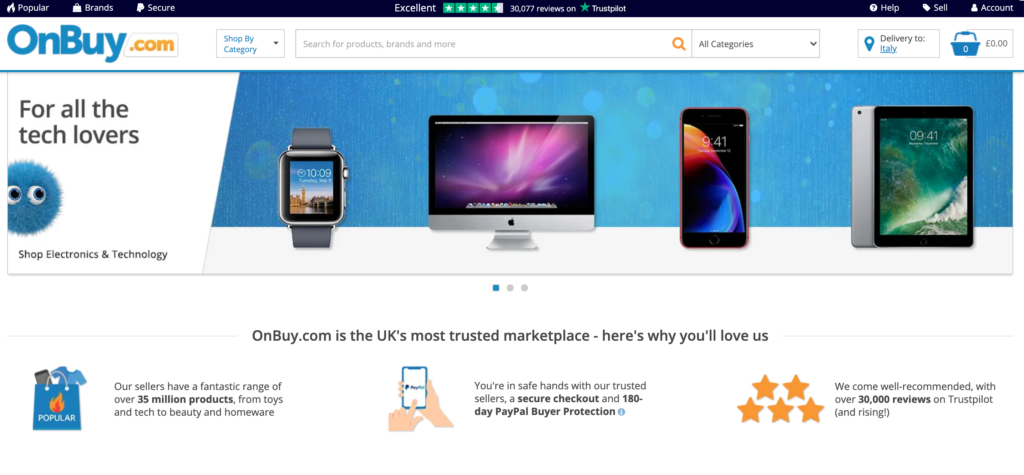 On OnBuy you can sell everything, from beauty products to electronic items, with very competitive commissions of 5 – 9%. Just think that today there are over 35 million products for sale on this marketplace.
It is no coincidence that we said that OnBuy puts merchants who decide to sell on its platform first: it does that by offering partnership, not competition.
Unlike other marketplaces, OnBuy does not sell its own items and will never compete against its sellers: its main purpose is to connect customers and sellers in the most convenient way possible for both.
Here are other advantages you can benefit from if you decide to join the over 7 thousand online entrepreneurs who already sell on OnBuy:
PayPal Seller protection available for you.
Immediate receipt of payments through PayPal.
OnBuy aims to reach a wide range of new countries by 2023: another growth occasion for your business.
Plenty of time to integrate and upload your products: you will only pay a subscription fee when you start selling.
Personalized assistance at your disposal. Just contact OnBuy to find the answer.
As you may have guessed by now, OnBuy is a future-oriented sales platform destined to grow even more, the ideal partner to show your items to British customers.
Easily manage your shipments to the UK with ShippyPro
If the launch of your ecommerce in the UK is particularly successful, you will have to deal with an increasing number of orders to ship.
At that point, a trusted Carrier able to deliver all your packages in the shortest possible time would no longer be enough.
Luckily for you there is a shipping automation like ShippyPro, with which you can easily manage every order on OnBuy.
In particular, the integration between your OnBuy account and ShippyPro will allow you to:
Integrate OnBuy with ShippyPro
Now that you know what are the first steps to take to expand in the UK, it is time to rely on two trustworthy partners such as OnBuy and ShippyPro. Integrate your OnBuy account with ShippyPro now and start selling online in the UK!
OnBuy
Create your OnBuy account
ShippyPro
Create a free ShippyPro account and test our features with 250 orders
OnBuy + ShippyPro