Shipping to the US with FedEx Express and ShippyPro

By
ShippyPro Team
·
8 minute read
Are you an e-merchant looking to expand your business in the US? Following Part 1 on key market insights and sales channels, let's focus today on how to implement an effective shipping strategy to support your growth there!
What about customs procedures, duties and taxes, and the best solutions for your international shipping in the US? Here you will find all the answers to your questions.
Ecommerce and shipments to the United States
International shipments are a great challenge for all ecommerce. In some cases, shipping to the United States represents an even more important and stimulating test bed, given the great competition and the opportunities of this large market.
Before analyzing the formalities, the documents to be filled in and the solutions offered by a carrier like FedEx, you should think about how you want to "land" on the American market:
By relying on a US handling center.
By shipping from your country with the support of a carrier specialized in international shipping, such as FedEx.
For sure this last solution allows you to speed up delivery times that, as we will see shortly, must be minimized to meet the needs and habits of American consumers.
What do you need to ship to the US – FedEx services
Online shoppers in the USA have high standards when it comes to delivery. They know what they want, and that's to receive their orders quickly. 43% of shoppers in the United States say that enhanced delivery options are the most important factor when making their purchase decision, and 53% won't purchase a product if they don't know when it'll arrive.
Special welcome offers to try ShippyPro & FedEx international shipping services! Save 40% on FedEx account opening rates & use ShippyPro for free for your first 250 orders!
So we know that a high level of service is important when shipping to the USA. But what rule and procedures need to be followed to make sure your shipment reaches your customer?
There are 3 key considerations that you need to make before shipping to the US:

– Custom procedures
– Duties and tax
– Restrictions on goods
Let's analyze each of these sections in detail.
Customs procedures
US customs procedures have recently become more convenient for merchants. The value of a shipment imported by one person on one day that generally may be free of duties and taxes, has increased from $200 to $800. That means that shipments priced at or below $800 are now available under the same procedures and restrictions that were previously applied to shipments of $200 or less.
When it comes to border controls it's always crucial that you follow the correct procedures. All goods must be cleared through customs, so you'll need a customs invoice for your shipment, which will determine how much you need to pay in tax and duties. FedEx offers customs tools to help you with essentials like preparing shipping documentation and paying taxes, to make it easier and quicker to get your shipment to your customer.
Duties and tax
With international shipments, you have to take into account a duty or a tax from the country you are shipping to. You can decide whether you or your customers have to pay them.
In a Delivery Duty Paid (DDP) merchants are responsible for the payments: in many cases these costs are included in the customers' order price at checkout. If you choose a Delivery Duty Unpaid (DDU) be sure to get your customer notified in advance!
How much duties & taxes do I need to pay? This depends on what you're shipping. You can find details about rates on the US International Trade Database website. It's important to note that taxes can be applied by the US government as well as individual states, counties and cities.
Restrictions on goods
There are some restrictions on what you can send into the United States, so make sure that your business isn't sending any prohibited items. You can find a full list of prohibited and restricted items on the US Customs & Border Protection website. Furthermore, some goods need to meet specific packaging and labelling requirements to be shipped into the USA. You can find further information on the US Small Business Administration site, or use the FedEx Trade Services.
Fedex content resources to navigate these procedures
It all sounds really daunting at first, but remember, millions of shipments get sent to the US every week and if they can do it, why can't you?! You just need to know how, and FedEx can help.
After decades of moving parcels across borders, the team at FedEx have pulled together some really helpful content to support you make the jump to new markets. Whether you need help writing your first commercial invoice (video here), understanding what documents are needed for customs (article here) or you just want to understand what shipping internationally entails (article here), the team are there to help.
If shipping to the US is high on your agenda, you may also want to check out this article from FedEx, giving you some keys tips on how to ship to the US.
But what are the main FedEx shipping services to the US ? On top of assisting you with the customs procedures, duties and taxes, FedEx has designed a complete range of services to answer all the different shipping needs from one merchant to the other. Read more to find out more.
FedEx international shipping services to the US
FedEx offers several options for shipping to the USA:
– FedEx International First®
– FedEx International Priority®
– FedEx International Economy®
The FedEx International First® and FedEx International Priority® services are perfect for express delivery, as your shipment reaches your customer next day or in two days (with a morning delivery when you opt for International First). FedEx International Economy® is a great option for shipments that are less time-sensitive, as orders will reach their destination in 4-5 days.
Take advantage of our welcome offers to try FedEx & ShippyPro international shipping services! Save 40% on FedEx account opening rates & use ShippyPro for free for your first 250 orders!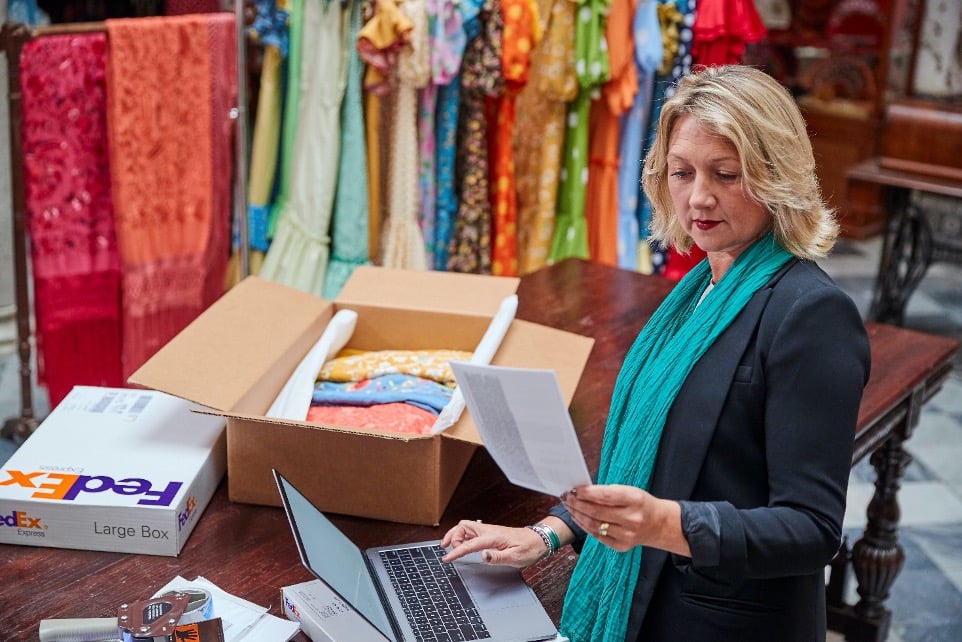 ShippyPro for your international shipments
ShippyPro allows you to easily manage your international shipments from one easy-to-use portal. Some of the features that will make your life easier when it comes to shipping to the USA are:
Track & Trace: This service allows you to send branded email notifications, keeping your customers up-to-date with the status of their order at every step of the way. You'll control all of your shipments from one dashboard, with ShippyPro controlling the tracking updates for you so you can focus on helping your customer, and they'll receive automated emails at every touchpoint of the delivery.
Easy Return: Remove the logistical stress of international returns with Easy Returns. This API is fully embeddable in your site, offering self-service returns for your customer. You can customise return rules to fit your business needs, and the portal offers you the ability to refuse or accept return requests.
ShippyPro is a complete shipping hub, offering the largest library of integrations so you're sure to find a carrier to serve you when you're shipping to the USA. We cover both European and US markets so you can take advantage of ShippyPro features whether you're selling from Europe to the USA or vice versa. ShippyPro is already in use by merchants who are active in more than 20 countries.
We also offer integrations with a large number of sales channels and marketplaces, including Amazon, Etsy and eBay, so you can choose the ones that best suit your product base and your target audience in the United States.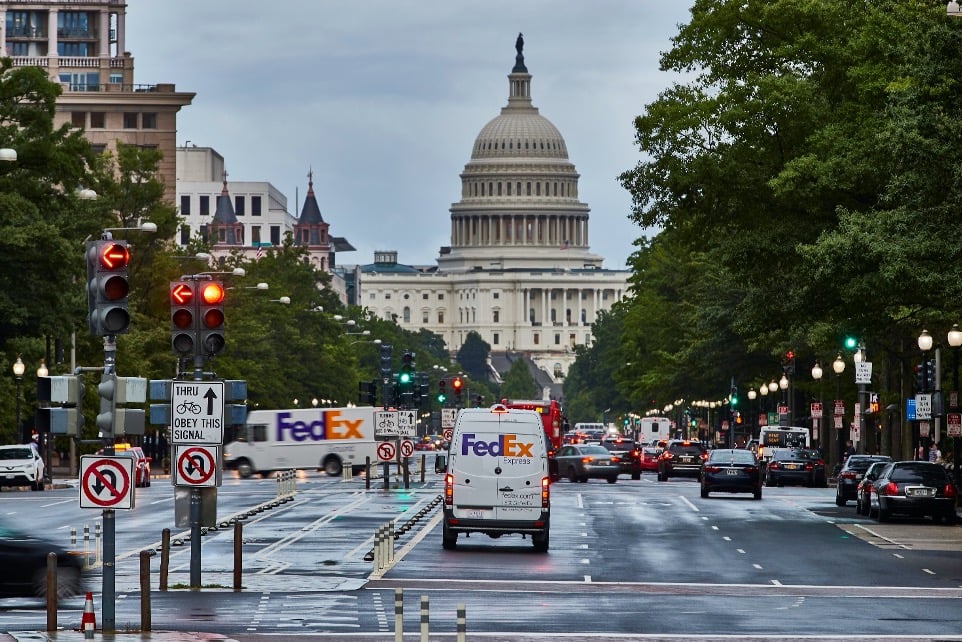 Shipping to the United States from Europe
Probably, an online customer who lives in the United States and buys on your ecommerce will not wonder which country you are about to ship from: what matters is to receive the desired product in a few days.
From your point of view, however, what does it mean and how much does it cost to send a package to the United States from Germany, France or other European countries? Let's see it together
Shipping to the United States from Germany
FedEx offers all of its international shipping services for merchants from Germany. On this page you can see the rates to ship to the United States with this carrier from Germany and other European countries.
It is important to be clear about these costs because they could influence your marketing strategy in the American market. For example, you could consider if it is convenient to offer free shipping to American customers, perhaps for items over a certain cost or in case of non-express and economical international shipment.
Shipping to the United States from the United Kingdom
All merchants, including UK ones, who want to sell their products in the United States should carefully consider the service they aim to offer.
Let's think, for example, about tracking: a shipment to the United States, even if fast, will obviously take a little longer than a national shipment.
This extra time means more waiting for the American customer. Therefore, to ensure that the wait does not become impatience and does not lead the buyer to write you worried e-mails, you should assist him by giving him the opportunity to constantly monitor the shipment.
How? Think for example about ShippyPro Track & Trace we talked about earlier, the perfect solution to check the status of all FedEx shipments to the United States from the UK (and not only).
Shipping to the United States from France
What we have said so far for shipments to the United States and from Germany also applies if the purchased item leaves from France.
In addition, it is worth highlighting another aspect that will make you win the trust of overseas customers.
We are talking about the possibility of offering a large number of delivery options, to reach not only the apartments of the big cities or the houses in the suburbs, but also lockers and other pickup points throughout the United States.
Showing a variety of options at checkout with ShippyPro Live Checkout feature will allow you to increase conversions and reach customers with your products right where they want.
Shipping to the United States from Italy
Many American customers are literally in love with Italy and its products. They love its history, fashion, typical products, handcrafts, and may decide to buy from an Italian ecommerce.
Merchants who manage an ecommerce in Italy, perhaps with a catalog of Made in Italy products, should seriously consider the idea of ​​expanding and shipping to the United States.
FedEx provides them, as well as online stores in other countries customized logistics solutions. To benefit from them, contact the carrier from the dedicated page.
What would happen then if your products were particularly successful in the United States? You would find yourself having to print dozens, hundreds of shipping labels and wasting a lot of time. Unless you use Label Creator, the ShippyPro feature that allows you to print large quantities of labels in just a few clicks.
Shipping to the United States from Spain
There are many American buyers who have some close or distant connection with Spain and who knows, someone might think of buying products from Spanish ecommerce.
Shipping to the United States from Spain may not be a bad idea, indeed, as long as you combine the efficient logistics of a carrier like FedEx with the customer support that a platform like ShippyPro helps you provide.
You may also wonder how much it costs to ship from Spain to the United States with Fedex: check the carrier's website to find out more.
Shipping to the United States from the Netherlands
Also shipping to the United States from the Netherlands is a great way to broaden your horizons and grow your business, but, as with other countries, never forget that some customers may have second thoughts about the purchased product.
The threat of a return is then stirring in the distance: difficult to manage when the buyer speaks another language and, above all, expensive if you decide to offer free shipping or to meet the customer with a discount.
Fortunately, as already mentioned, ShippyPro Easy Return comes to your rescue for the management of returns, and integrating with Live Checkout allows the buyer to choose the most convenient return methods by consulting the map of drop off points.
In addition, sending return instructions via email will be a breeze thanks to ShippyPro's automatic translation.
Expand in the US with FedEx and ShippyPro
We're collaborating with FedEx to help you expand to the US market. Sign up with FedEx now and save 40% on your shipping!
Ready to start selling in the US across multiple channels? Just follow these steps to get started:
Start using ShippyPro Track & Trace and FedEx Delivery Manager
It's time to improve your e–commerce with email notifications. Get started with Track & Trace and FedEx Delivery Manager today, and start sending branded shipping notifications! You just need to:
FedEx
Sign up with FedEx & Save 40%!
Click on your country name to access to your localized sign up link.
ShippyPro
Sign up here to ShippyPro to connect your online sales channels & try it for free for your first 250 orders!
FedEx + ShippyPro
Once the FedEx account will have been created, you will be able to connect it to ShippyPro by clicking on FedEx logo in the Carrier connexion section.