Valentine's Day marketing: 10 strategies and 5 campaigns (2023)

By
Martina Elizabeth Di Carlo
·
7 minute read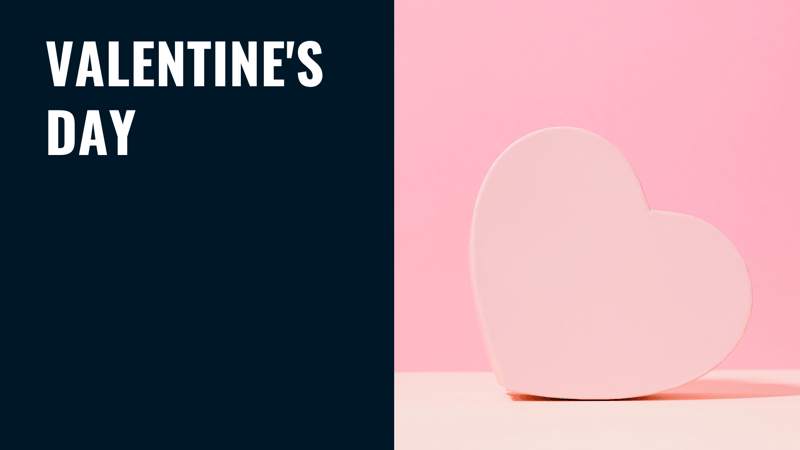 Valentine's Day is the day of lovers, but it is also a great opportunity to promote your business and your products. Even if you don't sell chocolates and red roses, with the right Valentine's Day marketing strategy, you will be able to win over a nice chunk of consumers and thus increase your business revenue.
So let's discover the best marketing strategies to implement on this date in the 2023 marketing calendar.
At the end of the article, you will also find examples that we hope will inspire you to launch your own romantic Valentine's Day campaigns.
Why market on Valentine's Day?
At the end of January, consumers begin to be surrounded by advertisements and messages reminding them that Valentine's Day is just around the corner.

Supermarkets fill up with flowers and chocolates, the streets begin to be invaded by hearts and stuffed animals, and people are much more willing to spend on romantic gifts, dinners, experiences, and trips.

So the answer to 'why market on Valentine's Day' is simple: people are more willing to spend, so it's the right time to promote your business.

However, this does not come as an easy task. In order to successfully launch an effective Valentine's Day campaign you need to not only get your message across in the right way but also stand out amongst all the other promotional messages invading consumers' online and offline lives.

So let's get down to business and see what are the best marketing strategies for Valentine's Day in 2023.
10 Valentine's Day marketing strategies
Here are the best marketing strategies for Valentine's Day:
Create a 2-for-1 promotion
Offer limited edition products
Leverage user-generated content
Create a guide to the perfect gift
Update your social media channels
Create a dedicated discount code
Organise a Valentine's Day event
Celebrate even non-romantic love
Don't forget about the singles
Test the anti-Valentine's Day trend
Let's dive in!
1. Create a 2-for-1 promotion
Valentine's Day is the day of lovers, so why not make your customers and their partners feel even more special by offering a themed 2-for-1 promotion?
Special offers designed especially for couples are a must for Valentine's Day marketing. They allow you to work on scarcity and urgency, increase sales and make your business known to more and more people, all while offering your customers a chance to impress without spending an arm and a leg. In short, win-win for everyone.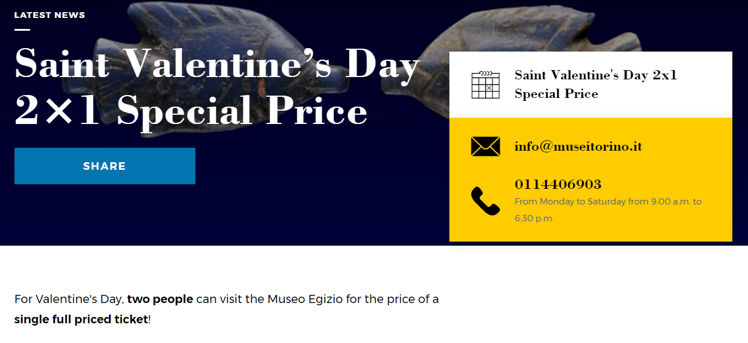 2. Offer limited edition products
Speaking of scarcity and urgency, a great Valentine's Day marketing strategy is to create limited-edition product (or service) lines that are only available for a short time.

In this way, you are not only inspiring your customers with the perfect gift for their partner, but you are also offering exclusive products that they would not be able to access at other times of the year, further incentivising their purchase.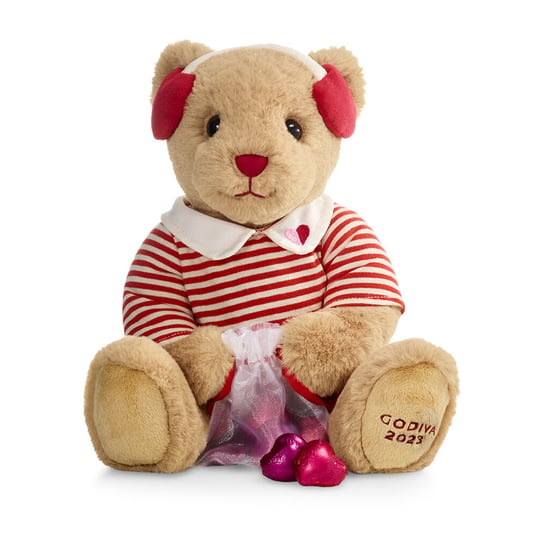 3. Leverage user-generated content
User-generated content is one of the best assets you can rely on, not only for Valentine's Day marketing.
This period is so full of hearts and love that it also increases the desire to share all this love on social media. So why not take advantage of the occasion and invite your customers to participate in contests to generate word-of-mouth referrals that will lead new people to discover your business?
You could invite your customers to share photos of how your products made their Valentine's Day special, organise polls or question boxes on Instagram.
Any kind of content that showcases your products and your brand will be useful for marketing purposes, but if that content is created directly by your satisfied customers it will be much more valuable and will also serve as social proof for those who don't know you and your business yet.
Social proof also comes from people's interaction with a brand. For example, you could take advantage of Valentine's Day and ask your followers to use your profile for their declarations of love, which they can DM you and see published in your Stories.
Otherwise, you could be a shoulder to cry on for those who have been spurned on Valentine's Day, and collect the unfortunate but amusing stories of your followers on your profile to bring a smile to the faces of those who have just been disappointed by love, and to create a sense of closeness among your followers.
In short, the ideas are many, and the potential is endless. The only limitation, as with the other Valentine's Day marketing strategies on this list, is your creativity.
4. Create a guide to the perfect gift
What to gift for Valentine's Day? This is a question many people ask themselves every time February comes around.

And there go the Google searches, the messages on Whatsapp groups, and the desperate searches through online and offline shops looking for the perfect gift. As you can imagine, a lot of wasted time.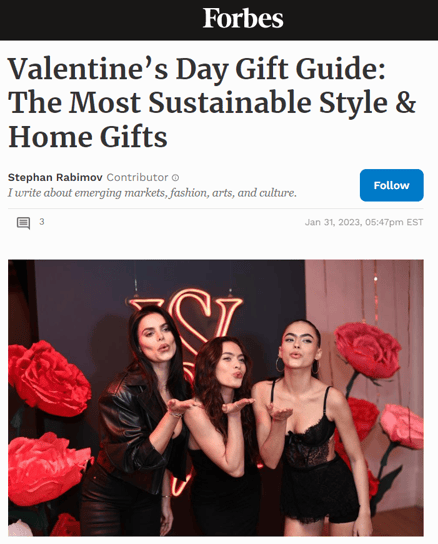 We could really use someone with a comprehensive and up-to-date guide on how to find the perfect gift, perhaps with ideas designed especially for Valentine's Day.
What if that someone was you?
Use your blog, your social channels, and your newsletter to create eye-catching content and graphics to help people find the perfect gift, obviously selected from your products or services.
You will see that undecided customers will welcome your suggestions and, if the quality of your products matches the presentation, success is guaranteed.
5. Update your social media channels
Why not decorate your website and social channels with a Valentine's Day theme?

As this holiday approaches, change your Facebook cover image to one with a Valentine's Day theme, start posting relevant content, and interact with Stories and Directs to let your followers and potential customers hear how much you care about this holiday.

On the other hand, a single post on Instagram isn't enough to work on Valentine's Day marketing: if you really want to capture people's attention, you have to think about the dozens of Stories and content they view every day, and make sure your profile outshines others in terms of visibility.

Social media is also a great platform for themed promotions centred around your products, as in this PlayStation example.

6. Create a dedicated discount code
Discount codes can also be an original way to stand out on Valentine's Day.
Sure, it's easy to use a code like 'valentinesday', or 'valentinesday23'. But why waste the opportunity to impress your customers with alternative (and easy-to-remember) codes?
Think of eye-catching graphics with QR codes, special codes that play on puns, and so on.
The only limit is your imagination, and remember that the difference often lies in small details.
7. Organise a Valentine's Day event
Valentine's Day marketing does not necessarily have to be exclusively about selling products.
Depending on your business and target audience, you might consider organising an event (online or offline) for Valentine's Day to engage your customers and even those who don't yet know you in a unique and personal way.
The event can be organised by your business to engage your customers, or you could use the services you sell to create a unique Valentine's Day experience.
After all, more and more people prefer experiences to material gifts, and your business could be just what they are looking for. All you have to do is promote your experiences in such a way that interested customers understand that it is the perfect choice for Valentine's Day.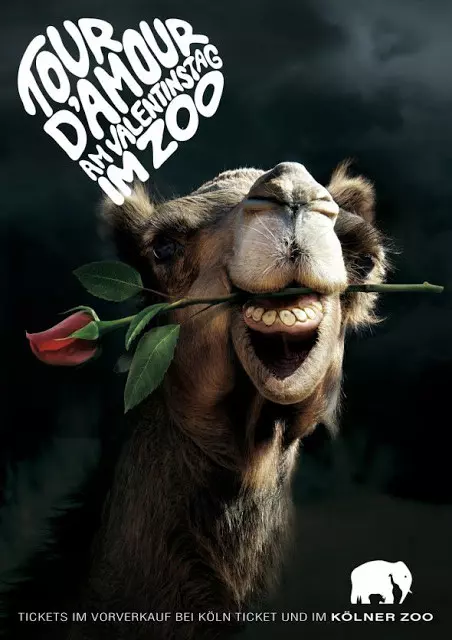 8. Celebrate even non-romantic love
Who said that Valentine's Day is only a day for couples? If it is the celebration of lovers and love, there is certainly not only romantic love.
Love can be for children, family, pets! Look for innovative ways to market on Valentine's Day without necessarily going for the romantic love cliché, you will see that your business will thank you.
This can be a great marketing strategy especially if the products and services you sell are not really suitable for couples. This way you will avoid forced or misplaced messages, you will keep your business communication as natural as possible, and you will not miss out on any market share.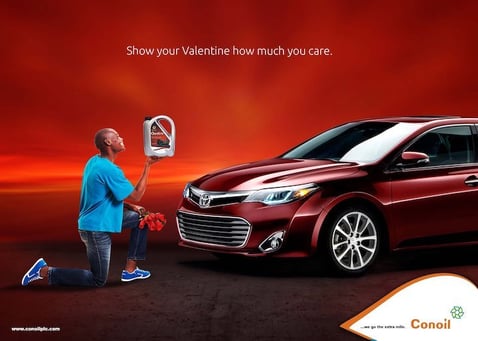 9. Don't forget about the singles
Not everyone has someone to celebrate Valentine's Day with, but why should you miss the opportunity to promote your business to this market segment?

You could promote your products and services by leveraging the opportunity in the spirit of self-love, which no one (even those who actually have a partner) should miss.

You could even think about organising an event designed specifically for singles, so as to distinguish your business from all those who are only and exclusively organising romantic events designed for couples.
10. Test the anti-Valentine's Day trend
While it is true that not everyone has someone to celebrate Valentine's Day with, it is also true that not everyone intends to celebrate it.
In fact, it seems that the anti-Valentine's Day trend is taking over, and more and more people (in a relationship or not) are turning against this type of celebration, which they are starting to find overrated.
Depending on your business, this trend could be the right concept to focus on for unconventional Valentine's Day marketing, as in this example of the 'Shred your ex' campaign.
5 Valentine's Day marketing campaign examples
Burger King's 18+ menu
Burger King wanted to offer its customers an 'adult' Valentine's Day celebration, not missing a chance to take a swipe at the iconic Happy Meal of its main competitor, Mcdonald's.
And so we move from the children's version to a special adult version consisting of two burgers, two portions of fries, two beers, and an adult accessory: an eye mask, a feather duster, or a head massager.
This special version was only sold from 6 p.m. onwards, and only to adults.
Toyota, little room for imagination
Who doesn't remember the iconic love scene between Rose and Jack in the carriage aboard the Titanic?
On Valentine's Day, Toyota wanted to create a campaign that leaves no room for imagination, also thanks to a well-placed hand on the rear window of the car.
This is an excellent example of irreverent Valentine's Day marketing, showcasing the product while creating an atmosphere of understanding and complicity with consumers.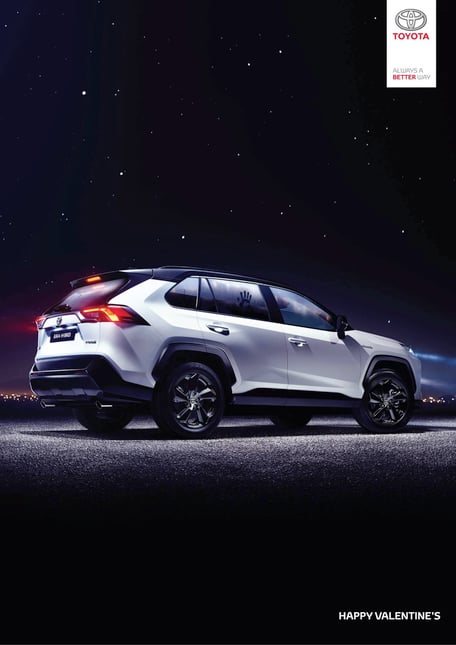 IKEA's "romantic" fantasy
Ikea is no stranger to creative marketing, and Valentine's Day is not an occasion it could pass up.
And so a pair of chairs is framed in a position that wishes all its customers well. An ironic, but absolutely not vulgar, advertisement manages to capture the consumer's attention.
We may not buy those two chairs on February 14th, but that image and that Valentine's Day campaign will certainly remain in our minds, and the next time we need a chair, we will already know where to go.
Little acts of love by Pandora
What is the true meaning of Valentine's Day? This is the question that Pandora asked a group of people, lovers to be more precise, while shooting their promo ad campaign.
Their genuine replies and the love that sparks through the people's faces are the centre of the action. Pandora's products are only casually showcased in some of the shots.
In other words, a total focus on people, not the product.
WWF, love your planet
As previously mentioned, Valentine's Day represents an opportunity to celebrate love in all its forms. WWF engaged in this celebration to raise awareness on sustainability and love for nature creating a touching video campaign.
"The time to save our world is running out" recites the video caption. "Now, more than ever, our world deserves love. Love it, or lose it".
Is Valentine's Day just a matter of marketing?
You may not like Valentine's Day, but it is certainly not a marketing opportunity you can afford to lose.
Above all, doing real-time marketing for Valentine's Day is by no means exclusive to big brands. On the contrary, you should take advantage of the strategies and successful examples found in this article to understand how to get noticed within your niche market.
Make sure you consider your target audience, after all, it is for your customers that you are creating Valentine's Day marketing campaigns.
Once you are clear on your target audience, your product, and the type of communication you want to employ ... Nothing is stopping you from using February 14th to increase your business sales and improve your brand awareness.